Black Sheeptouring - vacations and travel
The Southern Adventurer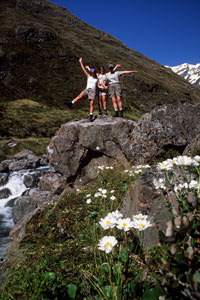 from $7,380* per person
16 Days
October, December
Comfort accommodations

Exertion level: 3

Operator:

Black Sheeptouring

24 people max
Airport near christchurch, canterbury, new zealand
Active & Adventure trips
Our southern adventurer tour is perfect for active travelers who enjoy the convenience and enriched experience of guided, small-group travel, but who also like to strike out on their own. The use of comfortable, mid-range accommodation and self-selected dining mean you can enjoy some of New Zealand's best features by day, then drop your bag in your room and venture out to explore in the evenings. In addition, while this high-value tour includes a range of great hiking, sightseeing and cultural experiences, you have the exciting opportunity to customize your trip with additional, optional activities. These are chosen to complement your itinerary, but are only added to the price of your tour if selected upon booking. These optional activities are identified in the itinerary below and in more detail on our Southern Adventurer Activities Form.

Locations visited/nearby
New Zealand
Comments from Facebook
Itinerary
Day 1: Welcome to New Zealand!

Step off the plane in Christchurch, the South Island's garden city, and into the care of your Black Sheep guide. Freshen up at your hotel, then head out and explore: stroll amongst the Botanical Gardens; visit the galleries, museums and open-air markets; hire a punt on the Avon; or enjoy a coffee while watching the tide of people flow by. At dinner (included this evening), socialize with your fellow travelers and discuss your upcoming trip.

Day 2: Marine Encounters
Head north to Kaikoura, a stunning seaside town and marine-life Mecca. Hike on the Kaikoura Peninsula surrounded by magnificent views of the sea and mountains as you wind past intriguing limestone formations and fur seals lounging on the rocks. This evening, explore Kaikoura's atmospheric restaurants and cafes on your own where you can sample the local specialty, crayfish (lobster), against the backdrop of the bay. Optional Activity: Board a boat for a whale-watching excursion to view sperm whales and other marine mammals.

Day 3: From Mountains to the Sea
Continue to explore Kaikoura's surrounds with a hike in the nearby ranges. Alternatively, the day is free to participate in one of Kaikoura's trademark marinelife activities. Optional Activities: Don wetsuits and snorkel gear for an up-close dolphin encounter. Alternatively, take a boat trip to the feeding grounds of Kaikoura's sea birds, including albatross, shearwaters and other pelagic wildlife.

Day 4: From Water to Wine
Bid Kaikoura farewell and travel northwest through the Marlborough wine region, the origin of some of the world's best Sauvignon Blancs and Chardonnays. Enjoy wine-tasting in a gorgeous vineyard setting and take a short hike through a thick stand of native beech forest before continuing on to the sun-drenched Nelson region. Settle into your accommodation near the Abel Tasman National Park.

Day 5: Abel Tasman Escape
Hike along the stunning shoreline of arguably one of the most beautiful parks in the country. Aquamarine waters, temperate forest, golden sand beaches--no arguments here. At the end of the day, note how the colloquialism 'Good day, mate' rolls off your tongue. Optional Activity: Sea kayak the park's coastline, dipping in and out of aquamarine bays, enjoy a beach picnic and hike back through native forest.

Day 6: West Coast Wonderland
Resuming your journey, stop for a walk in the spectacular Nelson Lakes region before emerging onto the wild and woolly West Coast. Travel along spectacular coastline to your accommodation at the edge of the Paparoa National Park. Optional Activities: View delicate, unspoiled formations on a Scenic Caving trip, or take a Cave Rafting adventure, featuring glow-worm constellations, an underground river, a whole lot of rubber, and plenty of laughs.

Day 7: Take a Walk on the Wild Side
Kick off the day with a beautiful scenic hike through a fern-laden gorge before a relaxing afternoon. Take time to explore the intriguing Pancake Rocks, with its impressive surge pool and blow holes, and enjoy the work of the local artisans here.

Day 8: Glacial Glory
Heading south to New Zealand's spectacular glacier region, thank yourself for choosing a guided trip, as you can't take your eyes off the scenery--a serious no-no on these roads. Along the way, stop for a hike in a scenic lakeside reserve featuring giant native kahikatea trees. Settle into your accommodation in Fox Glacier before setting out to explore this picturesque alpine village.

Day 9: Beauty on Ice
Walk along glacial riverbed to a viewing point near the impressive terminal face of Fox Glacier. Additional walks in the area allow you to explore the neighbouring old-growth rainforest. Optional Activities: Don crampons for a full day guided glacier hike on the Fox Glacier. Climb fresh ice steps cut by your guide to a high point of the glacier, exploring towering ice formations and caves along the way. Alternatively, view the region with a thrilling half-day heli-hike.

Day 10: Queenstown Bound
Hike around the peaceful, reflective water of a glacial kettle lake, then head south to Queenstown, New Zealand's adventure capital. On the way, explore hidden trails and secluded waterfalls. Make a note to buy an additional memory card for your camera.

Day 11: Mother Nature on Steroids
Because there are so many things to do in Queenstown to cater to your diverse interests, the day is free for you to pick and choose whatever optional activities you desire. For a real thrill, your guide can arrange for you to try any number of adventures that make Queenstown famous, be it white water rafting, parapenting, tandem skydiving, or even Queenstown's trademark adventure, bungy jumping. If you would prefer a more leisurely pace, there are plenty of more relaxing activities, too. For those on the Routeburn Guided Walk, we reconvene this afternoon for a pre-walk briefing.

DAYS 12 - 14: ROUTEBURN TRACK (CHOICE 1)

Day 12: Routeburn Track - Divide to Lake Mackenzie
Your Routeburn adventure begins with a coach ride from Queenstown to the Divide on the scenic Milford Road. From the Divide, begin your trek with a climb to Key Summit where you can gaze down three valleys from which water flows to three different coasts. This day features lush silver beech forest, waterfalls, and spectacular views to snowcapped peaks. Descend to your lodge at Lake Mackenzie for a hot shower, a three-course meal and a comfortable bed.

Day 13: Routeburn Track - Lake Mackenzie to Routeburn Falls
Leave ancient forest draped in moss and lichen and enter the world of daisies, buttercups, gentians and edelweiss. Take in the full vista of the Darran Mountains across the Hollyford Valley and ascend Conical Hill for more panoramic views. Circle Lake Harris and descend into the upper basin of the Routeburn Valley. Spend your final night of hiking luxury at the beautifully located Routeburn Falls Lodge where you will be treated to a special dinner.

Day 14: Routeburn Track - Routeburn Falls to Routeburn Road
Take time to enjoy the dramatic landscape around the Falls before descending to the alpine pastures of the Routeburn Flats. Picnic by a deep green pool before continuing along the track, shadowing the river as it roars through a magnificent gorge. A gentle walk through beech forest brings you to road end where a coach returns you to Queenstown.

DAYS 12 - 14: WORLD HERITAGE ADVENTURE (CHOICE 2)

Day 12: Wilderness Safari
Our adventure begins by exploring the World Heritage wilderness within Mt Aspiring National Park. Jet boat up the Dart River valley over ice-blue water and beneath soaring peaks. Take a back country 4WD safari into 'The Lord of the Rings' territory, surreptitiously checking out the locals for hobbit-like features, before returning for a restful evening back in Queenstown.

Day 13: Fiordland Discovery
Pack an overnight bag for a night in the fiords. As you travel through the Fiordland National Park, ask yourself how on earth things could get any more beautiful, then find the answer around each new corner. At the fiord, board your vessel for a unique overnight stay, highlighted by cruising, wildlife-spotting, and kayaking beneath the sheer cliffs of the fiord. Get sore pinching yourself.
Day 14: A New Dawn

This morning we wake to a hearty breakfast as we cruise back to land, rare witnesses to a Fiordland dawn. Return to Queenstown by helicopter, viewing the spectacular topography from above and including an alpine landing, for an exhilarating end to our overnight journey. Resettle in Queenstown for a relaxing afternoon.

Day 15: Free Time (Both Options)
Enjoy a day of rest and restoration after the excitement of the last three days. Of course, you may want to continue at pace and make the most of the adrenalin-based activities available here. Your guide is on hand to assist throughout the day. Tonight, a farewell dinner is our chance to reminisce about our trip and revel in the friendships we've made.

Day 16: Homeward Bound
On your final morning, depending on your flight schedule, you'll have time to relax and make final purchases before travelling home or to your next destination.
More information from Black Sheeptouring: