Cycle Greece - vacations and travel
Spartakiada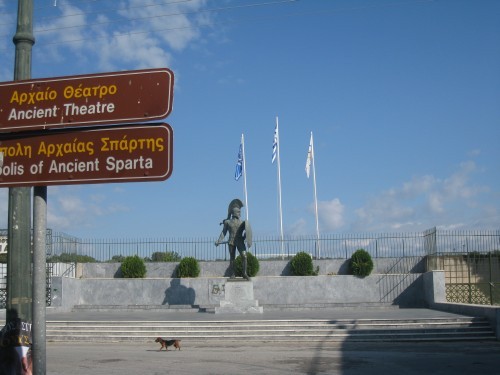 from €1,050* per person
4 Days
October
Comfort accommodations

Exertion level: 4

Operator:

Cycle Greece

16 people max
Athens international airport, athens, greece
Active & Adventure trips
In 490 BC, Phidippides ran from Athens to Sparta to seek reinforcements against the invading Persian army. He was a professional runner, yet 250 kilometers on foot is still an astonishing distance for any athlete. The superstitious Spartans hesitated against sending their soldiers during a full moon. The Athenians won anyway without them, routing the Persians in the epic Battle of Marathon.

In 1988, a small band of Athenian cyclists wondered if they could replicate Phidippides' route by bike in one day. And so was born the Spartakiada. Each year thereafter an average 150 cyclists, almost exclusively Greeks, gather at the 1896 Olympic Stadium in Athens (a/k/a Kalimarmara) at about 6:00 am on the first Saturday of October and bike this daunting route. The Spartakiada is a ride NOT a race. CycleGreece now offers foreign cyclists the opportunity to participate in this heroic event.

Locations visited/nearby
Greece, Europe
Comments from Facebook
Itinerary
Day 1: Athens
Thursday, October 6 Arrival to Athens in the morning and by afternoon you walking the nooks and crannies of this old, old city. CycleGreece takes you on a 2-3 hour walking tour of central Athens to venues rarely visited by other tour operators. Sites including Socrates Cave where the philosopher was allegedly held awaiting trial and the Pynx where democracy was born. Enjoy the welcome dinner in the Plaka.
Day 2: Athens
Friday, October 7 three hour walking tour of Acropolis with a professional guide. Tour starts at Constitution Square (Syntagma) to watch the changing of the guard and ends atop the Acropolis. (Tour's actual walking is only 45 minutes). Suggested afternoon activity, either the National Archaeology Museum with the country's greatest treasures or the newly opened Acropolis Museum, albeit still awaiting the purloined Elgin Marbles. A sensible carb dish for tonight's dining fare.
Day 3: Sparta
Saturday, October 8 Show time! Bike over to the 1896 Olympic Stadium, just minutes from your hotel, to be there by 6:00 am. After 50 miles you cross the Corinth Canal and now you have entered the Peloponnese. By evening, you will be glowing at the awards ceremony. See Spartakiada Route Profile.
Day 4: Athens Airport Sofitel or central Athens
Sunday, October 9. Spartakiada is a ride, not a race. Today, however, is a genuine race! It starts at Mystras, the abandoned Byzantine town, 30 kilometers. Riders who do not want to race can explore Mystras, a fascinating World Heritage Site. After lunch with all the event's riders, return to central Athens or Athens Airport Sofitel hotel if you have an early morning flight the next day.
Day 5: Departure
Monday, October 10.
More information from Cycle Greece: