Mama Margaret & Friends Cooking Adventures In Italy - vacations and travel
Cooking, Wine, Volcanoes & Walking Tour in Sicily: Mount Etna & Stromboli
"A magical experience, one you have to live because it is impossible to describe. Stromboli is a wonderful island with… "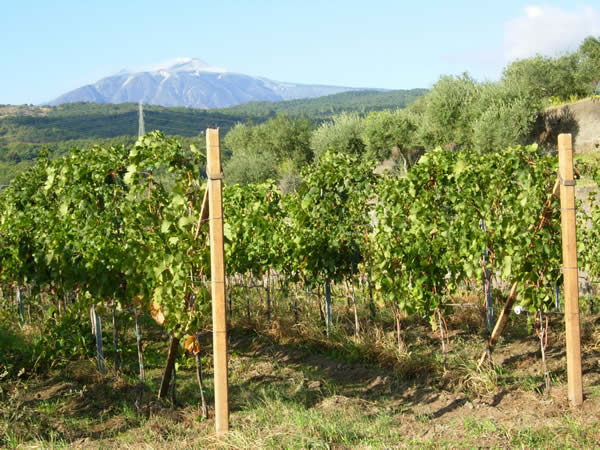 Catania airport, italy
Culinary & Wine Travel trips
Eat, cook, laugh and discover breathtaking natural beauty in Mount Etna towns, Taormina and exotic, volcanic Aeolian island of Stromboli with fun loving Sicilians, passionate about sharing their food, culture and lives with you.
Cook typical Sicilian dishes in classes at a great, family-run restaurant under Mount Etna, with a delightful family in their home, with a colourful restaurant owner on Stromboli and the chef in a 4 star hotel's fine restaurant.
Enjoy warm, local hospitality at a lovely, historic, family-run four star hotel with a wellness centre and spa in untouristed little Linguaglossa in the foothills of Mount Etna. Unwind at a pretty three star hotel right the sea on Stromboli.
Locations visited/nearby
Mt. Etna, Italy, Europe, Sicily - Sicilia
1 testimonial about this trip
Reviewer:

Ron Lasofsky

located in

New Jersey

,

New York

USA

"A magical experience, one you have to live because it is impossible to describe. "

Stromboli is a wonderful island with an incredible volcano and people with big hearts who welcome you to their kitchen to cook, drink their wines, and enjoy their stories as you dine on your own cooking.

Memories and recipes I will have forever. Chefs who are as eager to teach as you are to learn. Each lesson filled with fresh local ingredients and lots of laughs!

I had no idea how beautiful Sicily is. Beaches, volcanoes, ancient ruins and endless vineyards and olive groves. If you eat Italian food, the ingredients are growing in Sicily.

If it's about the food, wine and the people of Sicily, this is the trip. Informative guides who became part of your family and made you feel well informed and always at ease. Food, food, food, wine, culture and shopping--what more could you ask for?"


5
Reviewer:

Maurizio Cozzo

located in

Hanover

,

New Hampshire

USA

"Mo and I wanted to thank you again for arranging for us a most enjoyable and memorable vacation in Italy. I've been travelling to Italy at least once a year since 1980, when I met Mo. I've always enjoyed my yearly visits to Italy immensely, however, "Mama Margaret & Friends Cooking Adventures in Italy" was exceptional. I repeatedly tell my family and friends it was just too good. So good, I fear all my future trips to Italy will pale in comparison.

Carmen was an absolute delight. She did everything she possibly could to make our stay in Italy perfect and perfect it was. Carmen was a joy to be with in addition to being a font of knowledge. She seemed to know everything about everything--the history, battles, castles, churches, towns, festivals, wines, cheeses, olive oil and food in general. I could go on forever.

Elio was the perfect gentleman. Although Elio was not able to accompany us every day of the tour, we knew he was with us in spirit and via his cellphone. Elio was in contact with Carmen daily to make sure all was well. He is a very caring person.

Toscana was great, but we absolutely loved Piemonte. All the cooking lessons were great with the various chefs--each with his or her own unique personality. What a perfect combination--to be able to laugh and learn at the same time. "




5

Reviewer:

Jeff and Nanci Shapiro

located in

Minneapolis

,

Minnesota

"I would like to take the time to tell you how much Nanci and I enjoyed our gastronomical trip to Emilia-Romagna. We've spent most of the week since we've been back telling people about it. We are in awe of the energy and graciousness of our host and hostess (Marcello & Raffaella). We saw, tasted, and experienced things we never would have on our own. We met people--parmesan cheese maker, 5th generation balsamic vinegar maker/patriarch, Italy's best sfoglina (pasta maker), and much more. What a treat it was to gaze out the window of an ancient monastery, now hotel, overlooking dozens of sets of fireworks as the new millenium started. A very romantic moment neither of us will forget.

We thought the price/value of the trip was exceedingly fair. Nanci is not the cook in the family...I even overheard her telling a friend she would do it again! We are your biggest fans."




5
Comments from Facebook
Special information
Offers some women-only departures.
Itinerary
6 Night Itinerary
Tuesday
Arrive in Catania airport, transfer via private minivan to your lovely four star hotel in the heart of little Linguaglossa in Etna's foothills. The 18th century palazzo, formerly a noble family's home, was transformed to a chic hotel with some historic touches and very comfortable, fun, minimalist style rooms. You can step out and explore this typical Sicilian mountain town on foot and taste local life.

Over lively conversation in your welcome dinner on the estate or in a typical restaurant, get to know your group.
Wednesday
Optional two to three hour walk in the exotic foothills of Mount Etna following black volcanic sand paths and craters punctuated with green and gold trees overlooking the blue sea.

Or stay in Linguaglossa and pamper yourself in the hotel's spa or explore Linguaglossa, full of interesting murals and good cafes stuffed with tempting Sicilian cookies and cakes.

At a winery in the hills, the fourth generation of a local family makes excellent wines and will give you a warm Sicilian welcome as they show you around the estate and taste their wines with you. At the winery, savour a light lunch of cheeses, olives, salamis and antipasti while you enjoy their Etna wines.

Return to your hotel to relax for a couple of hours.

In the late afternoon start your cooking class on seafood in a hill side restaurant with the effervescent owner and his friendly, knowledgeable chef son. Make authentic local dishes like sardines with stuffed with bread, raisins and pine nuts, swordfish rolls, and semifreddo with local pistachio nuts. Drink some prosecco wine and congratulate yourselves in a group cheer. Later, dig into your creations with some good Etna wines.
Thursday
In the morning explore Taormina with a friendly local guide and wonderful storyteller with a vast knowledge of history and local lore.

Discover fascinating layers of history at the amazing Greek theatre, build in the 3rd century B.C. with spectacular views of Mount Etna and the sea. Admire well-preserved 14th century palazzos on narrow, winding streets and pop into alluring bakeries full of Sicilian treats like almond, orange or pistachio cookies, cannoli and marzipan.

Lunch is on your own – perhaps at a relaxed local wine bar where you can taste local specialties and learn more about the regional wines.

Walk from your hotel to a home in Linguaglossa for an authentic Sicilian experience with the charming, hospitable family. They grow vegetables, olives, hazelnuts and have vineyards and sheep. The joyful, outgoing mother makes cheeses, salami, bread, and preserves like dried tomatoes.

Have fun making the local maccheroni, watch how to make tomato sugo and other genuine local dishes with the mother in her kitchen. Around their dining table with their family, eat all your creations together with their wine and chat about their every day life and yours.
Friday
Leave your hotel at dawn, catch the 8:30 a.m. boat in Milazzo to arrive for lunch at the island of Stromboli , the last island in the Aeolian archipelago.

In Stromboli, walk along the sea front and check into a pretty three star hotel on the beach, surrounded by gardens and with amazing views of the black sand and blue sea beyond.

Free time to explore the town with its white buildings and lush gardens along quaint streets too narrow for cars, or laze on the black sand beach, taking dips in the clear blue sea. Lunch is on your own.

In the late afternoon, take your hands-on cooking class in a restaurant with an entertaining local chef, who teaches you typical island dishes in his unique style.

Enjoy your creations and good wines, including the local dessert wine Malvasia.
Saturday
Free morning to laze at the beach, wander the picturesque streets, browse in shops or relax in the piazza high up in the town with views of the port and neighborhoods. Enjoy lunch on your own.

In the afternoon take an optional, fascinating two-hour boat trip around Stromboli. Stop to walk in Ginostra, home to a mere 27 residents who got electricity about five years ago. Board the boat again to view the steep, black hillside of Sciara del Fuoco, where volcanic fire and rocks run down from the crater to the sea.

In the late afternoon, hike up Stromboli. Start climbing in the light and as darkness falls, gaze in awe at the light show as the volcano spouts spirals of fire into the night sky.

Choose from three different level of hikes, or go up later to the restaurant in a taxi.

Choice One: Challenging hike for about five hours up and down a 45-degree hill to the craters at the top at 900 metres, which afford spectacular views. Descend in the dark with your lights in loose volcanic sand and rock. Dine and celebrate in the piazza on your return. (dinner not included)

Choice Two: Much easier intermediate level two to three hour hike along the mountainside in daylight with steps up and down about half the time and magnificent views.

End your hike at a restaurant on the mountainside to dine outside on the patio with a direct view up to the volcano and over the sea, and marvel at the volcano shooting its fire into the night sky. (dinner not included)

Choice Three: Walk leisurely or take a taxi up a stone road in daylight for about an hour to the restaurant for a hearty dinner (not included). Walk back to town or take a taxi along the same road with flashlights to illuminate your way. (taxi not included)
Sunday
Leave Stromboli on the boat for Sicily's mainland. Private minivan back to your Linguaglossa friends' four star hotel where they warmly welcome you home. Lunch on your own.

Free time to relax.

In the late afternoon, learn about Sicilian nouvelle cuisine made with fresh, local ingredients in a hands-on cooking class with the chef in your four star hotel's restaurant. Divine food!

Banter and laugh with the friends you've made for a lively final evening in Sicily as you savour your delectable creations and fine Sicilian wines!
Monday
After breakfast, depart for Catania airport. You'll forever recall fondly the Sicilians you've talked and laughed with, their recipes and the incredible natural landscapes.
Monday & Tuesday: optional extension
Monday
After breakfast, drive to Catania and dive into the world of its famous, ancient, boisterous fish market. Street vendors at rustic tables shout out about their wares — everything from huge swordfish, to gyrating octopus, to all that comes from the Sicilian sea!

Enjoy a grazing lunch (not included) at the market. If you wish, you can also browse at street markets full of shoes and clothes or enjoy free time in Catania. (Enter "Catania fish market" on YouTube for a taste of the experience!)

Back to your hotel for a siesta.

For dinner, drive in the Mount Etna foothills to a lovely agriturismo, formerly a wealthy landowner's estate with quaint houses of black volcanic stone, where they grow olives and grapes. From 1000 metres (3000 feet) up, magnificent views extend forever over the mountains, to the volcano, to valleys. If you wish, swim in their beautiful pool and lounge on their panoramic patio before dinner.

Their renowned restaurant featuring wonderful home style dishes of fresh, local ingredients is in the former grape pressing room where the décor takes you back to that time. An unforgettable experience.
Tuesday
After breakfast, depart for Catania airport with our private transport.
More information from Mama Margaret & Friends Cooking Adventures In Italy: