Mama Margaret & Friends Cooking Adventures In Italy - vacations and travel
Cooking & Wine Adventure in Piedmont's Barolo Wine Country
"There are those things that you hold dearly as dreams and aspirations for your life. For Bill and Karen McGillivray,… "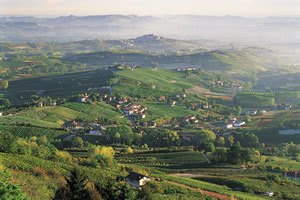 Turin airport, italy
Culinary & Wine Travel trips
Rediscover simple pleasures of good wine, good food and beauty in this exquisite countryside of small towns and gentle hills covered with vineyards, fields and forests. Drink some of Italy's top red wines, Barolo and Barbaresco. Savour local dishes like chocolate hazelnut cake with Moscato zabaglione or a veal roll simmered slowly in herbs and Barolo. Stay at a pretty, family-run three star hotel in the town of Barolo with views of its medieval castle or get an upgrade to a lovely four star villa hotel.

Get to know an amazing variety of warm, fun loving local people like cooks, winery owners, cheese makers, soon new local friends, in a wide range of places, many off the tourist track. Authentic, local Italian life experiences!
Locations visited/nearby
Italy, Europe, Piedmont - Piemonte
1 testimonial about this trip
Reviewer:

Karen & Bill McGillivray

located in

Newcastle

,

CA

USA




There are those things that you hold dearly as dreams and aspirations for your life. For Bill and Karen McGillivray, one of those dreams came true this past June. The McGillivrays celebrated their anniversary in the beautiful wine country of the Barolo Region in Italy. For seven days, they submersed themselves in the vibrant and rich history, the warmth and hospitality of the Barolo people and the passion and dedication to the wine and food of classic Italian tradition.

Accompanied by their incredibly knowledgeable and well-qualified tour guide, Ettore, Bill and Karen enjoyed personal vineyard and winery tours throughout the hillsides of the Barolo region. In addition, the McGillivrays had the pleasure of taking two hands-on private cooking classes. Everywhere they went, they found the people of these small countryside communities to be so exceptionally welcoming and hospitable.

Bill and Karen planned their trip through Mama Margaret & Friends Cooking Adventures in Italy. Margaret Cowan's agency, located inCanada, specializes in just these types of private or group tours throughout the countryside ofItaly. From the very beginning, Margaret provided exceptional service and knowledgeable planning for a flexible and perfectly-customized trip for the pair. If you have ever entertained the idea of embarking on one of these types of adventures, the McGillivrays would highly recommend taking advantage of Margaret's expertise and extensive tour-related network.

While this may have started out as a "once in a lifetime trip", the Bill and Karen are focusing on making it a little more frequent affair! Until next time, ciao!

5
Reviewer:

Maurizio Cozzo

located in

Hanover

,

New Hampshire

USA

"Mo and I wanted to thank you again for arranging for us a most enjoyable and memorable vacation in Italy. I've been travelling to Italy at least once a year since 1980, when I met Mo. I've always enjoyed my yearly visits to Italy immensely, however, "Mama Margaret & Friends Cooking Adventures in Italy" was exceptional. I repeatedly tell my family and friends it was just too good. So good, I fear all my future trips to Italy will pale in comparison.

Carmen was an absolute delight. She did everything she possibly could to make our stay in Italy perfect and perfect it was. Carmen was a joy to be with in addition to being a font of knowledge. She seemed to know everything about everything--the history, battles, castles, churches, towns, festivals, wines, cheeses, olive oil and food in general. I could go on forever.

Elio was the perfect gentleman. Although Elio was not able to accompany us every day of the tour, we knew he was with us in spirit and via his cellphone. Elio was in contact with Carmen daily to make sure all was well. He is a very caring person.

Toscana was great, but we absolutely loved Piemonte. All the cooking lessons were great with the various chefs--each with his or her own unique personality. What a perfect combination--to be able to laugh and learn at the same time. "




5

Reviewer:

Jeff and Nanci Shapiro

located in

Minneapolis

,

Minnesota

"I would like to take the time to tell you how much Nanci and I enjoyed our gastronomical trip to Emilia-Romagna. We've spent most of the week since we've been back telling people about it. We are in awe of the energy and graciousness of our host and hostess (Marcello & Raffaella). We saw, tasted, and experienced things we never would have on our own. We met people--parmesan cheese maker, 5th generation balsamic vinegar maker/patriarch, Italy's best sfoglina (pasta maker), and much more. What a treat it was to gaze out the window of an ancient monastery, now hotel, overlooking dozens of sets of fireworks as the new millenium started. A very romantic moment neither of us will forget.

We thought the price/value of the trip was exceedingly fair. Nanci is not the cook in the family...I even overheard her telling a friend she would do it again! We are your biggest fans."




5
Comments from Facebook
Itinerary
Sunday
Meet your group at Turin airport or railway station. Leave for Barolo a one hour drive away. In Barolo you stay at a pretty, three star, family-run hotel in town with lovely views of Barolo castle and vineyards.
Dine on authentic Piedmont specialties at a great local restaurant as you drink a line-up of great local wines.
In Barolo, you'll visit the charming Brezza family in their winery cellars, where the father or son sits with you around a wooden table lit by candles and tastes their wines with you. Conversation with them may stray to topics like family and friendship, so when you see them again in their restaurant for dinner, they feel like old pals.
Monday
Explore the La Morra area, driving along its winding country roads, gazing in awe at the spectacular views of the Barolo wine valley.
Visit a winery near Barolo well known for its fine wines and warm hospitality. You'll feel their passion for their wines as they tell you all you ever wanted to kow about Barolo, Barbera, Nebbiolo and other local wines.
Drive to hill town Castiglione Falletto for light lunch alfresco on a cafe patio with lovely hill views.
Drive to a fine restaurant outside a Barolo wine country town for a hands-on cooking class with a young, passionate, creative chef who welcomes you warmly. Some of his typical, local dishes with his creative touches: delicate little torte with asparagus and cod, tasty risotto with Barbera wine and tuma cheese cream, semifreddo with boysenberries, white chocolate and mint. Savour your creations with great Piedmont wines.
Tuesday
Most of this morning is free to relax, take a walk or explore.
Drive up into the hills to a small, family farm to meet a man passionate about making his sheep cheeses in a totally natural way. Learn how he makes his cheeses in the cheese making room. In a divine picnic, you sample a range of his cheeses as he eagerly tells you all you'd ever want to know. You may even meet his sheep!
Drive to the scenic Barbaresco wine country hills and visit the famous Marchesi di Gresy winery and taste a wide range of acclaimed red and white wines including some of the best Barbarescos.
Drive to Barbaresco for a hands-on cooking class on several dishes with the delightful owner in a well known restaurant set among vineyards. Enjoy your full menu dinner with Barbaresco wines in their cozy dining room or out on their shady terrace with marvelous vineyard views.
Wednesday
Visit the famous Marchesi di Barolo winery in Barolo, where today's Barolo wine making began in the 1840s. See 200 year old barrels and taste the best wines. If time, tour the 1000 year old castle in Barolo, home to the Marchese di Barolo who refined Barolo wine in the 1840s.
Light lunch of typical Piedmont hot and cold appetizers at a local restaurant. Piedmont is famous for its incredible array of appetizers.
Visit and taste some top Barolo wines with one of the top producers like Conterno in Monforte.
Dinner is in a typical restaurant for more delicate Piedmontese fare.
Thursday
In the hill town of Serralunga, visit a unique medieval castle, renovated in 1340. With the castle's entertaining guide, discover ingenious architectural features that kept invaders out. On the top floor, marvel at the 360 degree views of the countryside and town.
Visit a family's farm where friendly Francesca shares a slice of their everyday life with you. They produce cheeses and most of what they eat. Eat a scrumptious farm lunch and chat with her at the table. Visit the farm after lunch to experience a slice of country life.
Drive back to your hotel and enjoy a free afternoon to relax, explore or hang out. Dinner on your own.
Friday
Stroll through the delightful medieval heart of Alba, a small bustling city. Browse the high quality clothing and houseware stores or tempting gastronomy shops like "Peccati della Gola—Sins of the Throat". Light lunch in Alba.
Drive to town of Barbaresco for a visit and wine tasting with a smaller, family style producer who makes excellent wines.
Drive to Sinio to a farm inn where friendly local women, excellent home cooks, welcome you warmly to the kitchen for your hands-on cooking class. They show you how to make their families' traditional dishes, share cooking secrets with you and dine with you around the table.
Saturday
If you have time, experience market day at the street stalls in Alba, bursting with local people. The colour, pace and sounds of this action filled extravaganza will amaze you. A lively, genuine slice of Italian life! If we go to Alba, lunch is on your own.
Reluctantly depart for Turin or for Alba's train station and leave your new Piedmont friends, taking with you heartfelt memories of all the laughter, sensual experiences, beauty, food and wine you shared together.
More information from Mama Margaret & Friends Cooking Adventures In Italy: