Mama Margaret & Friends Cooking Adventures In Italy - vacations and travel
Food Lovers' Adventure in Italy's Gastronomic Paradise, Emilia-Romagna Spring & Summer
"We saw, tasted, and experienced things we never would have on our own. "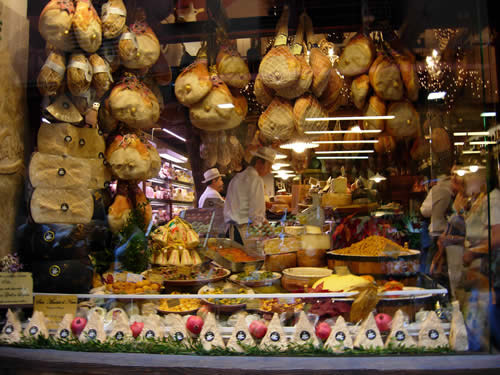 Bologna airport, bologna, italy
Culinary & Wine Travel trips
Experience Emilia-Romagna's world renowned Parmesan cheese, traditional balsamic vinegar, silk-like pasta and prosciutto di Parma, and real Italian life first hand with a local Bologna family. Cook simple, traditional dishes with a pasta expert on her farm and a friendly, small town restaurant owner, famous for his scrumptious herb dishes like pasta with arugula and prosciutto. Walk with your host family mother in Bologna's famous central market to learn about regional foods and shop for ingredients for your cooking class with her.

With the fun loving father, you see how they make parmesan cheese from start to finish. At a prosciutto factory and a traditional balsamic vinegar producer's cellars, you see how they make and age these foods. Fascinating! The prosciutto melts in your mouth. The 25 year old traditional balsamic vinegar feels like liquid velvet in your throat.
Locations visited/nearby
Italy, Europe, Emilia Romagna
2 testimonials about this trip
Reviewer:

Jeff and Nanci Shapiro

located in

Minneapolis

,

Minnesota

USA

We saw, tasted, and experienced things we never would have on our own.

5

Reviewer:

Mindy Smith

located in

MA

USA

We had a wonderful time! We laughed, ate, drank. Our local hosts were fabulous!

At the parmesan cheese factory, we watched the fascinating process of cheese making. Our host explained the different stages and how the wheels of cheese receive their "D.O.P. stamp." We entered a huge storage room where I experienced a "David" moment. I had the same feeling in my chest that I did when I first laid eyes on the statue of "David". I couldn't believe my eyes! For a brief moment, I thought I was in Costco where they sold nothing but Wheels of Cheese! This experience was one of the highlights of our trip.

We were excited to finally meet our tour host's wife and daughter. We shopped at the local outdoor markets where we bought only the freshest ingredients for our cooking class later at their home. We put on our aprons and were ready to cook, drink, and laugh! I will say that we had the BEST TIME EVER. They know cooking!

In Ravenna, walking into the Basilica of San Vitale, we were speechless and overwhelmed by the beauty, essence, craftsmanship. Those of you who've been here know that it's hard to describe the mosaics and unique Byzantine architecture. Being here and experiencing this exact moment; looking at the sparkling and amazing mosaics is a reminder that Italy never disappoints. There is always something new to take my breath away.

This tour was one of the best things I've ever done. Worth every Euro. Our tour host was a hoot! Vibrant! Delightful!




5
Reviewer:

Maurizio Cozzo

located in

Hanover

,

New Hampshire

USA

"Mo and I wanted to thank you again for arranging for us a most enjoyable and memorable vacation in Italy. I've been travelling to Italy at least once a year since 1980, when I met Mo. I've always enjoyed my yearly visits to Italy immensely, however, "Mama Margaret & Friends Cooking Adventures in Italy" was exceptional. I repeatedly tell my family and friends it was just too good. So good, I fear all my future trips to Italy will pale in comparison.

Carmen was an absolute delight. She did everything she possibly could to make our stay in Italy perfect and perfect it was. Carmen was a joy to be with in addition to being a font of knowledge. She seemed to know everything about everything--the history, battles, castles, churches, towns, festivals, wines, cheeses, olive oil and food in general. I could go on forever.

Elio was the perfect gentleman. Although Elio was not able to accompany us every day of the tour, we knew he was with us in spirit and via his cellphone. Elio was in contact with Carmen daily to make sure all was well. He is a very caring person.

Toscana was great, but we absolutely loved Piemonte. All the cooking lessons were great with the various chefs--each with his or her own unique personality. What a perfect combination--to be able to laugh and learn at the same time. "




5

Reviewer:

Jeff and Nanci Shapiro

located in

Minneapolis

,

Minnesota

"I would like to take the time to tell you how much Nanci and I enjoyed our gastronomical trip to Emilia-Romagna. We've spent most of the week since we've been back telling people about it. We are in awe of the energy and graciousness of our host and hostess (Marcello & Raffaella). We saw, tasted, and experienced things we never would have on our own. We met people--parmesan cheese maker, 5th generation balsamic vinegar maker/patriarch, Italy's best sfoglina (pasta maker), and much more. What a treat it was to gaze out the window of an ancient monastery, now hotel, overlooking dozens of sets of fireworks as the new millenium started. A very romantic moment neither of us will forget.

We thought the price/value of the trip was exceedingly fair. Nanci is not the cook in the family...I even overheard her telling a friend she would do it again! We are your biggest fans."




5
Comments from Facebook
Itinerary
Sunday
Meeting at Bologna airport or train station. Private transfer to your four star hotel in the heart of Bologna.
Drive to the small and charming hill town, Dozza. Wander through its medieval streets famous for its colorful murals on many walls and doorways.
Sit down for a deliciously authentic meal at a Dozza restaurant. Sit and sip a glass of Sangiovese wine as you make your way through antipasto, scrumptious stuffed pasta, grilled meats and dessert.
Monday
Drive into the hills of Romagna to walk in a privately owned, aromatic herb garden with more than 40 different kinds of plants. The joyful owner explains how she uses the herbs in cooking. For lunch she prepares delicious samplings of her products.
Drive to a family-owned factory where they hand stamp aprons, tablecloths and other table linens with traditional decorations of Romagna.
In the late afternoon enjoy a demonstration cooking lesson with an outgoing owner and chef in his restaurant. Well known for his expertise in cooking with herbs, he shows you how to cook wonderful dishes with local herbs. Aperitif in the very pretty garden of the restaurant while waiting for your dinner.
Tuesday
Drive to Ravenna to walk with a local guide and learn about its world famous Byzantine mosaics and architecture. Light lunch in Ravenna's centre at a historic osteria serving tasty local food and good wines.
Drive to the beautiful countryside for a three hour hands-on cooking lesson with a lady who is a great Italian family chef and an expert on hand made pasta. Learn to make many traditional pastas of Emilia-Romagna. Dinner of our creations at her 150 year old farmhouse set among olive trees.
Wednesday
In the early morning, head to the Parma area, home of the legendary Parmigiano Reggiano, to visit a traditional cheese factory. After watching the men go through all the fascinating steps in making the cheese and visiting the incredible storage rooms, you nibble on fresh and aged parmesan right in the factory.
Drive to Modena, home of balsamic vinegar. In the cellars see how this signature product is made and sample 12 and 25 year old balsamic vinegar.
Dine in a fabulous restaurant near Modena on beautifully presented dishes featuring parmesan and balsamic vinegar.
Back to Bologna after a long but memorable day. Dinner free.
Thursday
In the morning walk in Bologna's central market, a warren of ancient narrow streets lined with colorful, irresistible Italian food shops, stands and delis, wonderful to the eye and to the taste. Buy the ingredients for our afternoon cooking lesson.
Leisure time for shopping or exploring. Light lunch on your own.
After lunch guided tour of Bologna with an English speaking guide.
In the late afternoon enjoy a hands-on cooking lesson at a private home with an excellent Italian family cook to learn traditional dishes of the region. Dine on your dishes with the friendly family around their table.
Friday
Reluctant departure to Bologna airport or train station after breakfast at the hotel.
More information from Mama Margaret & Friends Cooking Adventures In Italy: