Mama Margaret & Friends Cooking Adventures In Italy - vacations and travel
Neapolitan Cooking & Cultural Delights With A Family In Sorrento Tour
"We really want to thank you for arranging our Cooking School excursion to Mami Camilla. What a great experience! Starting… "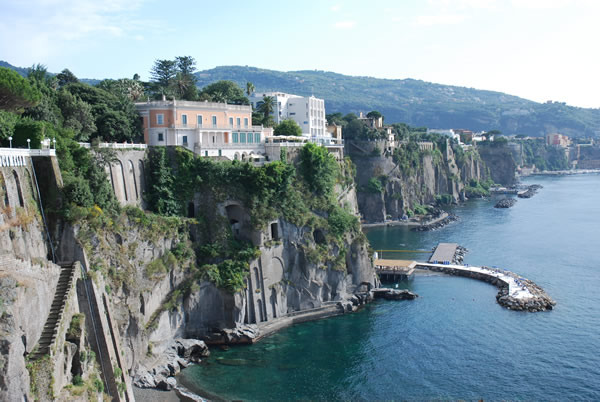 Sorrento airport, sorrento, naples, italy
Culinary & Wine Travel trips
Experience a cooking school tour adventure in Sorrento, Capri and the Amalfi Coast, where one of Italy's most amazing coastal roads winds above spectacularly sheer cliffs overlooking the azure sea. Stay a local family's B & B in a pretty area of fine hotels and gardens outside Sorrento, an hour south of Naples. The spacious rooms have private bathrooms and air-conditioning. A five minute walk takes you to the beautiful Bay of Naples. Your warm, fun loving family hosts soon feel like old friends.
Enjoy cooking classes at home with the retired professional chef dad and his well trained son who share their regional secrets for making authentic local dishes. At their friendly communal dining tables, chat with people from around the world. On the Amalfi Coast, explore breathtaking Positano with its wide beach and multi-coloured houses set on cliff-side terraces. At a family-run olive oil mill in Sorrento, walk through the olive groves with a family member, eager to tell you how they used a granite wheel to make olive oil and how they make it now.
Locations visited/nearby
Naples, Italy, Europe, Campania
1 testimonial about this trip
Reviewer:

Fran Govier

located in

Alberta

Canada




We really want to thank you for arranging our Cooking School excursion to Mami Camilla. What a great experience! Starting from being met at the Naples Airport by Chef Biagio himself, our week was full of new experiences. It's hard to choose our favorite excursion but the olive grove and lemon orchard /wine tasting day rates at the top. Annetta and her family were very hospitable and even gave Syl and I huge lemons to take back home. Who knew that we would actually be making cheese in the cheese factory and then taking it back to the B and B to be served with supper? Gmil, our guide to both Postitano and Naples showed us sights that most tourists might miss and the Amalfi Coast was breathtaking as expected. Francisco's speedboat tour of Capri was amazing; he captained and catered all day. Our final day at Pompei made us realize just how much history Europe has in comparison with North America.

When we first booked our cooking classes, I didn't understand why we could start any day of the week. But then we arrived and met the Cordon Blu chefs from Chicago who were taking a 90 day Neapolitan elective and also some chef students from Atlanta who were touring and cooking with their guide. Other guests dropped in to cook for a single lesson or specific pizza and gelato courses.

Between all of us we made quite an impression in the kitchen. Sylvia and I got the hang of making pasta and using the pastry bag as we filled cannolis and (our personal favorite) – squash blossoms, yum!! The breakfasts and four course evening meals were delicious and will send us back to the gym now that we are home. Chef Biagio was both warm and temperamental just the way a chef should be.

There was one evening at supper that fully illustrated our Sorrento experience. A full table of relative strangers sat enjoying their meal, laughing and chatting naturally like old friends. The complete family style experience that will stay with us forever.

5
Reviewer:

Maurizio Cozzo

located in

Hanover

,

New Hampshire

USA

"Mo and I wanted to thank you again for arranging for us a most enjoyable and memorable vacation in Italy. I've been travelling to Italy at least once a year since 1980, when I met Mo. I've always enjoyed my yearly visits to Italy immensely, however, "Mama Margaret & Friends Cooking Adventures in Italy" was exceptional. I repeatedly tell my family and friends it was just too good. So good, I fear all my future trips to Italy will pale in comparison.

Carmen was an absolute delight. She did everything she possibly could to make our stay in Italy perfect and perfect it was. Carmen was a joy to be with in addition to being a font of knowledge. She seemed to know everything about everything--the history, battles, castles, churches, towns, festivals, wines, cheeses, olive oil and food in general. I could go on forever.

Elio was the perfect gentleman. Although Elio was not able to accompany us every day of the tour, we knew he was with us in spirit and via his cellphone. Elio was in contact with Carmen daily to make sure all was well. He is a very caring person.

Toscana was great, but we absolutely loved Piemonte. All the cooking lessons were great with the various chefs--each with his or her own unique personality. What a perfect combination--to be able to laugh and learn at the same time. "




5

Reviewer:

Jeff and Nanci Shapiro

located in

Minneapolis

,

Minnesota

"I would like to take the time to tell you how much Nanci and I enjoyed our gastronomical trip to Emilia-Romagna. We've spent most of the week since we've been back telling people about it. We are in awe of the energy and graciousness of our host and hostess (Marcello & Raffaella). We saw, tasted, and experienced things we never would have on our own. We met people--parmesan cheese maker, 5th generation balsamic vinegar maker/patriarch, Italy's best sfoglina (pasta maker), and much more. What a treat it was to gaze out the window of an ancient monastery, now hotel, overlooking dozens of sets of fireworks as the new millenium started. A very romantic moment neither of us will forget.

We thought the price/value of the trip was exceedingly fair. Nanci is not the cook in the family...I even overheard her telling a friend she would do it again! We are your biggest fans."




5
Comments from Facebook
Itinerary
6 Night Itinerary
Sunday
Transfer from Naples airport or train station via private transport to your B & B just outside Sorrento.

After settling in, explore Sorrento with its narrow alleyways and tempting bakeries and shops, and drink in spectacular views of the Bay of Naples. In the late afternoon, join your group for a welcome on the patio.

In the evening, enjoy a traditional old Neapolitan dinner with your fellow food lovers at a communal table.
Monday
After breakfast, visit the oldest olive oil producer in Sorrento. Walk with its outgoing manager through olive groves as she shares her love of olives and olive oil. Learn how the traditional granite wheel was used to make olive oil, how it is produced today and taste olive oils produced on the farm.

Depart for a great wine tasting near Sorrento. On his estate, the owner takes you on tour of garden of lemon trees, vegetables and flowers. Taste his wines as he explains the origins and different quality Campania wines. Light lunch.

In the evening, eat a light dinner of fresh pasta and fish dishes.
Tuesday
After breakfast, drive along the Amalfi Coast to Positano, a mecca for artists, writers and beautiful people. Decadence is the style here so sit back for a limoncello in a beach front bar while admiring the sea views.

Return to the B & B for your afternoon cooking lesson.
Wednesday
Morning free to explore Sorrento and the Amalfi Coast.

Afternoon cooking class at your B&B. Your friends, Biagio and his chef assistants, will teach you to prepare a fast, easy Neapolitan dinner like fresh pasta, chicken cacciatore and a delicate lemon tart.
Thursday
After breakfast on your own board the fast ferry in Sorrento for the playground isle of Capri. Spend the day sunning yourself on the spectacular white-sand beaches and taking a dip in the sparkling surf to cool off. Browse the elegant stores everyone adores. Enjoy lunch on your own, eating local seafood al fresco in a restaurant putting you in the mood for love and your next cooking class!

Return late afternoon and resume perfecting the art of preparing authentic Neapolitan cuisine in your cooking school.
Friday
Morning free to explore Sorrento and the Amalfi Coast.

Return home for a cooking class followed by your lively final dinner. Sit around the table, drink local wine and enjoy the fresh night air with your companions.
Saturday
After breakfast, leave via private transfer for Naples. You'll take away memories of your unforgettable experiences and great times with your warm Neapolitan friends on the Bay of Naples.
More information from Mama Margaret & Friends Cooking Adventures In Italy: