Liz Caskey Culinary & Wine Experiences - vacations and travel
Tannat 101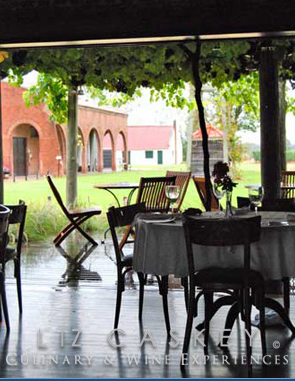 Buenos aires
Culinary & Wine Travel trips
Chileans love to take visitors aside and proudly share a favorite anecdote how the Universe organized the "leftovers" when Earth was created into their long, thin country. Indeed, Chile truly does have it all: the parched Atacama desert and Andean indigenous cultures; the fertile Mediterranean valleys full of vineyards and orchards; thousands of miles of coastline; a bustling, properous capital; rainforested fjords; snowcapped volcanoes; azure glaciers, and the windswept lands of Patagonia.

Add to this landscape new five-star hotels; intimate eco-resorts: gorgeous architecture from colonial adobe to modern skyscrapers; exquisite rustic cuisine that echoes Provencal flavors; and robust wines that have the whole world talking. However, what keeps us coming back are the gracious people. They genuinely want you to love their country as much as they do.

As Chile blossoms with a thriving economy, excellent infrastructure and safety, emerging arts scene, and boom in food and wine culture, if there was ever a moment to visit Chile, it's now.

Liz Caskey Culinary & Wine Experiences immerses you in Chilean culture with insider access to amazing experiences, extraordinary people, palate-delighting food and wines, and mindblowing landscapes. Our journeys will connect you with the Chile's people, touch your heart, and speak to your soul.
Locations visited/nearby
Uruguay, South America
0 testimonials about this trip.
Reviewer:

Joe P

located in

Shreveport

,

LA

USA.

"Our trip through Chile and Argentina with you was truly memorable. You've done a great job at establishing relationships in the wine industry as well as the hospitality industry – and it all shows in the finished product that was our trip. We thoroughly enjoyed everywhere we went, the first class establishments where we stayed, and the experience of the whole trip (not to mention all we ate and drank!). We've been a lot of places and on a lot of trips – this truly will be remembered as one of our more fun experiences as well as a great educational experience in the Chilean/Argentine wine industry – and our now much better understanding of wine as well as the industry. Thanks."



5

Reviewer:

Rona M

located in

Toronto

,

Canada

"We thoroughly enjoyed our adventure with you in the Colchagua Valley--without question a highlight of our three weeks in South America. Your professionalism, expertise, passion and sense of fun brought our trip to what seemed like the perfect conclusion."



5

Reviewer:

Margaret P

located in

Lancaster

,

PA

USA.

"Thank you for all of your assistance in making our trip to Chile and Argentina a wonderful experience! We enjoyed the food, wine, accommodations, culture but, most importantly, our guides. Everyone made us feel welcome. Having lunch at your home was a great way to wrap up our Chilean experience."



5
Comments from Facebook
Special information
This is a custom departure, meaning this trip is offered on dates that you arrange privately with the provider. Additionally, you need to form your own private group for this trip. The itinerary and price here is just a sample. Contact the provider for detailed pricing, minimum group size, and scheduling information. For most providers, the larger the group you are traveling with, the lower the per-person cost will be.
Itinerary
Day 1
Get ready for an adventure in Uruguay! Pick-up at your hotel in Buenos Aires and transfer to the terminal. Take the rapid hydrofoil to Montevideo, a short hop across the Río de la Plata. Upon arrival, rendezvous with your local, private host who will orient you in this funky, off-the-beaten-path port and capital city. Visit the Teatro Solis with its 19th century grandeur. The theater has hosted the likes of Puccini, Caruso and Isadora Duncan over the years. People watch along the pedestrian malls of the old city. Check out the Torres García museum to see some of Uruguay's best contemporary art. And enjoy Montevideo's rambla which snakes along the Río de la plata for miles and miles with sandy beaches. Run, bike, walk, fish, drink mate, or just watch the sea.
Lunch is at the old school Mercado del Puerto. Cop a squat at the finest parrillada. They source all ingredients from local food artisans making cured sausages, hams, cheeses, and farm-fresh produce. The highlights are grass fed lamb, marbled beef, and crunchy grilled chorizo. Chat with the grill man about the art of grilling Uruguayan style. And as you eat, soak up the lively ambience. The rest of the afternoon is yours to enjoy at the hotel.
Day 2
Get ready for an education in Uruguay's undiscovered wines. Here, the Atlantic climate and mineral-rich soils is unique from wine-producing cousins Chile & Argentina—and so is the expression. Perhaps the wines are slightly Old World in style: elegant, less alcohol, in some cases, very tannic. Such is the case of the signature grape, Tannat, yielding full body wines with intense color, gripping tannins, and a lovely austerity that grows on you.
Head north just outside Montevideo to Canelón Chico with soft, rolling hills and lush vegetation. Stop by a small boutique winery going three generations strong. Let Carlos take you out into the estate to understand better the nuances of wine growing in Uruguay. Back at the bodega, sit down to a tasting of his excellent Brut Nature (a tradition in Uruguayan wineries), and selection of his top Tannat and blends.
Just down the road, visit another small artisan winery making handcrafted Tannat in micro batches. Everything here is a family effort, enthused with their passion of sharing the land and its traditions. Meet the family, learn about their vision, and taste their outstanding line of Tannat and blends.
Lunch is not too far away at one of Uruguay's most critically acclaimed wineries. This bodega not only has vineyards in Canelones but also in the far north near the border with Brazil. This drier region produces jawdropping Tannat. The family will prepare a private lunch for you to taste these spectacular wines.
Dinner tonight is a break from all the meat. With all this coastlines, dive into a plethora of seafood at a wonderful seafood restaurant in the upscale neighborhood of Punta Carretas. Try some of Uruguay's lesser known varietals like Sauvignon Blanc and sparkling wines.
Day 3
Check out this morning and drive 30 minutes north of the city Uruguay's "largest" wineries. Still a hands-on family operation, the Deicas family has blazed the trail for Uruguay's wines to leave on the external market. Visit the vineyards, the century-old cellar, followed by a tasting of their premium wines. Not too far away in Melilla, stop by to see some old friends who have lovingly restored their family's general store. They may even put on the old gramophone and dance some tango for you!
Down the road, drop in on the country's newest boutique project. The dream of a wine aficionado, here the philosophy is "less is more": less intervention, less quantity, and maximum quality. Beyond Tannat, they work with Merlot, Tannat, Tempranillo, Albariño and Chardonnay. Sit down to an elegant yet casual lunch featuring dishes like estate lamb, grilled fish, beef, and garden vegetables with a selection of their top wines.
Return to Montevideo to catch the hydrofoil back to Buenos Aires with drop-off at your hotel in Buenos Aires upon arrival. Or extend your trip to the turquoise waters and sandy beaches of Punta del Este and José Ignacio!
More information from Liz Caskey Culinary & Wine Experiences: