Liz Caskey Culinary & Wine Experiences - vacations and travel
Chile's Big Reds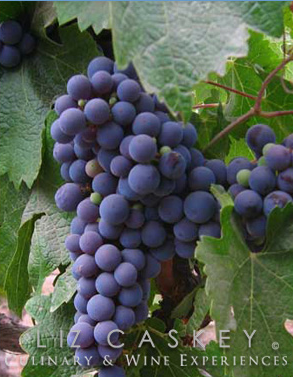 Santiago
Culinary & Wine Travel trips
Chileans love to take visitors aside and proudly share a favorite anecdote how the Universe organized the "leftovers" when Earth was created into their long, thin country. Indeed, Chile truly does have it all: the parched Atacama desert and Andean indigenous cultures; the fertile Mediterranean valleys full of vineyards and orchards; thousands of miles of coastline; a bustling, properous capital; rainforested fjords; snowcapped volcanoes; azure glaciers, and the windswept lands of Patagonia.

Add to this landscape new five-star hotels; intimate eco-resorts: gorgeous architecture from colonial adobe to modern skyscrapers; exquisite rustic cuisine that echoes Provencal flavors; and robust wines that have the whole world talking. However, what keeps us coming back are the gracious people. They genuinely want you to love their country as much as they do.

As Chile blossoms with a thriving economy, excellent infrastructure and safety, emerging arts scene, and boom in food and wine culture, if there was ever a moment to visit Chile, it's now.

Liz Caskey Culinary & Wine Experiences immerses you in Chilean culture with insider access to amazing experiences, extraordinary people, palate-delighting food and wines, and mindblowing landscapes. Our journeys will connect you with the Chile's people, touch your heart, and speak to your soul.
Locations visited/nearby
Chile, South America
0 testimonials about this trip.
Reviewer:

Joe P

located in

Shreveport

,

LA

USA.

"Our trip through Chile and Argentina with you was truly memorable. You've done a great job at establishing relationships in the wine industry as well as the hospitality industry – and it all shows in the finished product that was our trip. We thoroughly enjoyed everywhere we went, the first class establishments where we stayed, and the experience of the whole trip (not to mention all we ate and drank!). We've been a lot of places and on a lot of trips – this truly will be remembered as one of our more fun experiences as well as a great educational experience in the Chilean/Argentine wine industry – and our now much better understanding of wine as well as the industry. Thanks."



5

Reviewer:

Rona M

located in

Toronto

,

Canada

"We thoroughly enjoyed our adventure with you in the Colchagua Valley--without question a highlight of our three weeks in South America. Your professionalism, expertise, passion and sense of fun brought our trip to what seemed like the perfect conclusion."



5

Reviewer:

Margaret P

located in

Lancaster

,

PA

USA.

"Thank you for all of your assistance in making our trip to Chile and Argentina a wonderful experience! We enjoyed the food, wine, accommodations, culture but, most importantly, our guides. Everyone made us feel welcome. Having lunch at your home was a great way to wrap up our Chilean experience."



5
Comments from Facebook
Special information
This is a custom departure, meaning this trip is offered on dates that you arrange privately with the provider. Additionally, you need to form your own private group for this trip. The itinerary and price here is just a sample. Contact the provider for detailed pricing, minimum group size, and scheduling information. For most providers, the larger the group you are traveling with, the lower the per-person cost will be.
Itinerary
Traveling south from Santiago, journey into the countryside covered in patchwork fields, red-tiled roofs, swaying Alamos, babbling rivers, and the jagged peaks of the Andes Mountains. The destination is the Cachapoal and Colchagua wine valleys, renowned for their "big" red wines like Cabernet Sauvignon, Syrah, and Chile's flagship Carmenere. Nestled in the foothills of the Andes where cool breezes flow and ample valley views abound, visit a winery conceived with the sole objective of making a grand cru from Chile. No detail has been spared in this exquisite project. The result is concentrated wines with great structure, soft tannins, bright aromas, and a tremendous balance. Get to know the soul of this wine by visiting its birthplace—the vineyards and winery--followed by a tasting of the outstanding 2003 vintage.
Continue south to the horseshoe-shaped Apalta, a micro valley in Colchagua. Here, drop in on friends at one of Colchagua's newest and most prestigious garage wineries. With only five bottled vintages, they produce one single Cabernet-Carmenere blend from 115 year-old rootstock. Walk amid the craggy vines and admire the restored colonial cellar. Finish with a private tasting of the exquisite 2005 harvest with remarkable finesse.
Break for an al fresco lunch in a traditional winery. Served in their chirpy hacienda garden during warm weather (or cozy barrel cellar in winter), savor their silky, luscious red wines and simple gourmet dishes.
The last winery of the day is perhaps Chile's most chic, innovating, and highly acclaimed. Belonging to the Gran Marnier family, this extraordinary wine, named 2008 Wine of Year from Wine Spectator, is a reflection of its opulent setting buried deep in an Apalta hillside. See the shiny installations followed by a tasting in their gorgeous barrel cellar.
Drive ten minutes to the colonial town of Santa Cruz, the epicenter of the valley. You will be welcomed into the private home of friends whose passion is making homemade liquors, a centuries-old tradition. Infused with local herbs, fruits, and dried spices, in their charming country home, learn about this fascinating art and delight in the fruits of their labor.
Return to Santiago in the early evening.
More information from Liz Caskey Culinary & Wine Experiences: