Liz Caskey Culinary & Wine Experiences - vacations and travel
Culinary Santiago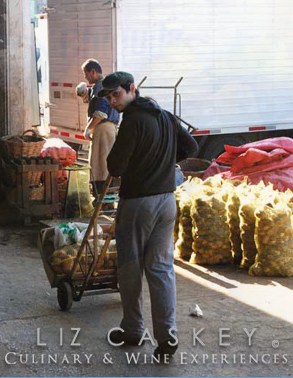 Santiago
Culinary & Wine Travel trips
Chileans love to take visitors aside and proudly share a favorite anecdote how the Universe organized the "leftovers" when Earth was created into their long, thin country. Indeed, Chile truly does have it all: the parched Atacama desert and Andean indigenous cultures; the fertile Mediterranean valleys full of vineyards and orchards; thousands of miles of coastline; a bustling, properous capital; rainforested fjords; snowcapped volcanoes; azure glaciers, and the windswept lands of Patagonia.

Add to this landscape new five-star hotels; intimate eco-resorts: gorgeous architecture from colonial adobe to modern skyscrapers; exquisite rustic cuisine that echoes Provencal flavors; and robust wines that have the whole world talking. However, what keeps us coming back are the gracious people. They genuinely want you to love their country as much as they do.

As Chile blossoms with a thriving economy, excellent infrastructure and safety, emerging arts scene, and boom in food and wine culture, if there was ever a moment to visit Chile, it's now.

Liz Caskey Culinary & Wine Experiences immerses you in Chilean culture with insider access to amazing experiences, extraordinary people, palate-delighting food and wines, and mindblowing landscapes. Our journeys will connect you with the Chile's people, touch your heart, and speak to your soul.
Locations visited/nearby
Chile, South America
0 testimonials about this trip.
Reviewer:

Joe P

located in

Shreveport

,

LA

USA.

"Our trip through Chile and Argentina with you was truly memorable. You've done a great job at establishing relationships in the wine industry as well as the hospitality industry – and it all shows in the finished product that was our trip. We thoroughly enjoyed everywhere we went, the first class establishments where we stayed, and the experience of the whole trip (not to mention all we ate and drank!). We've been a lot of places and on a lot of trips – this truly will be remembered as one of our more fun experiences as well as a great educational experience in the Chilean/Argentine wine industry – and our now much better understanding of wine as well as the industry. Thanks."



5

Reviewer:

Rona M

located in

Toronto

,

Canada

"We thoroughly enjoyed our adventure with you in the Colchagua Valley--without question a highlight of our three weeks in South America. Your professionalism, expertise, passion and sense of fun brought our trip to what seemed like the perfect conclusion."



5

Reviewer:

Margaret P

located in

Lancaster

,

PA

USA.

"Thank you for all of your assistance in making our trip to Chile and Argentina a wonderful experience! We enjoyed the food, wine, accommodations, culture but, most importantly, our guides. Everyone made us feel welcome. Having lunch at your home was a great way to wrap up our Chilean experience."



5
Comments from Facebook
Special information
This is a custom departure, meaning this trip is offered on dates that you arrange privately with the provider. Additionally, you need to form your own private group for this trip. The itinerary and price here is just a sample. Contact the provider for detailed pricing, minimum group size, and scheduling information. For most providers, the larger the group you are traveling with, the lower the per-person cost will be.
Itinerary
"Popular" Santiago, just north of the downtown, is a myriad of eclectic turn-of-the-century architecture and colorful facades; local characters; and vibrant fresh markets where this culture throbs. Jump in and get a taste of the Santiago's rich culinary history with Liz Caskey as your personal host.
Set off first to explore the labyrinth of stands at Santiago's sprawling wholesale market dating back to the late 1800s. A picturesque mishmash of stalls, vendors hawk the freshest seasonal fruits and vegetables, local cheeses, a plethora of meats, mounds of spices, and indigenous foodstuffs like pine nuts from the Araucaria tree or smoked (chili) merkén. Shop with Liz and select the über fresh produce from her caseros that become the components of lunch.
Wander into the maze of picadas, joints, and pull up a stool with Carmen, a talented old school cook. Carmen's eatery pumps out Chilean classics like sweet corn tamales, steaming stews, and avocado-laden sandwiches. Sample some of these delicious treats for a satisfying late morning snack.
Cross the rushing Mapocho river to the fish market. Visit our favorite monger and select straight-from-the-sea-fresh fish or tender machas (razor clams) for lunch. Watch the show while expert hands perfectly fillet and shuck our order. A couple more stops at a cheese shop to pick up some goat cheese; and then a little artisan ice cream. Arrive at Liz's spacious private apartment overlooking Santiago's Parque Forestal.
Relax and make yourself at home. Sip some of our favorite sparkling wine and nosh on appetizers while the group prepares an exquisite three-course lunch. Dishes are inspired from authentic recipes, regional cooking techniques, and the fantastic ingredients. A selection of premium wines complements each course. Feel like you are in the company of a friend sharing the insider foodie experience in Santiago—you are. Salud!
More information from Liz Caskey Culinary & Wine Experiences: