Liz Caskey Culinary & Wine Experiences - vacations and travel
Street Food Santiago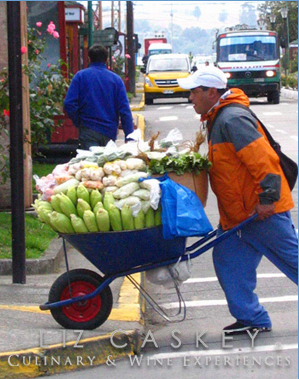 Santiago
Culinary & Wine Travel trips
Chileans love to take visitors aside and proudly share a favorite anecdote how the Universe organized the "leftovers" when Earth was created into their long, thin country. Indeed, Chile truly does have it all: the parched Atacama desert and Andean indigenous cultures; the fertile Mediterranean valleys full of vineyards and orchards; thousands of miles of coastline; a bustling, properous capital; rainforested fjords; snowcapped volcanoes; azure glaciers, and the windswept lands of Patagonia.

Add to this landscape new five-star hotels; intimate eco-resorts: gorgeous architecture from colonial adobe to modern skyscrapers; exquisite rustic cuisine that echoes Provencal flavors; and robust wines that have the whole world talking. However, what keeps us coming back are the gracious people. They genuinely want you to love their country as much as they do.

As Chile blossoms with a thriving economy, excellent infrastructure and safety, emerging arts scene, and boom in food and wine culture, if there was ever a moment to visit Chile, it's now.

Liz Caskey Culinary & Wine Experiences immerses you in Chilean culture with insider access to amazing experiences, extraordinary people, palate-delighting food and wines, and mindblowing landscapes. Our journeys will connect you with the Chile's people, touch your heart, and speak to your soul.
Locations visited/nearby
Chile, South America
0 testimonials about this trip.
Reviewer:

Joe P

located in

Shreveport

,

LA

USA.

"Our trip through Chile and Argentina with you was truly memorable. You've done a great job at establishing relationships in the wine industry as well as the hospitality industry – and it all shows in the finished product that was our trip. We thoroughly enjoyed everywhere we went, the first class establishments where we stayed, and the experience of the whole trip (not to mention all we ate and drank!). We've been a lot of places and on a lot of trips – this truly will be remembered as one of our more fun experiences as well as a great educational experience in the Chilean/Argentine wine industry – and our now much better understanding of wine as well as the industry. Thanks."



5

Reviewer:

Rona M

located in

Toronto

,

Canada

"We thoroughly enjoyed our adventure with you in the Colchagua Valley--without question a highlight of our three weeks in South America. Your professionalism, expertise, passion and sense of fun brought our trip to what seemed like the perfect conclusion."



5

Reviewer:

Margaret P

located in

Lancaster

,

PA

USA.

"Thank you for all of your assistance in making our trip to Chile and Argentina a wonderful experience! We enjoyed the food, wine, accommodations, culture but, most importantly, our guides. Everyone made us feel welcome. Having lunch at your home was a great way to wrap up our Chilean experience."



5
Comments from Facebook
Special information
This is a custom departure, meaning this trip is offered on dates that you arrange privately with the provider. Additionally, you need to form your own private group for this trip. The itinerary and price here is just a sample. Contact the provider for detailed pricing, minimum group size, and scheduling information. For most providers, the larger the group you are traveling with, the lower the per-person cost will be.
Itinerary
What do Chileans eat anyway? That's the question may food-loving travelers would love to know. Find out on this tour that gets you into the heart of the Downtown's neighborhoods and let's you munch through Chile's most iconic street food while taking the pulse of this vibrant metropolis.
Head west to the funky Barrio Brasil with its turn-of-the-century architecture. Daily street markets are still a way of life where residents buy the freshest produce. Shop the market, tasting exquisite native fruits like chirimoya (custard apple) or tangy olives. Since Chileans are serious bread junkies, stop at an old school bakery to see how Chile's favorite bread, marraquetas, are handmade by artisans.
Take a short hop to the civic center. Soak up the vibe in the bustling Plaza de Armas surrounded by stately neoclassical architecture. Meader down the buzzing pedestrian walkways and pop into a Café con Piernas—coffee bars with legs. Order an intense, frothy cortado served by a lovely barmaid. Around the corner, hop up to the counter for an ethereal cheese empanada at the Santiago empanada institution dating back almost 100 years. Yum, warm, tangy cheese with chili sauce is pure delight. Take it with you to continue checking out the city's core with majestic government palaces like La Moneda and the Stock Exchange.
Continue your culinary exploration on foot east towards Santa Lucía. Brave the line to get the city's best completo, a hot dog with the works. Loaded with tomato, mashed avocado, and homemade mayo, it is unlike any dog you have previously savored. Chileans down them for breakfast, lunch, dinner…anytime! To make some room for sweets, head for Santa Lucía, where the colonial city was founded. Hike to the top through immaculate gardens for a sweeping 360-degree view of the city.
Hang out in the hipster Fine Arts neighborhood with stately building and grand apartments along shady parks and streets. Stop to visit a friend who has been making colonial-style sweets in Chile for over 50 years. Visit her pastry shop and let her show you the secret of making perfect meringue—and sample her magic. Finally, top off a perfect foodie expedition with luscious ice cream at Santiago's much loved parlor. Go local and order some of their seasonal classics like manjar (milk caramel), chestnut or dark chocolate with chili. Cop-a-squat in the nearby Parque Forestal, the city's beautiful central park.
Return to your hotel in the mid-afternoon.
More information from Liz Caskey Culinary & Wine Experiences: