Liz Caskey Culinary & Wine Experiences - vacations and travel
Into The Sunset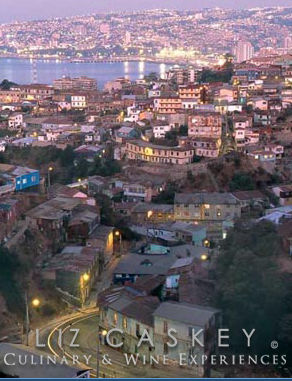 Santiago
Culinary & Wine Travel trips
Chileans love to take visitors aside and proudly share a favorite anecdote how the Universe organized the "leftovers" when Earth was created into their long, thin country. Indeed, Chile truly does have it all: the parched Atacama desert and Andean indigenous cultures; the fertile Mediterranean valleys full of vineyards and orchards; thousands of miles of coastline; a bustling, properous capital; rainforested fjords; snowcapped volcanoes; azure glaciers, and the windswept lands of Patagonia.

Add to this landscape new five-star hotels; intimate eco-resorts: gorgeous architecture from colonial adobe to modern skyscrapers; exquisite rustic cuisine that echoes Provencal flavors; and robust wines that have the whole world talking. However, what keeps us coming back are the gracious people. They genuinely want you to love their country as much as they do.

As Chile blossoms with a thriving economy, excellent infrastructure and safety, emerging arts scene, and boom in food and wine culture, if there was ever a moment to visit Chile, it's now.

Liz Caskey Culinary & Wine Experiences immerses you in Chilean culture with insider access to amazing experiences, extraordinary people, palate-delighting food and wines, and mindblowing landscapes. Our journeys will connect you with the Chile's people, touch your heart, and speak to your soul.
Locations visited/nearby
Chile, South America
0 testimonials about this trip.
Reviewer:

Joe P

located in

Shreveport

,

LA

USA.

"Our trip through Chile and Argentina with you was truly memorable. You've done a great job at establishing relationships in the wine industry as well as the hospitality industry – and it all shows in the finished product that was our trip. We thoroughly enjoyed everywhere we went, the first class establishments where we stayed, and the experience of the whole trip (not to mention all we ate and drank!). We've been a lot of places and on a lot of trips – this truly will be remembered as one of our more fun experiences as well as a great educational experience in the Chilean/Argentine wine industry – and our now much better understanding of wine as well as the industry. Thanks."



5

Reviewer:

Rona M

located in

Toronto

,

Canada

"We thoroughly enjoyed our adventure with you in the Colchagua Valley--without question a highlight of our three weeks in South America. Your professionalism, expertise, passion and sense of fun brought our trip to what seemed like the perfect conclusion."



5

Reviewer:

Margaret P

located in

Lancaster

,

PA

USA.

"Thank you for all of your assistance in making our trip to Chile and Argentina a wonderful experience! We enjoyed the food, wine, accommodations, culture but, most importantly, our guides. Everyone made us feel welcome. Having lunch at your home was a great way to wrap up our Chilean experience."



5
Comments from Facebook
Special information
This is a custom departure, meaning this trip is offered on dates that you arrange privately with the provider. Additionally, you need to form your own private group for this trip. The itinerary and price here is just a sample. Contact the provider for detailed pricing, minimum group size, and scheduling information. For most providers, the larger the group you are traveling with, the lower the per-person cost will be.
Itinerary
Day 1
Depart west from Santiago towards the coastal wine appellation known as San Antonio, the smallest in Chile and in our opinion, one of the most exciting. Located only kilometers from the ocean, this "wild west" of rugged, natural beauty is home to a handful of first-rate boutique wineries that produce stellar Pinot Noir, cold-weather Syrah, aromatic whites and crisp Sauvignon Blanc.
Visit a family-run winery with windy, hill-planted vineyards that are responsible for Chile's best Sauvignon Blanc. The lifelong dream of winemaker/owner Maria Luz, her passion led her to experiment with cooler varieties like Sauvignon Blanc, Pinot Noir, and lesser-known varietals such as Gewürztraminer and Pinot Gris, with phenomenonal results. The wines are concentrated and powerful; balanced and expressive with a tingling natural acidity. The family will show us the property and invite us to a tasting of her finest Pinot Noir and Sauvignon Blanc.
Just up the road, you are welcomed by friends at a world-class winery with a stunning location: their own 25,000-acre valley. Snake through miles of eucalyptus and native pines as the rolling hills gradually reveal vineyards. A new biodynamic/organic project, alpacas graze peacefully in this serene, bucolic setting where the modern winery appears to disappear into the landscape. However, the stars are the peppery Syrah and zesty Sauvignon Blanc. The resident sommelier will take us on a private tour of the vineyards and winery followed by a professional-style tasting of selected premium wines accompanied by their homemade sheep's milk cheese.
The adventure continues towards the tiny fishing village of Quintay. Snaking down a windy mountain road through a pine forest, hairpin turns slowly reveal the cliffs and turquoise waters of Chile's rugged coastline below. At road's end, a colorful jumble of clapboard houses cling to the rocks overlooking the wild Pacific. Here, artisan fishing is a way of life. Every morning, fishermen head out to sea in dinghies in search of rockfish, grouper, and shellfish. Lunch is across the sand and past the fishing boats at a simple restaurant overlooking the ocean. Run by an extraordinary woman, Zuni, the house specialty is über-fresh seafood. Join her sons in the kitchen as they share the art of cooking in greda, clay pots to prepare exquisite dishes like classic razor clams, fresh abalones, or seared grouper. The meal includes a sampling of our favorite coastal wines. Heaven.
Transfer to the port of Valparaíso on the Pacific Coast and check into the first boutique, design hotel in town, Casa Higueras. Set in a gorgeous 1920s Victorian mansion overlooking the port and bay below, Casa Higueras is a more than a hotel—it's a total experience. The rest of afternoon/evening is free to relax or sip some wine from your private terrace.
Tonight is on your own. We recommend exploring the charming hills of Valparaiso for an inspirational dinner at one of the excellent restaurants—the local dining scene is effervescent.
Day 2
Check out and off to explore this enchanting port, now a UNESCO world heritage site. Take the pulse of the turn-of-the-century hills through a historical walk. Check cozy cafes, old-fashioned mom-and-pop shops, and ride the city's emblematic elevators dating back more than 100 years. Drive by busy plazas where children play and eat churros. An obligatory stop is the centuries-old Cardonal market. Here, vendors hawk the freshest daily produce, tangy goat cheese, briny olives, and lot of cheery banter. Valparaiso feels like a time warp--combined with a bohemian vibe and lots of personality.
Before driving inland, wander briefly up the coast to Valparaíso's modern sister city, Viña del Mar. A vibrant resort and garden city, break for an ocean side cappuccino accompanied by mouth-watering ice cream. Chileans are passionate about their ice cream so try some perennial favorites like manjar (milk caramel) or chirimoya (custard apple)!
Head into the westernmost part of the Casablanca valley where the chilly temperatures are reflected in the freshness of the wines. Stop for lunch at a modern Chilean winery for Mediterranean tapas and fresh dishes in their stylish restaurant. Accompany the meal with a flight of house wines, including their memorable single vineyards.
For the grand finale, drop in on a family-owned American-Chilean enterprise making a limited amount of lip-smacking Sauvignon Blanc, satiny Pinot Noir, and electric Syrah. Tap into their passion and talent with the winemaker who will show you the vineyards, teeny winery, followed by an interactive tasting.
Return to Santiago in the late afternoon.
More information from Liz Caskey Culinary & Wine Experiences: