Liz Caskey Culinary & Wine Experiences - vacations and travel
Rustic Traditions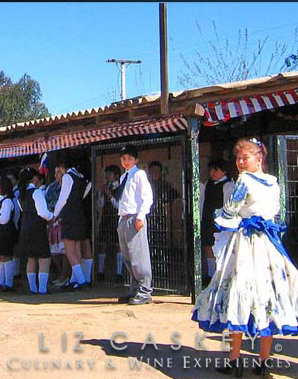 Santiago
Culinary & Wine Travel trips
Chileans love to take visitors aside and proudly share a favorite anecdote how the Universe organized the "leftovers" when Earth was created into their long, thin country. Indeed, Chile truly does have it all: the parched Atacama desert and Andean indigenous cultures; the fertile Mediterranean valleys full of vineyards and orchards; thousands of miles of coastline; a bustling, properous capital; rainforested fjords; snowcapped volcanoes; azure glaciers, and the windswept lands of Patagonia.

Add to this landscape new five-star hotels; intimate eco-resorts: gorgeous architecture from colonial adobe to modern skyscrapers; exquisite rustic cuisine that echoes Provencal flavors; and robust wines that have the whole world talking. However, what keeps us coming back are the gracious people. They genuinely want you to love their country as much as they do.

As Chile blossoms with a thriving economy, excellent infrastructure and safety, emerging arts scene, and boom in food and wine culture, if there was ever a moment to visit Chile, it's now.

Liz Caskey Culinary & Wine Experiences immerses you in Chilean culture with insider access to amazing experiences, extraordinary people, palate-delighting food and wines, and mindblowing landscapes. Our journeys will connect you with the Chile's people, touch your heart, and speak to your soul.
Locations visited/nearby
Chile, South America
0 testimonials about this trip.
Reviewer:

Joe P

located in

Shreveport

,

LA

USA.

"Our trip through Chile and Argentina with you was truly memorable. You've done a great job at establishing relationships in the wine industry as well as the hospitality industry – and it all shows in the finished product that was our trip. We thoroughly enjoyed everywhere we went, the first class establishments where we stayed, and the experience of the whole trip (not to mention all we ate and drank!). We've been a lot of places and on a lot of trips – this truly will be remembered as one of our more fun experiences as well as a great educational experience in the Chilean/Argentine wine industry – and our now much better understanding of wine as well as the industry. Thanks."



5

Reviewer:

Rona M

located in

Toronto

,

Canada

"We thoroughly enjoyed our adventure with you in the Colchagua Valley--without question a highlight of our three weeks in South America. Your professionalism, expertise, passion and sense of fun brought our trip to what seemed like the perfect conclusion."



5

Reviewer:

Margaret P

located in

Lancaster

,

PA

USA.

"Thank you for all of your assistance in making our trip to Chile and Argentina a wonderful experience! We enjoyed the food, wine, accommodations, culture but, most importantly, our guides. Everyone made us feel welcome. Having lunch at your home was a great way to wrap up our Chilean experience."



5
Comments from Facebook
Special information
This is a custom departure, meaning this trip is offered on dates that you arrange privately with the provider. Additionally, you need to form your own private group for this trip. The itinerary and price here is just a sample. Contact the provider for detailed pricing, minimum group size, and scheduling information. For most providers, the larger the group you are traveling with, the lower the per-person cost will be.
Itinerary
Day 1
Traveling south from Santiago, journey into the countryside covered in patchwork fields, red-tiled roofs, swaying Alamos, babbling rivers, and the jagged peaks of the Andes Mountains. The destination is the Cachapoal and Colchagua wine valleys, renowned for their "big" red wines like Cabernet Sauvignon, Syrah, and Chile's flagship Carmenere.
The first appointment this morning is in the micro appellation of Apalta. With a special, cooler microclimate within the Colchagua valley in the shape of a horseshoe, many of Chile's top reds are born here. Visit perhaps Chile's most chic, innovating, and highly acclaimed. Belonging to the Gran Marnier family, this extraordinary wine, named 2008 Wine of Year from Wine Spectator, is a reflection of its opulent setting buried deep in an Apalta hillside. See the shiny installations followed by a tasting in their gorgeous barrel cellar.
Continue south to the horseshoe-shaped Apalta, a micro valley in Colchagua. Here, drop in on friends at one of Colchagua's newest and most prestigious garage wineries. With only five bottled vintages, they produce one single Cabernet-Carmenere blend from 115 year-old rootstock. Walk amid the craggy vines and admire the restored colonial cellar. Finish with a private tasting of the exquisite 2005 harvest with remarkable finesse and balance.
Break for an al fresco lunch in a traditional winery. Served in their chirpy hacienda garden during warm weather (or cozy barrel cellar in winter), savor their silky, luscious red wines and simple gourmet dishes.
In the late afternoon, as the hills turn gold, drive southwest past the country towns of Santa Cruz and Lolol deep into the countryside towards the Pacific coast. Stay in the tiny colonial village of San Pedro de Alcantara nestled among eucalyptus trees and majestic pines. Relax in a private, restored 19th-century villa formerly belonging to one of the town's founding families. Venture out to roam the town and meet the locals. They are extremely friendly and love to share this authentic corner of Chile.
Tonight join in the preparation of traditional empanadas with a wonderful local cook. Learn the secrets of making succulent pino, beef tinged with onions, cumin and paprika. Also prepare a variety of vegetarian options including creamy mantecoso cheeses. Of course, the empanadas will be baked in the traditional outdoor mud oven, typical in all country homes. Feast on your empanada creation, accompanied by a tasting of the valley's dynamite wines and natural juices.
Day 2
Awake this morning to the town alarm clock—a rooster! Chow down on free range eggs, fresh cheese, fruit, and homemade bread, a country-style breakfast. Make your way down dusty roads over virgin hills and pine forests to the main road leading to the coastal town of Bucalemu. On the way, visit one of the salt flats where sea salt is harvested in the summer months (January-March). Piled high into white, sparkling pyramids this mineral-laden flaky salt is Chile's fleur de sal. It brings out tremendous flavor in food! Just try it on a fresh, vine-ripened tomato!
At the picturesque beach of Bucalemu, stop for a picnic luncheon complete with selected wines and a special tasting of Chile's finest artisan cheeses.
After lunch, return to the villa. Time to saddle up for a horse ride with an authentic huaso (cowboy). In the evening, the locals will throw you a classic Chilean asado (barbeque). Eat up the tasty choripan (sausage sandwiches), grilled steak, Chilean tomato salad, and the ubiquitous Pisco Sour, Chile's national drink. Salud to the Chilean country side!
Day 3
After breakfast, bid farewell to the tiny village of San Pedro. Journey back to the area known as Lolol, the Colchagua Valley's cradle of rustic traditions, Chilean cowboys and typical colonial architecture. Lolol is also being discovered by vintners for its cooler temperatures, alluvial and clay soils, and an affinity for growing Carmenere and white grapes like Viognier.
Visit the wine pioneer in the area, a Bordeaux-based winery whose vision brought them to Chile to seek land to make their elegant, French-style wines of exceptional quality. Boutique in size and intimate in atmosphere, we will get to know its wines and surrounding hills with a private tour and tasting of their premium wines.
Lunch in the town of Santa Cruz at a relaxed yet sophisticated bistro serving up Colchagua's most refined fare. Pair the meal with a tasting of more valley wines.
After lunch, drop in to a traditional hacienda for afternoon tea, known as onces, brought to Chile by the English in the 19th century. A bakery producing colonial-style pastries, let the elegant owner tempt you with her mouthwatering sweets and country charm.
Return to Santiago in the late afternoon.
More information from Liz Caskey Culinary & Wine Experiences: