Liz Caskey Culinary & Wine Experiences - vacations and travel
Tremensous Terroir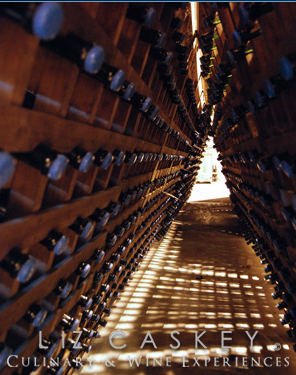 Mendoza, argentina
Culinary & Wine Travel trips
Home to gauchos, fútbol aficionados and die hard tango dancers, beyond "BA" (Buenos Aires), Argentina stretches for more than 2,000 miles from north to south. Explore the tropical jungles of Iguazú falls, the red Andes of Salta with high-altitude vineyards; quiet, swiss villages in the Lake District; whale watching on the Peninsula Valdés; the wild west of El Chaltén and the granite peaks of Mt. Fitz Roy; or the wine hubbub in Mendoza. And then, of course, there's BA. One of the world's great capitals, the city slyly seduces shoppers, art lovers, gourmands, and cultural hounds. It will slowly woo you and make you never want to leave.

Epicurean adventures abound. Be prepared for the steak of your life; sublime culinary creations of "modern" Argentine cuisine; a highly addictive treat called medialunas (croissants); and that slinky Malbec flowing freely. Argentines are passionate and intensely friendly. They will show you the time of your life if you let them. Viva la Dolce Vita!

Liz Caskey Culinary & Wine Experiences immerses you in Argentine culture with insider access to amazing experiences, extraordinary people, and palate-delighting food and wines, and mindblowing landscapes. Our journeys will connect you with the Argentina's people, touch your heart, and speak to your soul.

Locations visited/nearby
Argentina, South America
0 testimonials about this trip.
Reviewer:

Joe P

located in

Shreveport

,

LA

USA.

"Our trip through Chile and Argentina with you was truly memorable. You've done a great job at establishing relationships in the wine industry as well as the hospitality industry – and it all shows in the finished product that was our trip. We thoroughly enjoyed everywhere we went, the first class establishments where we stayed, and the experience of the whole trip (not to mention all we ate and drank!). We've been a lot of places and on a lot of trips – this truly will be remembered as one of our more fun experiences as well as a great educational experience in the Chilean/Argentine wine industry – and our now much better understanding of wine as well as the industry. Thanks."



5

Reviewer:

Rona M

located in

Toronto

,

Canada

"We thoroughly enjoyed our adventure with you in the Colchagua Valley--without question a highlight of our three weeks in South America. Your professionalism, expertise, passion and sense of fun brought our trip to what seemed like the perfect conclusion."



5

Reviewer:

Margaret P

located in

Lancaster

,

PA

USA.

"Thank you for all of your assistance in making our trip to Chile and Argentina a wonderful experience! We enjoyed the food, wine, accommodations, culture but, most importantly, our guides. Everyone made us feel welcome. Having lunch at your home was a great way to wrap up our Chilean experience."



5
Comments from Facebook
Special information
This is a custom departure, meaning this trip is offered on dates that you arrange privately with the provider. Additionally, you need to form your own private group for this trip. The itinerary and price here is just a sample. Contact the provider for detailed pricing, minimum group size, and scheduling information. For most providers, the larger the group you are traveling with, the lower the per-person cost will be.
Itinerary
Day 1
Dive into understanding more of Argentina's most beloved grape—Malbec.. Today explore the different microclimates in the region of Luján de Cuyo to better understand this grape's unique expression. To kick off the fun, you are invited to understand old vine, low yield Malbec, carefully crafted by winemaker Roberto de la Mota. In the turn-of-the-century bodega, get to know his intense yet elegant wines which are full of character.
Next, drive to the area known as Lunlunta. Hidden off a country road next to an old ivy-covered church, chime the bell of this tiny garage winery whose owner and winemaker is considered one of the fathers of Mendocino terroir. Using their own savings, ingenuity, and passion, they have transformed and reignited viticulture in this part of Mendoza. Try their hand-crafted wines and visit this enchanting place with the family. This is as local as it gets!
Lunch is a five-course gourmet endeavor at a family-owned estate where each dish is skillfully paired with their full line of Malbec, from rosé to the reserva. Finally, just around the corner, is the petit bodega of the Bressia family. They will welcome you into their winery just like family. They love to share their craft. Their wines are long, satiny, and ripe. Tasting with cheese board and conversation.
Around the corner and down a dusty road is the chicest luxury wine hotel in Mendoza: Cavas Wine Lodge. Surrounded by vineyards with panoramic views of the Andes, the hip Cecilia and her husband Martin breathe a special vibe into this magical place. Impeccable service, intimacy, attention to detail, and spacious rooms, and a world class spa, to name a few.
Check in and the rest of the afternoon is free. Dinner is on your own tonight at Cavas' delicious restaurant.
Day 2
Today dive the heart of Mendoza—getting to know its passionate winemakers and tiny, boutique projects. Visit an unassuming bodega located on the shores of the Mendoza River. Now a worldwide reference for its single vineyard wines, learn about their winemaking philosophy and taste the different components of the Quimeira blend in an educational tasting with barrel samples. It is an excellent introduction to how varied Malbec and Mendocino terroir can be.
Next, stop by is a primo sparkling wine project. Dry, sparkling wines are an old school tradition in Argentina. Savor each sip as you learn how they create their brut, nature, and rosé wines. Tasting around noon is the perfect "snack".
Have lunch at an organic vegetable farm that produces gourmet delicatessen treats like homemade roasted Piquillo peppers, Green Tomato Chutney, Rose Confit, and Malbec jam. Everything is home grown, harvested, and processed on site. Take a walk around the property to visit the gardens and sit down to a 5-course guided tasting lunch in their renovated mansion to try Mediterranean-accented specialties.
After lunch, visit a tiny jewel tucked away in the shady lanes of Chacras de Coria. Making some of the most distinctive wines in the region, including a wonderful Nebbiolo and a rare Malebc clone called Brote Negro, the wines are pure poetry. Expressive, juicy, complex. A perfect end to the day.
Return to Cavas in the late afternoon. Have dinner tonight in town at celebrity chef Francis Mallman's 1884 restaurant, a Mendocino classic. Housed in the old Escorihuela winery, savor the delicious grilled meats for which Mallman is so renowned.
Day 3
Located an hour south of the action in Luján, the high-altitude Uco Valley has extended beyond Malbec. Many wineries are experimenting with new varietals like Cabernet, Tempranillo, and Syrah. A lush agricultural valley amid a parched desert, the valley floor is dotted by almond trees and orchards. The Andes feel like they are at arm's length.
Drive south by way of the scenic road over the rolling hills to arrive in Tupungato near the base of the volcano. Stop by a garage operation where everything is in miniature. Their Cabernet and Malbec have grabbed much attention for their distinct personality and excellent value. Tasting with one of the winemakers.
Lunch is up the road with sweeping vistas of vines and mountains. Talented cooks put their farm-to-table philosophy to practice in this rustic restaurant focusing on regional cuisine and Uco wines.
In the village of Vista Flores, visit the project of the young, innovative winemaker Mauricio Lorca. The depth of his wines (without oak!) show the power of Uco's extraordinary soil and climate. Brief visit and tasting.
Just down the road, stay at Casa Antucura, the guest house of Antucura winery's owners. A comfortable house with a sprawling lawn, a gleaming pool, and enchanting mountain views, get some fresh air, take a dip, or settle in a primo cigar and glass of house wine. Or peruse a good book from their 7,000-book library. The afternoon is at your leisure. Dinner tonight is prepared by the talented cook, Estefania. Let her dazzle your taste buds with simple, tasty food and more house wines. Her signature chimichurri salsa is addictive. Cheers to a great time in Uco!
Day 4
Awake to birds chirping and breakfast in bed. This morning, if you like, visit Antucura's winery for a formal explanation of how their two spectacular Cabernet blends are made under the expertise of French winemaker extraordinaire, Michel Rolland.
Later, pack up and set off to experience one of Argentina's newest wineries that has become a worldwide hit for the quality of its wines. The stunning location at the feet of the mountains is sharply contrasted with futuristic architecture. Founded in the new millennium by a Spanish family, the house specialty is Tempranillo. Get to know these singular wines with a tour of Matrix-like winery followed by a full tasting of their top wines from their properties in Argentina, Chile, and Spain.
Meander down to your table at the winery's swish restaurant, Urban. Let them delight you with elegant food and top wines.
Return in the afternoon to Mendoza or the airport for your flight.
More information from Liz Caskey Culinary & Wine Experiences: