Escape Adventures - vacations and travel
Maui & Mt. Haleakela Multi Sport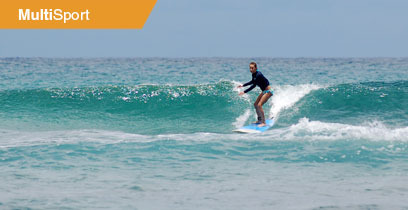 from $2,490* per person
6 Days
December-April, October
Boutique accommodations

Exertion level: 5

Operator:

Escape Adventures

12 people max
Maui, hawaii
Active & Adventure trips
Referred to by Hawaiians as the "Valley Isle", the tropical Maui valley connects two of the world's largest volcanoes into one island paradise!
Inside Maui's 120 miles of coastline, we experience a surprising range of microclimates, from exotic gardens to rain shadow dry lands, from sandy lagoons to snowy summits!
We combine extraordinarily scenic cycling with great hiking, sea kayaking and even surfing, to pack the best Maui has to offer into an active, yet relaxing week-long Hawaiian retreat.
Challenging climbing and exhilarating descents await us as we explore Maui's mountainous back roads by bike. Surfing lessons and a sea kayaking tour, both appropriate for beginners, allow us to broaden our experience, while hiking gives us a chance to see this beautiful landscape close-up. Join us for the perfect multi-sport getaway to this adventurous and tropical isle!
Locations visited/nearby
Hawaii, United States
Comments from Facebook
Itinerary
Day 1 | Cycling – West Maui Mountains
We begin our ride today along the coastline of the Mauna Kahalawai (West Maui Mountains). This western quarter of the island is an eroded volcano that is much older than Mt. Haleakala in the east. Later we'll climb up 1,000 feet through classic Maui scenery: amazing valleys sprinkled with water falls, and majestic sea cliffs line our route. We also ride through the old Hawaiian fishing village of Kahakuloa where they still grow Taro. Taro is believed to be one of the first cultivated plants, and it is the base for Poi, a classic Hawaiian dish.
Total Mileage | 42 Miles Inn | Kihei
Total ascent: 2267ft Total descent: 2253ft

Day 2 | Cycling & Sea Kayaking
After a short shuttle, we ride out past the only winery in Maui, along a road with little to no vehicle traffic for almost 40 miles. This ride provides a great introduction to Hawaii with views of the ocean, mountains, and even four of the other Hawaiian islands along the way. There is roughly 3,500 feet of elevation gain over this 30-mile ride. We will shuttle back to Kihei for lunch and to trade out or bikes for sea kayaks!
We'll meet our kayaking guides this afternoon for an exciting adventure just off the coastline.
Total Mileage | 30 miles biking + sea kayaking Inn | Kihei

Day 3 | Hang Time & Free Time
Spend the morning learning to surf with a 2-hour private lesson. We head out at the best time of the day to learn, in one of the best places in the world to learn, with expert, personalized instruction- you can't go wrong!
Then the afternoon is yours- head into town for shopping at the many shops and local markets or relax on one of Kihei's beautiful public beaches. If you're looking for more high profile sun and sand, head south to world famous Big Beach.
Inn | Kihei

Day 4 | Hike Mt. Haleakela
A trip to Mt. Haleakela allows us to experience the natural history of Hawaii up close. The summit area's remarkable volcanic landscape quickly gives way to a variety of other ecosystems as you descend down into the park. In fact, you pass through as many ecological zones on the drive to the summit as there are between Canada and Mexico! Here, a massive variety of native Hawaiian plants and animals thrive, including some species that exist no where else in the world. After taking in the sights from the van we'll head out on a day hike, exploring one of the park's many wonders.
Total Mileage | 5-7 miles hiking Inn| Paia or Haiku

Day 5 | Cycling Haiku to Keanae Village
Today we voyage through the rain forest to Keanae Village. A tropical atmosphere bursting with lush green foliage, combined with incredible views of both the ocean and Haleakala, make this one of the best rides on the planet! In Keanae, we stop for hot banana bread, fresh from the oven. As we take our break, a dramatic scene unfolds before us as waves pound the lava rocks below. In all, the day's rides add up to over 3,000 feet of elevation change over more than 50 miles.
Total Mileage | 54 miles Inn | Paia or Haiku
Total ascent: 3400ft Total descent: 3400ft

Day 6 | Hiking – Bamboo Forest
From the trailhead off the famous Hana highway, we embark on a unique hiking adventure. We venture into a lush section of bamboo forest, passing three classic Hawaiian waterfalls along our route. Bring your swimsuit for a dip in the idyllic freshwater pools that lie at the base of the falls. Cap off the perfect day in paradise with a snack of fresh guava, before concluding our tour after lunch.
Total Mileage | 2-5 miles hiking

More information from Escape Adventures: