Sea Kayak Adventures, Inc - vacations and travel
Patagonia Kayaking with Southern Right Whales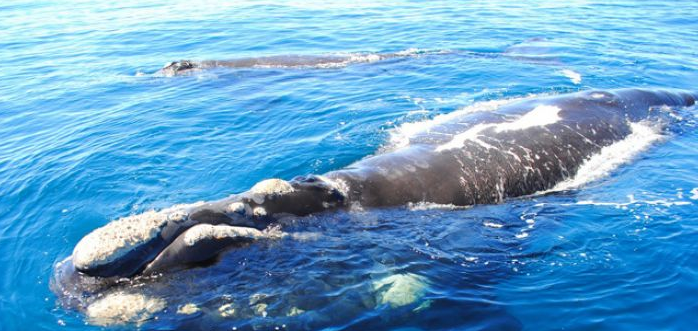 from $3,495* per person
12 Days
September-December
Comfort accommodations

Exertion level: 3

Operator:

Sea Kayak Adventures, Inc

24 people max
Buenos aires airport, argentina
Boats, Barges & Small Ship Cruises trips
October through early December, endangered Southern Right whales and their calves cruise the sheltered waters of Gulfo San Jose, located between the peninsula and the Patagonian mainland, where we navigate unobtrusively in our kayaks for close encounters with the whales, elephant seals, Magellanic penguins, southern sea lions, and dolphins.

The whales come here for mating and giving birth, because the protected water in the gulf is quieter and warmer than in the open sea. It's the best place in the world to watch the nursing mothers and their playful calves up close from the shore and your kayak. Breaching, fin-slapping and tail-lobbing, the highly social whales will captivate your attention with their behavior.

Our introduction to Argentina begins with an overnight stay in the cosmopolitan city of Buenos Aires, often called the cradle of tango, before transferring to the airport the following morning for our southbound flight to Patagonia.

We offer two different itineraries for you to observe the Southern Right whales and discover Patagonia's diverse, fascinating ecosystem of windswept steppes, unique wildlife, and dramatic coastline. Our Patagonia Whales & Kayaks 8- and 12-day itineraries include camping at a secluded beach at the center of whale activity that is also a research area for a local whale conservation organization. It is the perfect place to see the whales as they surface and blow right in front of our camp!

On shore your guides will take you hiking to fossil-rich rock formations and beaches strewn with ancient shells. Nights are spent camping out on the beach and dining on local shrimp, scallop and drinking Malbec wine while tender beef and piles of sausages sizzle on a wood-fired grill. Afterwards, the hollow resonating blows of the whale lull you to sleep.

Both itineraries feature a visit to a nearby Magellanic penguin colony before an evening of dinner and lodging at Estancia Rincon Chico, a historic turn-of-the-century sheep ranch located in the park. The final highlight of our tour is visiting the only elephant seal rookery on the South American continent before leaving Peninsula Valdes for our last night accommodation in Puerto Madryn.
Locations visited/nearby
Argentina, South America, Patagonia
0 testimonials about this trip.
Reviewer:

Alan M

"It was my best birthday ever. The scenery was spectacular & the whales did not disappoint. Our guides were exceptionally kind, flexible, accommodating, relaxed & knowledgeable (plants, birds, sea creatures, & stars). The food was way beyond my expectations & abundant. I was even baked a birthday cake (right on the beautiful beach where we were camping) & served cold Champaign. I expected a lot for my 60th BD & this trip far exceeded my expectations. "


5

Reviewer:

Arlene Perry

"Since this was my first trip of this kind, I really didn't know exactly what to expect. However, the whole experience was just great…the people, the first-rate equipment, the area & nature, the guides, the food was wonderful, plus the weather and traveling connections. I especially appreciated the equipment list you sent. It all fit into my backpack and I was ready to go."


5

Reviewer:

Arthur Rosenshein

"The trip exceeded my expectations … outstanding guides, excellent food, well planned, beautiful location. The weather was perfect…blue skies, sunshine and warm temperatures with a light breeze. The kayaking and snorkeling were great."


5
Comments from Facebook
Itinerary
Day 1: Upon arrival in Buenos Aires, you will be met at the airport and transferred to your hotel. There is a two-hour walking tour of the city in the afternoon. The evening is free to rest or explore the city. At your request, we can arrange a glamorous tango show and dinner for a taste of Argentina culture Overnight in Buenos Aires. Meals not included. Note: Most international flights arrive to Buenos Aires in the morning.
Day 2: Early am depart Buenos Aires for flight to Trelew airport, meet guide and transfer to the village of Puerto Piramides. Two-hour whale watching cruise. Welcome dinner and trip orientation. Accommodation at an Eco-lodge in Puerto Piramides. Meals: L, D
Day 3: After breakfast we leave Puerto Piramides towards San José gulf within the Península Valdés Nature Reserve where our kayaking trip starts. After loading our gear in the kayaks, the guide gives us a safety briefing and instructs us about our expected conduct in a protected area. We start our paddling journey along a coastline of sand and stone beaches alternating with rocky formations and cliffs. We encounter sea lion colonies and Southern right whales. After a stop for lunch, we resume the paddling to our first night campsite for happy hour and dinner. Meals: B, L, D
Day 4: After breaking camp, we continue our paddling towards a small pebble beach where we set up our second night camp. A calm sunset will allow paddling in our kayaks to enjoy watching the sun go down. We feast on typical Patagonian lamb with the background sound of the whales in the gulf. Meals: B, L, D
Day 5: After breakfast, we leave our camp behind for a full day paddle. Our paddling today is bound for Punta Conos, and El puente -the bridge- a maritime rock formation. Punta Conos boasts a huge concentration of marine fossils dating back million years. Once we paddle through El Puente, we arrive at a small beach, perfect for a seaside lunch. After lunch, we get back in our kayaks to visit a large south american sea lion colony. We enjoy the curiosity of the sea lions that swim around and approach our kayaks. After visiting the sea lion colony, we head back to camp for happy hour and dinner. Meals: B, L, D
Day 6, 7, 8, 9: Full days of kayaking including coastal hikes and wilderness camping as we continue following the coastline of Gulfo San Jose. Meals: B, L, D
Day 10: After breakfast, we break camp and start touring Península Valdés. Our vehicle takes us to the most attractive spots such as Punta Norte and Caleta Valdés eventually dropping us at Estancia Rincón Chico. During the tour, we visit colonies of Magellanic penguins and elephant seals, and observe the steppe's endemic wildlife along our way. Overnight and farewell dinner at Estancia Rincón Chico, a turn-of-the-century sheep ranch located in the park. Meals: B, L, D
Day 11: After a full day of wildlife viewing, we transfer to a hotel in Puerto Madryn where our Patagonia adventure comes to an end. Meals: B, L
Day 12: Morning transfer and flight out of Trelew to Buenos Aires. Upon arrival to the domestic terminal in Buenos Aires, we are directly transferred to the international terminal and return flight home. Meals not included. You have the option of staying an extra day in Buenos Aires or continue your travels.
More information from Sea Kayak Adventures, Inc :