Sea Kayak Adventures, Inc - vacations and travel
Galapagos Island Sea Kayak, Snorkeling & Hiking Adventure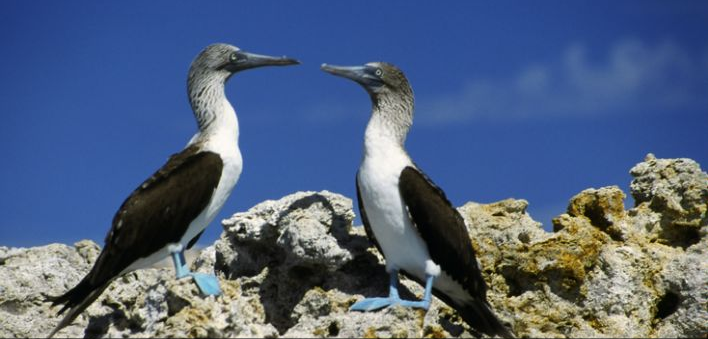 from $4,090* per person
10 Days
Year-round
Comfort accommodations

Exertion level: 3

Operator:

Sea Kayak Adventures, Inc

24 people max
Quito airport, quito, ecuador
Boats, Barges & Small Ship Cruises trips
Travel the Galapagos Islands with sea kayak paddle in hand. Like other travelers, you'll marveled at these islands with their oceanic geologic origins, rich sea life, diverse wildlife and intriguing natural history - all of which are unique on this planet. Our Galápagos Island Sea Kayak, Snorkeling and Hiking Adventure allows you to discover them under your own power. We leave the crowds of visitors and the well-worn paths behind to enjoy the peace of walking and paddling our way through this island paradise.

Few places on earth allow for such intimate contact with a dazzling array of wildlife as the Galapagos islands. Words cannot describe the intense wonder of exploring these oceanic islands where the birds and animals have little or no fear of humans. On this superlative adventure you'll swim with sea lions, get within a few feet of blue footed boobies, marine iquanas and the giant Galapagos tortoises. You'll watch pelicans and boobies dive for fish, snorkel in transparent water rich with fishes and, if you desire, swim with sharks.

The Galápagos Islands have been a national park of Ecuador since 1959 and the islands remain a far-flung destination. Because of their famous natural history and remarkable creatures, these remote islands are revered the world over. In the effort to protect and preserve the Galapagos, access to the islands is restricted and regulated. Most tours to the Galapagos are cruise based aboard yachts carrying from ten to ninety people. This unique journey, the only one of its kind, allows our small groups to visit sites that are not on the main routes in the most environmentally-friendly manner imaginable - under your own power. We walk and sea-kayak where other, more intrusive modes of travel would not take us, and our reward is not only what we see but the pleasure of getting there. Ours is also the only adventure that gives you the opportunity to camp on island beaches, as well as explore by horse or foot, the rim of a recently active volcano.

Our sturdy, speedy, and stable expedition sea kayaks are for one or two paddlers and are specifically equipped for the conditions we encounter. All kayaking portions of the trip are supported by a panga, or small motorboat, to ensure everyone's comfort and safety. Although participants should have some paddling experience, we begin with practice and safety instruction. Our camping sites are approved, and we adhere to leave-no-trace ethics in all our excursions.

Our itinerary takes us to five islands that include a wealth of wildlife and ecosystems. Every journey is more than its destination, and we are thrilled to offer an experience in the Galapagos for those intrepid and indefatigable souls who come along with us.
Locations visited/nearby
Ecuador, South America, Galapagos
0 testimonials about this trip.
Reviewer:

Alan M

"It was my best birthday ever. The scenery was spectacular & the whales did not disappoint. Our guides were exceptionally kind, flexible, accommodating, relaxed & knowledgeable (plants, birds, sea creatures, & stars). The food was way beyond my expectations & abundant. I was even baked a birthday cake (right on the beautiful beach where we were camping) & served cold Champaign. I expected a lot for my 60th BD & this trip far exceeded my expectations. "


5

Reviewer:

Arlene Perry

"Since this was my first trip of this kind, I really didn't know exactly what to expect. However, the whole experience was just great…the people, the first-rate equipment, the area & nature, the guides, the food was wonderful, plus the weather and traveling connections. I especially appreciated the equipment list you sent. It all fit into my backpack and I was ready to go."


5

Reviewer:

Arthur Rosenshein

"The trip exceeded my expectations … outstanding guides, excellent food, well planned, beautiful location. The weather was perfect…blue skies, sunshine and warm temperatures with a light breeze. The kayaking and snorkeling were great."


5
Comments from Facebook
Itinerary
Day 1: Depart Home, Arrive Guayaquil
Upon arrival in Guayaquil, Ecuador's biggest city and a major port, you will be met by a representative of ROW International, who will assist you with your luggage and transfer you to the hotel for your overnight stay.
Day 2: Guayaquil - San Cristobal
In the morning, we will fly from Quito or Guayaquil to San Cristobal Island, the easternmost island in the archipelago. The island is one of the oldest in the chain, and thus its volcanic peaks are greatly eroded and vegetation is more abundant than on many islands. Upon arrival in the provincial capital and second-largest town in the Galapagos, Puerto Baquerizo Moreno, we will kayak from Puerto Baquerizo to Tijeretas Bay and back to Puerto. This will take about 1 hour and a half. Then we will go in our boat to Puerto Grande to camp.
Day 3: Cerro Brujo, Kicker Rock & Isla Lobos
Today we will take our kayaks and paddle from our camp to Manglecito. It will take 2 to 3 hours depending on the weather conditions. Manglecito is a great place for bird watching. After kayaking, we will enjoy some beach time. Afterwards we will continue by boat to Isla Lobos, Kicker Rock and if we have time we will visit Cerro Brujo. This is an amazing day of snorkeling when we see Galapagos and white-tipped reef shark, eagle rays, and swim with the ever playful sea lions. Late afternoon we will be returning to relax on the beach and enjoy our last night at camp.
Day 4: San Cristobal - Isabela Island
After Breakfast, we will walk to Tijertas view point for about one hour. Then we head to the airport for our flight to Isabela Island. This seahorse-shaped island is the largest in the archipelago at 80 miles in length. Despite its remarkable beauty, Isabela is not a stop on most Galapagos cruises, making it a less-visited site perfect for our adventures. Upon arrival in Puerto Villamil, the main town on Isabela, we check into Casa de Marita, a small and charming beachfront hotel. After lunch, our first stop is the Tortoise Breeding Center, an initiative of the National Park for the conservatino of Isabela's tortoises. Then we will visit the marshlands or humedales, where elevated walkways take us voer tidal lagoons that include four mangrove species and provide habitat for flamingoes and numerous migratory birds. We will come back to the hotel walking through the beautiful white sand beach of Puerto Villamil.
Day 5: Isbela's Sierra Negra
After breakfast this morning, we drive to the highlands of Isabela for an entirely new view and feel of the Galapagos. After an hour, we reach the starting point of our hike up Sierra Negra that last erupted on October 22, 2005 and deposited a new and dramatic layer of lava. The caldera of this volcano is the second largest in the world, with a diameter of approximately six and a half miles. On our hike, which varies from 8-14 miles depending on the group, we can spot a variety of birds, including finches and flycatchers and if we're lucky, the Galapagos hawk. From the rim of the caldera we hike to Chico Volcano to see fumaroles and the unusual lava formations, a striking visual record of the geological history of these islands. From our highest vantage point, enjoy views of Isabela's other volcanoes and nearby islands. Return to our starting point of the hike and drive to town. Some may then enjoy a walk to the beach for a cool swim before dinner.
Day 6: Tuneles & Tintoreras
In the morning, weather permitting, we'll take a boat for roughly an hour to Los Tuneles: the most curious and remarkable lava formation which consists of arches and caves. We'll walk along the shore and also snorkel in crystal clear water for an insight into the remarkable underwater world. We'll have lunch and then head back into town to visit the small island of Tintoreras. This island is a unique volcanic formation. On its west face a primitive species of lichen flourishes in the moisture brought by the prevailing wind. Here we'll find young marine iguanas, Galapagos and white-tipped reef skars. In the quiet lagoon there are also boobies and we sometimes get another glimpse of the Galapagos penguin.
Day 7: Isabela - Santa Cruz
After breakfast, we will take the motorboat for a 2 and a half hour sail to Puerto Ayora on Santa Cruz Island. Santa Cruz, also called Indefatigable Island, is located in the center of the Galapagos Islands archipelago. It is also the center of human activity in the Galapagos Islands, since the National Park Headquarters, the Darwin Research Station, and the largest settlement in the Galapagos Islands, Puerto Ayora, are all located in Academy Bay on the south side of Santa Cruz Island. After checking into our hotel, we will take a boat trip with some local artesian fisherman to Daphe Mayor. Daphne Mayor and Borrero are unique locations as they are for fisherman, not tourist boats, which gives us the opportunity to visit exclusive destinations and experience the natural environment of the Galapagos.
Day 8: Bahia Ballena Tour and Tortuga Bay
After breakfast, we join our boat for a 40 minute trip northwest from Puerto Ayora to La Fe, an inlet from the ocean. We will land on a sandy beach and take a short walk to observe Galapagos Sea Lions lounging and the unique Marine Iguanas basking in the sun, sometimes resting on the succulent Sesubium plant, and on lava rocks. The endemic Darwin's Finches and Yellow Warbler subspecies fly among Candelabra and Prickly Pear Opuntia cacti to search for food and nesting sites. Frigate Birds perch on Mangrove trees and circle the sky to try to steal fish and the Blue Footed Boobies hunt by diving spectacularly into the water. Here, different species of mangroves grow among the lava fields, providing nutrients to the water that attract colorful tropical fish that can be observed as you snorkel. As you look out from the inlet, you will observe a series of channels where clusters of lava rocks form small reefs. Sail to Tortuga Bay, which is a beautiful, very fine white-sandy beach where you can relax and enjoy outstanding sunsets before returning to Puerto Ayora to enjoy some free time before making for a sundowner on the waterfront deck.
Day 9: Santa Cruz Highlights & Return to Guayaquil
Return to Guayquil from Baltra where the main airport is. Originally an air base built by the US Navy during WW II, this is a small, low island separated from the northwest corner of Santa Cruz by the narrow Itabaca Channel. Enjoy a Farewell dinner.
Day 10: Depart Guayaquil
We have an early wake-up and breakfast before the transfer to the airport for your international flight.
More information from Sea Kayak Adventures, Inc :