Bredeson Outdoor Adventures - vacations and travel
Rambles in England's Literary Lake District
"It was an absolutely wonderful trip, and I can't thank you enough for all your hard work, preparation, and advice.… "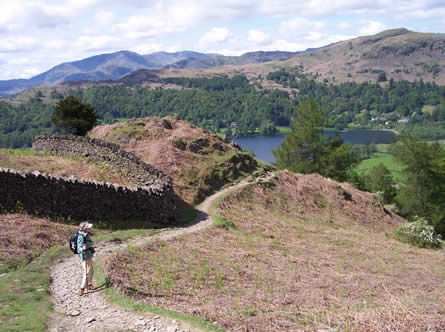 from $2,750* per person
7 Days
May-October
Boutique accommodations

Exertion level: 5

Operator:

Bredeson Outdoor Adventures

10 people max
Windermere airport, england, united kingdom
Active & Adventure trips
Join Bredeson Outdoor Adventures for rambles in the heart of England's literary Lake District. The Lake District is the first and largest of England's national parks. It is the land of William Wordsworth and other Romantic poets, and the inspiration for Beatrix Potter's works. It lies in northwest England nestled between the sea and Scotland, and is a region of high mountains, deep valleys, and deep blue lakes formed 10,000 years ago by glaciers. Wild, rugged mountains contrast with charming villages and farms. The crowds will be gone when we enjoy this late summer cultural hiking tour.
This trip will be based in Windermere near the lake, enabling you to unpack and relax as you spend the week exploring this beautiful region. We'll be staying in a luxury country house hotel in the finest English tradition. The hotel, a former Edwardian gentlemen's club residence, enjoys panoramic lake views and is nestled in five acres of gardens in the heart of the Lake District. We'll enjoy multi-course gourmet dinners in the hotel's award-winning restaurant, and be treated as if we were the esteemed guest in an English country house, which, by the way, we will be on this trip. We'll be located a short distance from the hikes and cultural attractions, but will be away from the bustle.
You'll enjoy this classic landscape and the creature comforts of your hotel under the expert and friendly leadership of an excellent guide, who lives in Windermere and knows the area inside and out.
Locations visited/nearby
England, Europe
1 testimonial about this trip
Reviewer:

Marty Thompson

located in

Lake Chrles

,

Louisiana

USA

"It was an absolutely wonderful trip, and I can't thank you enough for all your hard work, preparation, and advice. I've unpacked, done laundry, paid bills, and sorted through 10 days of papers, so I'm ready to resume life in the real world. I'm still dreaming at night that I'm up on the footpaths through sheep meadows with all of you, so that's kind of nice.Good luck on your upcoming trip, and again, thanks for everything!" A reference for another Lake District trip provided by Bredeson Outdoor Adventures.


5
Reviewer:

Kate Johnson

located in

Norwalk

,

Connecticut

USA

"Our trip to Cinque Terre was the best trip we have ever taken. The beauty of the location was certainly a factor, but, in retrospect,Deb organized and designed a week that far exceeded our expectations. Once we became part of the trip, we immediately began to receive pertinent information-"walk,bike,lift weights every day"-not quite, but she was getting us in shape for the trip that lay ahead.The detailed list of items that we would need was given to us with plenty of time to acquire them.The itinerary provided us an exact time table from landing in Europe to heading back out. Where and when we would be staying, eating, hiking, railroading,ferrying, having options-nothing was missed. Deb's attention to every detail of the organization and flow was flawless. Beyond that, Deb's knowledge of the area and her sense of humor -we would follow her anywhere. With enormous appreciation." Guided CInque Terre hiking trip


5

Reviewer:

Steve Ruggiero

located in

Bainbridge Island

,

Washington

USA

"Thank you again for your wonderful assistance and guidance before, during and after our trip through the Alps this summer. Your detailed and hands on knowledge of the locales, suitability of the intended hikes for our family and an understanding of our exact requirements were spot on. With two little boys in tow and an ambitious schedule spread out over three areas in two weeks, we needed to have the details in hand with no worries. You gave us not only what we asked for but also suitable alternatives to be able to make decisions on the fly if schedules, enthusiasm or weather changed. Your ability to listen and then tailor an appropriate schedule is the mark of a true professional who enjoys what they do. Your passion for it shows and we would have no hesitation to use your services in the future or happily endorse your services to others." Self-guided family trip in Chamonix, Zermatt and Wengen (French and Swiss Alps)




5

Reviewer:

Mary Pepper

located in

Ames

,

Iowa

USA

The gals were all absolutely delighted with the trip. I think you just blew their minds with the places you chose and the level of professionalism you displayed as our guide. We would all go anywhere you would like and I am anxious to plan more trips with you...I feel certain other of my friends and friends of all the Leaf Ladies are going to be anxious to join any trip in which you are involved as our guide/friend. I am so thankful I had the good fortune to travel with you and you were willing to take us on. You listened to what I wanted for the group and were so attentive to the needs of all of us. We got to see what the true Vermont is like through the eyes of someone who really loves it. It couldn't have been better. I heard from talking with others at the airports that they felt the same and we all really thank you for it." Guided Vermont hiking trip


5
Comments from Facebook
Special information
Family oriented trip.
Centered around activities for grandparents and their grandchildren.
Self-guided (includes hotels, maps, luggage transfer, etc but no guide).
Offers some women-only departures.
Itinerary
Day 1: Trip Orientation and Welcome Dinner
Travel to Windermere (independent arrival) and meet your guide at 6:00 p.m. for an orientation and welcome drinks, followed by your first delicious dinner in your charming hotel.
Day 2: Beatrix Potter Walk
Today's adventure is a Beatrix Potter Walk on the other shore of Lake Windermere and over the wooded fells (hills) to take in the sights that inspired her works. We'll walk from the hotel to the ferry and take the boat across Lake Windermere, after perhaps strolling through the lovely woods of Cockshott Point which Potter bequeathed by Potter to the National Trust. Good that we'll take the ferry by day since the boat was once the scene for the "night walker ghost." In near-by Sawrey we'll visit her house, Hill Top, a time capsule of this amazing woman's life, and then walk through the wooded fells of Claife Heights to Latterbarrow. The view from the top of Latterbarrow is stunning, and takes in Hawkshead, Lake Windermere, and Wray Castle where Beatrix Potter, at the age of 16, spent her first holiday in Lakeland.
After enjoying the Latterbarrow view we'll drop down to the town of Hawkshead. Hawkshead is a delightful village, originally a medieval marketplace, and steeped in the history of William Wordsworth, who went to school here, and Beatrix Potter, who married a local solicitor, William Heelis. Potter, who was known locally as Mrs. Heelis, preserved thousands of acres of land, which she bequeathed to the National Trust. Several farms preserved by her are in the area. We may visit the Old Grammar School, which Wordsworth attended, leaving evidence of his initials carved into the desk. From here we'll take the bus back to the ferry or the minibus back to the hotel.
Distance 12.5 km (8 miles), including walk to ferry. Ascent 400 meters (1300 feet). Time 5 hours, excluding any stops and visits. It is possible to shorten this route.
Day 3: Grasmere and our Wordsworth Day
After a hearty breakfast today we'll walk from Ambleside to Grasmere via Loughrigg Terrace, enjoying wonderful views of Grasmere, Dunmail Raise and surrounding mountains. We'll stroll around the idyllic hamlet of Grasmere, visit Wordworth's Dove Cottage, and will stop for a treat at Sarah Nelson's Gingerbread Shop. Grasmere is an intimate cluster of gray-stone houses on an old packhorse road along the River Rothay. With a population of under a 1000 and just a few roads, it retains the character of what the Poet Thomas Gray called the "white village" on the water in this "unsuspected paradise." His groundbreaking tour of the Lakes did much to attract broader attention. Grasmere is seen as the "eye of the Romantic storm." We'll return to our starting point along the medieval Coffin Trail, the route over which coffin bearers struggled with their load on the way to church before there was a church in neighboring Rydal. (Our load will thankfully only be our day packs and our mood certainly much more cheerful than that of our predecessors on this pretty route.)
Distance 15km (9 miles), Ascent 350 meters (1140 feet), time 5 hours (excluding stops). Possible to reduce by two miles if starting from Rydal.
Day 4: Easedale Tarn
Easedale Tarn is one of the must-do Lake District hikes. While not in the mountains, it provides an exceptional mountain feeling, with a climb up to Easedale Tarn. It was very popular with the Victorians and there even used to be a cafe there, though no sign of it now remains. Just before getting back to Grasmere there is a pretty stroll through the woods called Poet's Walk that Wordsworth and his wife Mary used to love. We'll stop at an idyllic hotel to have tea (read scones and clotted cream) on the lawns with spectacular views. If we wish we can also hike Helm Crag (also known as The Lion and Lamb) on the way back.
Distance 8km (5 miles). Ascent 270 meters (880 feet). Time 4 hours. If Helm Crag included, add an extra 1.5km (1 mile), 270 meters and 1.5 hours.
Day 5: Coniston Day: Coniston Old Man or Visit to Brantwood
Today we'll either hike Coniston Old Man, or visit Brantwood, home of John Ruskin, the leading art critic of the Victorian Era, walking from here past Lanehead and Bank Ground, inspirations for one of Arthur Ransome's "Swallows and Amazons" books, to the north end of the lake. ("Swallows and Amazons" is a series of 12 children's books involving adventures by groups of children almost all during school vacations and mostly in England and Scotland, between the two World Wars. The series helped to create the national image of the English Lake District.) From here we pass through the grounds of the Monk Coniston Estate, once owned by Beatrix Potter, and continue through the woods to the beauty spot Tarn Hows. After walking around the Tarn we head back along a bit of the Cumbria Way, the famous long distance north/south Lake District hiking trail, to Coniston. In Coniston, if time permits, we can visit The Ruskin Museum (where Donald Campbell's Bluebird, the speedboat that was used to break world records in the Lake District, will hopefully be residing by then), or visit a local hotel where Donald Campbell stayed while attempting the water speed record on Coniston Water.
Distance 11.5km (7 miles). Ascent 370 meters (1200 feet). Time 4.5 hours, excluding visits and stops.
Day 6: Keswick, Castlerigg Stone Circle and Wall Crag
We'll hike from Keswick to Castlerigg Stone Circle by a disused railway following the river. Castlerigg is an evocative Bronze Age circle of massive stones, a beautiful, mystical, ancient site, and while soaking in the atmosphere we'll make our own guesses as to the purpose of the stones. We'll then follow a route to Walla Crag with stunning views over Derwentwater, one of the main and most scenic area lakes, to the mountains beyond, descending steeply to the lake and following it to Keswick, where there should be time to look around. Keswick is the major center of tourism in the northern Lakes and is known for its shops with outdoor gear. Granted its market charter in 1276, the market continues to this day. Another option for Day 6 would be a walk in Borrowdale returning on the west side of Derwentwater into Keswick along the Cumbria Way.
Distance 13.5km (8.5 miles). Ascent 440 meters (1430 feet), Time 5 hours.
Day 7: Farewell to Lake District
After breakfast we say good-bye to the Lake District (independent departure) and head for home or other adventures.
More information from Bredeson Outdoor Adventures: