The Northwest Passage - vacations and travel
Naxos to Santorini Crossing - Elite Sea Kayaking Adventure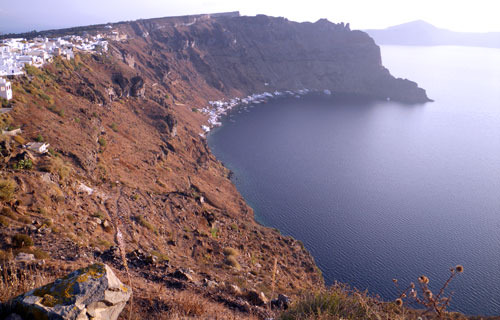 from $2,400* per person
8 Days
September
Boutique accommodations

Exertion level: 6

Operator:

The Northwest Passage

12 people max
Naxos
Boats, Barges & Small Ship Cruises trips
Looking for a new twist in your Mediterranean travels?
We will continue our tradition of exploring the gorgeous Greek islands by kayak as we island-hop through the Cycladic islands. Come ready for challenging paddling as we comb the shores of Naxos, weave through the Small Cyclades islands, pause on the shores of Ios and conclude with a demanding day-long open water crossing to what maybe Atlantis itself-the famed island of Santorini.
Designed for the experienced and confident kayaker, we will travel light, carrying all gear in our kayaks as we paddle these beautiful and remote coasts.

Locations visited/nearby
Greece
0 testimonials about this trip.
Reviewer:

Walter

located in

Gorham

,

Canada

"Rick, Chris, Eric,

Thank you for an absolutely great week! Being pushed to do my personal Best for distance-time in a boat-size of waves was personally very rewarding. I appreciate your patience. Experience and professionalism in putting it all together. It was on honor and a pleasure tp be part of such a distinguished group as ours turned out to be! –WOW!"

5

Reviewer:

Olga

located in

Stevens Point

,

WI

USA

"I want you to know how appreciative I am, That Rick, CP & Eric were amazing guides, I am grateful that I lived through tough days of paddling!!"

5

Reviewer:

Florence

located in

Denver

,

CO

USA

"Another great paddling experience with NWP. Good paddling, good lodging, fine food. A special thanks to my rock running guides; CP and Eric. See you all again on a future trip"

5
Comments from Facebook
Itinerary
Day 1 – Arriving by ferry or plane to Naxos, we plan to meet with special attention paid to the arrival times of our elite paddlers. We ask that you arrive before the afternoon so that we can explore the town of Naxos. In the late afternoon, we will introduce our fleet of kayaks and paddling equipment. Depending on the weather, we will then paddle in the Bay of Chora. During our first evening together the group will discuss the route and plan for the week.
Day 2 – After an early start we will paddle north along the shore from the beach of Plaka. The coastline of this rugged island offers amazing views, dotted white sand beaches and tiny islands to weave our way in and around. The planned paddle is 18+ miles to Apollona Bay. Views of the island of Paros dominate our western horizon until we round the northern point and glimpse the Small Cyclades Islands. In the evening we'll enjoy a hearty dinner and peaceful rest in Apollona.
Day 3 – From Apollona we head south toward Azalaz along a 10 mile stretch of shoreline. Steep cliffs, a defining feature of the Naxos coastline, limit boat landing opportunities until we reach Azalaz. After our lunch stop we will paddle to our evening accommodations in Moutsouna. To round off the shorter paddle day we will take a sunset hike to picturesque Mt. Zeus and explore the caves that flank the highest peak on Naxos.
Day 4 – The Small Cyclades dominate our eastern horizon after we depart Moutsouna. A 9 mile paddle brings us to our last landing spot on Naxos Panamoras—aptly named for breathtaking views of the islands of Iraklia and Koufonisi. After a short break, we will discuss our first island crossing, a 4 mile paddle to Koufonisi. Depending on the weather our crossing will take us on a full circumnavigation of Koufonisi. Our evening accommodations will be on Koufonisi with views of Naxos and the Small Cyclades. We'll refuel with dinner on the serene shoreline.
Day 5 – From the island of Koufonisi we plan to spend the day working our way along the shores and crossing open water to Ios. Our intrepid group will embark on three open water crossings, concluding with a 7 mile paddle from Iraklia to Ios. We'll then paddle south along the shoreline of Ios to the beautiful beach at Manganari. As we paddle south along Ios' shoreline we'll catch our first glimpse of Santorini—the endpoint of our most ambitious open water crossing.
Day 6 – Today is the big day! (Well, that depends on the weather.) If conditions are favorable, we'll paddle south through 12 miles of open water to Santorini, and watch the island expand in size and detail as we go. Upon reaching the island, only a short paddle to the protected beach of Finikia remains. However, if weather conditions preclude open water paddling, we'll fill the day with scenic hikes on Ios and possibly a circumnavigation of the island.
Day 7 – To celebrate yesterday's successful crossing we'll explore Santorini's island neighbors to the west, Nea Kameni and Thirasia, or go for a circumnavigation of Santorini itself. However, if the previous day's weather didn't allow for open water paddling, we'll embark on the audacious crossing today. Regardless of the days activities we plan to enjoy a celebration dinner reflecting on the week's adventure.
Day 8 - After breakfast, we'll have a few hours to walk the streets of Thiria and purchase any last minute keepsakes or gifts. We will then transport you to the Santorini airport** by 11:00am allowing you to make necessary connections.
More information from The Northwest Passage: