The Northwest Passage - vacations and travel
Apostle Islands National Lakeshore, WI Kayaking Trip
"We had an amazing time and thoroughly enjoyed the trip. Alex, Dana and Mason were great. Alex's leadership, concern for… "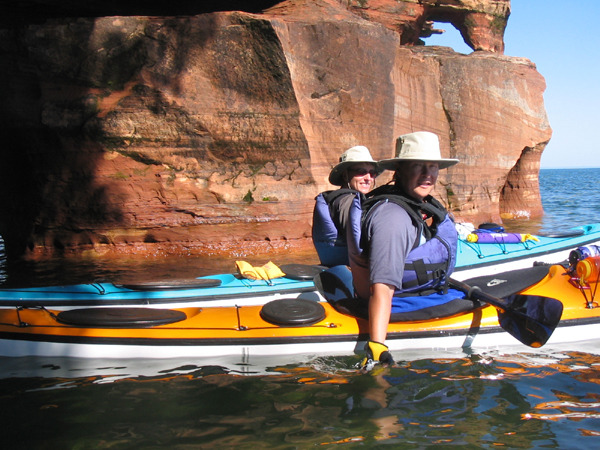 from $685* per person
5 Days
June-September
Comfort accommodations

Exertion level: 3

Operator:

The Northwest Passage

12 people max
Bayfield, wi, united states
Active & Adventure trips
With yoga sessions in the mornings and evenings combined with wonderful kayaking excursions on Lake Michigan's scenic shores, you will experience Door County like never before. We created this weekend program to teach you the basics of sea kayaking (no experience necessary) during the day, and leave time for twice daily yoga practice. Join us as we embark on a journey of the mind, body and spirit at one of Lake Michigan's most scenic locations.
Locations visited/nearby
Midwest, North, Wisconsin, United States, North America
3 testimonials about this trip
Reviewer:

Larry

located in

Elmhurst

,

IL

USA

"We had an amazing time and thoroughly enjoyed the trip. Alex, Dana and Mason were great. Alex's leadership, concern for safety and knowledge of the islands was outstanding."

5

Reviewer:

Rebecca

located in

Milwaukee

,

WI

USA

"I just can't say enough about our guides Chris and Ryan. They were kind, gracious, ortganized, confident. I was nervous about the trip, but they were so confidence-inspiring that my fears were soon relieved. They were great!"

5

Reviewer:

Claire

located in

Oxford

,

MI

USA

"The food was the best I've ever had in the wilderness and I traveled with Outward Bound and Wilderness Ventures. I especially appreciated the vegetarian options! Great!"

5
Reviewer:

Walter

located in

Gorham

,

Canada

"Rick, Chris, Eric,

Thank you for an absolutely great week! Being pushed to do my personal Best for distance-time in a boat-size of waves was personally very rewarding. I appreciate your patience. Experience and professionalism in putting it all together. It was on honor and a pleasure tp be part of such a distinguished group as ours turned out to be! –WOW!"

5

Reviewer:

Olga

located in

Stevens Point

,

WI

USA

"I want you to know how appreciative I am, That Rick, CP & Eric were amazing guides, I am grateful that I lived through tough days of paddling!!"

5

Reviewer:

Florence

located in

Denver

,

CO

USA

"Another great paddling experience with NWP. Good paddling, good lodging, fine food. A special thanks to my rock running guides; CP and Eric. See you all again on a future trip"

5
Comments from Facebook
Itinerary
Day 1: Arrive at Peninsula State Park in Door County around 7 PM where you meet your guides and yoga instructor. We share snacks around the campfire and discuss the schedule for the next couple days.
Day 2: Wake up, grab a cup of coffee and maybe a piece of fruit and you're off to the sun salutation yoga session, while the guides prepare a full breakfast spread for post yoga refueling. Then it's off to the water where the guides lead an introductory kayak lesson before we all set out on a leisurely paddle. We stop for a trail lunch before getting in a bit more paddling. Return to camp for some rest or a quick hike before you go for the second yoga session of the day while the guides prepare a hearty dinner.
Day 3: Another sun salutation kicks off the day, and then it's on to more paddling. Again we break for a trail lunch and then land our kayaks, load up the vehicles and say our goodbyes.
More information from The Northwest Passage: