The Northwest Passage - vacations and travel
Crete Inn-to-Inn Sea kayaking and Hiking Adventure
"What a magical week- exploring the glorious island of Crete, hiking, sea kayaking, swimming, eating...and more eating wonderful meals and… "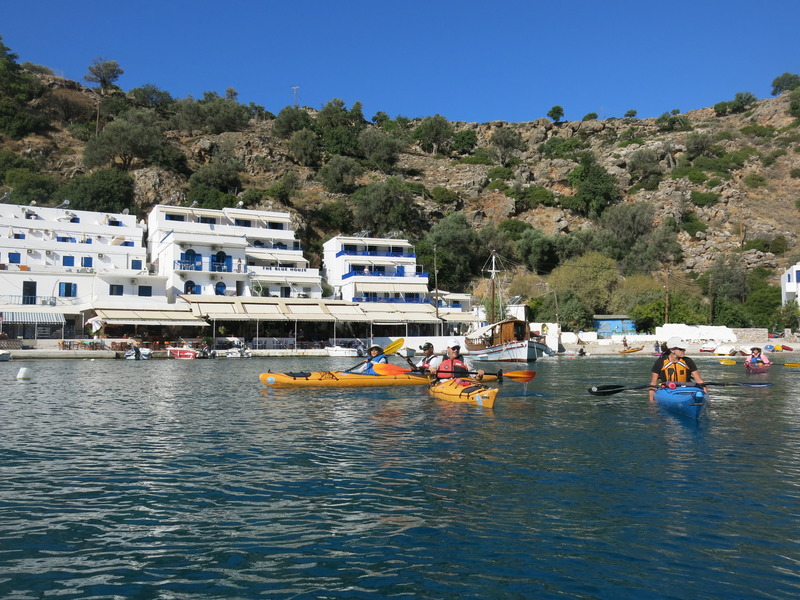 from $2,995* per person
8 Days
May, June, September, October
Comfort accommodations

Exertion level: 3

Operator:

The Northwest Passage

12 people max
heraklion, crete, greece
Active & Adventure trips
Adventures abound for active families on this trip in Crete. Exhilarating cliff-jumping, snorkeling, hiking and paddling through crystal blue waters provide an amazing multi-sport experience that your family will never forget. At the end of each fun-filled day, you enjoy a delicious dinner of tasty local foods the whole family will love, and then the sound of the waves against the shore lull you to sleep. This is a trip your family will never forget!

Youngest participant: 7 yrs.
Locations visited/nearby
Greece, Europe, Mediterranean
3 testimonials about this trip
Reviewer:

Karen

located in

New York

,

NY

USA

"What a magical week- exploring the glorious island of Crete, hiking, sea kayaking, swimming, eating...and more eating wonderful meals and making new friends. The 4 guides worked so hard to make this an even more amazing week for everyone. Our entire family had such a memorable week. Thanks to you all!

5

Reviewer:

Keith

located in

Chicago

,

IL

USA

"What a fabulous week! The time went by too quickly- it was wonderful watching our children take on new challenges and adventures. We especially enjoyed the opportunity to visit the lovely Cretan villages away from the tourist crowds- the best way to experience Greece. Thank you for a remarkable trip that we will never forget."

5

Reviewer:

Rob

located in

Keville

,

CT

USA

"If you want to sit on a beach all day and have a cabana boy bring you Rum Punch while you are on vacation, this might not be the trip for you. If, on the other hand, you want to literally immerse yourself in some of the most beautiful water in the world, experience life like a local and finish each day with that wonderful fatigue that comes from doing a vigorous but fun activity all day long (and makes that first cold beer taste like heaven) this is your adventure. My sincere thanks to Rick, Emily and all the Northwest Passage staff for truly making this the trip of a lifetime!!

5
Reviewer:

Walter

located in

Gorham

,

Canada

"Rick, Chris, Eric,

Thank you for an absolutely great week! Being pushed to do my personal Best for distance-time in a boat-size of waves was personally very rewarding. I appreciate your patience. Experience and professionalism in putting it all together. It was on honor and a pleasure tp be part of such a distinguished group as ours turned out to be! –WOW!"

5

Reviewer:

Olga

located in

Stevens Point

,

WI

USA

"I want you to know how appreciative I am, That Rick, CP & Eric were amazing guides, I am grateful that I lived through tough days of paddling!!"

5

Reviewer:

Florence

located in

Denver

,

CO

USA

"Another great paddling experience with NWP. Good paddling, good lodging, fine food. A special thanks to my rock running guides; CP and Eric. See you all again on a future trip"

5
Comments from Facebook
Itinerary
Day 1: The trip officially begins in the morning at the Heraklion airport where NWP staff will meet you. Exact meeting time will be determined once flight schedules from Athens to Heraklion have been finalized. From the airport, we will head to Knossos, the famous Minoan palace just outside Heraklion. We will visit Knossos, then shuttle down to Matala on the south coast. There are many options for lunch tavernas in Matala. We'll have some free time in the afternoon to explore Matala. We'll get together to enjoy the incredible sunset, have a drink and begin to get to know one another. We will review the itinerary for the week and answer whatever questions you may have.
Day 2: After breakfast, we will outfit everyone with paddle, PFD and sprayskirt, then head across the street to the beach where we will offer basic kayaking instruction. The protected bay in Matala provides us with a perfect spot for instruction, surrounded by the famous caves (legendary homes to Joni Mitchell, Cat Stevens, Bob Dylan and others in the 60's). We will then paddle to 2 neighboring beaches, the Red Beach and Kommos Beach. After enjoying lunch and visiting the ruins at Kommos, we will return to Matala. You'll have some free time, followed by an optional sunset hike. We'll end the day with a great meal (as always) and a chance to experience the rousing night life of Matala.
Day 3: We'll get an early start today in order to stop and visit the ruins of the Minoan Palace of Festos on our way to the trail head for the Samarian Gorge. We trade our paddles and swim wear for hiking boots and walking sticks (critical item of equipment!). The Samarian Gorge is a "must see" for every visitor to Crete and this incredible national park draws 1,000-2,000 visitors per day. We have designed our itinerary to be able to experience the Gorge after the vast majority of hikers have already headed down. Most visitors to the Gorge have to catch the ferry at the end of the Gorge. We, however, spend the night in Agia Roumeli, the town where the Gorge ends. We'll celebrate our accomplishments with a wonderful dinner right at our hotel.
Day 4: We will depart from Roumeli in our kayaks, heading along the coastline to Agios Pavlos for our cappuccino stop. The small 11th Century chapel built in honor of St. Paul is a remarkable site and traditionally wonderful photo opportunity. From Ag. Pavlos, we'll continue along the coastline to Marmara Beach, one of our prettiest lunch stops. We then paddle to the water-access-only town of Loutro. Rounding the point to catch your first glimpse of this idyllic town has been a highlight of the trip for all past participants. We won't ruin the moment by saying any more now- you'll just have to see for yourself!
Day 5: We will be spending two nights in Loutro, allowing for a day with multiple options. From Loutro, we may continue up the coastline to Sweetwater Beach where the freshwater springs bubbling out of the sand provide a unique experience. After stretching our legs, enjoying a refreshing swim and cup of cappuccino, we can paddle on to Hora Sfakia for our lunch stop. We paddle back to Loutro leaving us with some free time in the afternoon and a chance to relax before our sunset hike.
Day 6: You will have an option today to paddle to Hora Sfakia or hike the trail which follows the coastline. We will then continue paddling or shuttle by van along the coast to the Venetian fortress at Frangokastello for a brief tour. We continue paddling or shuttling to a put in spot at one of our favorite tavernas following our lunch break. From there, we will paddle into the bay at Ammoudi. We'll have a chance to explore Plakias that evening- some great shopping opportunities as well as one of our favorite bakeries on the island (the "Cretan Specialty" is another highlight of the trip!). Dinner is on your own tonight to give you a choice of the numerous restaurant possibilities in town as well as a chance to set your own schedule for the evening.
Day 7: Heading out from Ammoudi Bay, our next stop is Palm Beach, an idyllic setting crowded with tourists by mid-day. We always manage to arrive before the crowds, giving us an opportunity to enjoy the beauty of our semi-private beach. An optional paddle up the inland fresh water creek provides some varied scenery. Our lunch stop today is near Trio Petra beach. After lunch, we will paddle on to the beach at Agios Pavlos. At this point, you can opt to shuttle the last section or paddle the final 7-mile stretch (making total mileage for the day 18!). We will celebrate with a final dinner overlooking the harbor at Agia Galini.
Day 8: Those wishing to complete the paddling circle can launch early in the morning from Agia Galini and paddle across the bay into Matala (approximately 8 miles in an open water crossing). Others will van to Matala where we will have a brief stop to pick up any luggage you may have chosen to leave at the hotel, unload boats and do any last minute shopping. The van will depart for Heraklion between 11 a.m. and noon, giving time for a visit the renowned Heraklion Archaeological Museum before catching late afternoon flights back to Athens. **This itinerary is subject to change.
More information from The Northwest Passage: