The Northwest Passage - vacations and travel
Lake Powell, UT Kayaking & Camping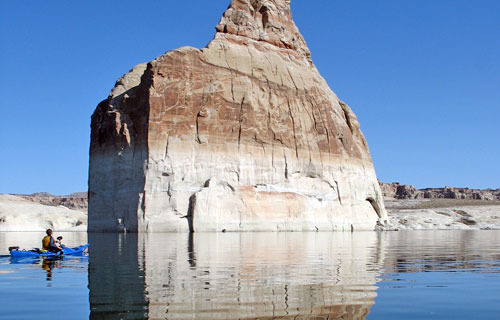 from $1,795* per person
7 Days
April, September
Comfort accommodations

Exertion level: 3

Operator:

The Northwest Passage

12 people max
Flagstaff airport, az, united states
Boats, Barges & Small Ship Cruises trips
The geological formations in the southwestern region of the United States are about as magnificent as anyone can imagine. Surrounded by the beautiful red rock that makes up Glen Canyon, we will explore the hiddenmost parts of Lake Powell that have only recently become accessible to kayaks, and kayaks only. Imagine a painted sky at the end of the day that changes from a breathtaking sunset to a star-filled sky that is larger than life - all right before your eyes. It doesn't get any better than this. Join us as we set out for the southwest on this very special outing.
Locations visited/nearby
West, Arizona, United States, North America
0 testimonials about this trip.
Reviewer:

Walter

located in

Gorham

,

Canada

"Rick, Chris, Eric,

Thank you for an absolutely great week! Being pushed to do my personal Best for distance-time in a boat-size of waves was personally very rewarding. I appreciate your patience. Experience and professionalism in putting it all together. It was on honor and a pleasure tp be part of such a distinguished group as ours turned out to be! –WOW!"

5

Reviewer:

Olga

located in

Stevens Point

,

WI

USA

"I want you to know how appreciative I am, That Rick, CP & Eric were amazing guides, I am grateful that I lived through tough days of paddling!!"

5

Reviewer:

Florence

located in

Denver

,

CO

USA

"Another great paddling experience with NWP. Good paddling, good lodging, fine food. A special thanks to my rock running guides; CP and Eric. See you all again on a future trip"

5
Comments from Facebook
Itinerary
Day 1: Meet at Flagstaff Airport (FLG) and transfer with group to Page, AZ. We will camp at Lone Rock Camp for the night. We will have an orientation at camp that will include equipment and pack-out review. Time should allow for an afternoon/sunset paddle.
Day 2: We'll put in at Wahweap Marina. By way of Castle Rock, we will paddle on Lake Powell to Antelope Island. We will set up our camp at Antelope Island and have time to explore in our kayaks throughout the afternoon.
Day 3: Today's destination is Labyrinth Canyon, but don't worry as we will have GPS units to help guide us through it. We will break down camp in the early morning and begin our day on the water. Our lunch spot for the day will be determined by our distance traveled. Once we arrive at Labyrinth Canyon we will set up camp and enjoy the sunset with a delicious meal.
Day 4: Our schedule for today is purely to explore Labyrinth Canyon. It has some of the most incredible slot canyon on Lake Powell, but they can be tricky to get into. We will spend the day exploring and enjoying all the pleasures Lake Powell has to offer. We will stay a second night at Labyrinth Canyon.
Day 5: We begin our day with an early departure from Labyrinth Canyon. Today's destination is Antelope Island where we will camp for the night. Depending on our arrival time to Antelope Island we may be able to explore a section of Navajo Canyon. This canyon is 20 miles long with camping located at the mouth but not further in so we will plan to explore the mouth of the canyon (at least).
Day 6: Today is our final water day. We will paddle from Antelope Island, by way of Castle Rock, back to Lone Rock Camp. Once we reach Lone Rock Camp we will unload the kayaks, separate the gear, and head into Page, AZ, where we'll celebrate our accomplishments. We will be spending the night at a hotel and enjoy ordering our food and drink from a menu.
Day 7: We will plan a morning departure from Page, AZ, en route to Flagstaff Airport (FLG). Estimated time for departure is 10:00am, however this may be changed due to early departures.
More information from The Northwest Passage: