Adventures in Good Company - vacations and travel
Exploring Hawaii's Big Island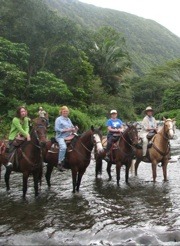 from $2,295* per person
9 Days
February, July
Comfort accommodations

Exertion level: 3

Operator:

Adventures in Good Company

10 people max
Kona airport, hawaii, united states
Active & Adventure trips
Seeing the entire island from the arid Kona Coast to the lush rainforests on the west coast
Viewing an active volcano and hiking through a volcanic landscape
Kayaking on a phenomenal bay and being visited (we hope) by Hawaiian spinner dolphins
Swimming at black sand beaches and seeing Hawaiian Sea Turtles close up
Hiking through lush Hawaiian landscapes
Snorkeling among spectacularly colorful fish

The Big Island of Hawaii is known both for its active volcano and its exceptional natural diversity. Since some parts of the island get 5 inches of rain and other parts get 200 inches, its not surprising to learn that 11 of the 13 world's climatic zones can be found here. We'll see it all as we circumnavigate the entire island, stopping frequently to sample the best it has to offer. We'll hike in an extinct crater, horseback ride in a valley with a long and fascinating history, snorkel among brightly colored fish, sea kayak on a gorgeous bay, and relax on white sand beaches.
Locations visited/nearby
Hawaii, United States
Comments from Facebook
Special information
Offers some women-only departures.
Itinerary
Sunday: Arrive anytime today. Our trip officially starts at 5 pm so plan to arrive not later than 4 pm. If you can arrive earlier, we highly recommend it. Kona is a small and charming town that is easy to navigate on foot, and we will not have much time here during the trip. We will schedule two airport pick-ups between 12 pm and 4 pm, depending on participants' arrival times; and women who are arriving either significantly earlier or later can take a taxi into town. Once we're all gathered, we'll meet for introductions and then go to dinner at a restaurant with some of the freshest seafood in town. It's an open air restaurant directly on Kailua Bay and the warmth of the air and sounds of the sea will start to thaw our winter-weary bones. Since most of us will be suffering a bit of jet lag, bedtime will undoubtedly be early. Overnight Kona
Monday: After a delicious breakfast and time to get fitted with snorkeling gear, we'll hike to a secluded beach that is known to locals but not to visitors. The hike, although not long, is quite an adventure in itself as it traverses a variety of habitats and past collapsed lava tubes. We arrive at a black sand beach on a bay that was a fishpond for the kings 200 years ago. The bay is a mixture of salt and fresh water, with a rocky lava island in the middle where Hawaiian turtles often hang out. It's also quite protected, which makes it a good place to learn how to snorkel. We'll spend time swimming, snorkeling and sunbathing, and share a picnic lunch before returning. This evening we will attend that most Hawaiian of all events, a luau. While it is definitely a tourist event, it also showcases and explains what is a truly Hawaiian custom with its Polynesian origins. Overnight Kona
Tuesday: Today we leave Kona behind us as we drive across the island to the northern tip and the Waipio Valley. The landscape changes dramatically as we drive across the arid plains of the Kona coast and climb up into the higher and more lush Waimea "paniolo" (cowboy) country, recounting the history of Parker Ranch. We then start descending to the Waipio Valley and the west coast of the island. This rugged beautiful steep valley looks as if someone carved out a pie-shaped slice of land and lifted it out. Its fascinating human history has been shaped by periodic tsunamis that have scoured the valley floor, and at various times it has been occupied by kings, farmers, and hippies. We'll go for a guided horseback ride, a great way to get a sense of what the incredibly lush valley floor is truly like, and our guide will recount stories of the people who live here. If you prefer not to ride, another excellent option is a van tour of the valley floor. Our driver knows the valley well and stops often to tell us the history or point out some fascinating plant. Either way we think you will be impressed by the rugged beauty of this remote valley and intrigued by its long history.
We'll spend the night in a funky hotel, Hotel Honoka'a, in the funky nearby town of Honoka'a. Originally built as a club for plantation managers who oversaw sugar cane production, it later became the social center for the Japanese workers. Today it is a testament to the old Hawaii that still exists beyond the tourist path.
Wednesday: This morning we drive down the rugged west coast of the Island (read Isabelle Bird's account of her journey- at least we have roads!). We'll stop at Akaka Falls, one of the most beautiful waterfalls in all Hawaii, where a walk on a paved path takes you into the middle of a tropical forest. It's hard to believe that this area is only a few hours from Kona. But the mountains of Mauna Loa and Mauna Kea act as rain blocks, so this part of the island receives 40 times more rain than the Kona coast. This is reflected not only in the flora, but in the steep deeply eroded cliffs we drive past.
We'll make a brief stop in Hilo for shopping at the local farmer's market, where we can buy fresh fruit and vegetables such as the bizarre looking but tasty Rambutan. We then continue to Volcano Village and our vacation home about 10 minutes outside of the National Park. After taking time to get settled, we'll head for Volcano National Park. Our first stop is at the visitor center and a ranger orientation to introduce us to this amazing place. Then we'll head down the Chain Of Craters road and hike out to Pu'u Huluhulu Cinder Cone (shaggy hill). The walk takes us across land that has been devastated by repeated lava flows. Everywhere, though, life is returning and foremost among the new colonizers is the Ohia tree, with its lovely Lehua blossom. From the top of the cone we can look across to the place where the main volcanic activity started. We won't see lava flowing from here but the stark landscape makes real the power of the volcano. Overnight Volcano Village
Thursday: Today we'll spend a full day at Volcano National Park. How we spend the day will depend on factors such as where the lava is flowing, what roads are closed, how much we want to pack in, etc. Things are always changing at the Park and we'll plan the day to maximize what is available. One possibility is to start with a ranger talk and then do the classic park hike: the Kilauea Iki trail, that goes through rainforest and over an old volcanic crater that still has steam escaping from vents. As part of the loop trail, we'll take a short detour to Thurston Lava Tube, the largest accessible lava tube in the park. We'll also drive the Crater Rim, stopping at the Jagger Museum and the Halema'uama'u Crater, known as Pele's home. There are some other great hikes we could do and whenever we've had enough, we'll return to our peaceful lodging for a hearty dinner.
Tonight we will go to wherever the lava is flowing, if it is. Although this is the world's longest volcanic eruption, having started 25 years ago, eventually it will stop - just hopefully not before we arrive!! We may not get close enough to see actual lava, but at the least we are likely to see glow and spatter. Overnight Volcano Village.
Friday: This morning we head back to the sunny side of the island. Along the way we'll stop at a true black sand beach where sea turtles are often seen. Our destination for the day is Pu'uhonua o Honaunau National Historic Park, formerly (and incorrectly) known as City of Refuge. The park preserves the site where Hawaiians who broke a "kapu", or one of the ancient laws against the gods, could go to avoid certain death. It is the most complete restoration of an ancient Hawaiian religious sanctuary in Hawaii and its setting on a lava flow that juts out into the ocean makes it a must see. We'll also hike along the coast on the 1871 trail, so called because it was built by natives to pay off their taxes in 1871. The coast, an old lave flow, is rugged and beautiful; brightly colored fish can be seen in the waters below. When we have had our fill of walking and exploring the tidepools, we'll make the short drive to our lodging for the next 2 nights, the Halemalu Lodge.
Saturday: Kealakekua Bay is the site of Captain Cook's first landing in Hawaii. The largest sheltered natural bay on the island of Hawaii, the bay is a spectacular marine environment with an abundance of colorful tropical fish, a variety of beautiful coral reefs, and visibility often to 100 feet. Its calm, protected waters, extensive coral reef, and sunny skies provide superior snorkeling and kayaking and that is how we'll spend the morning. We'll get a very early start to take advantage of calmer waters and to beat the tourist crowds. We'll kayak across to the Captain Cook Monument and then enjoy excellent snorkeling in the shallow waters there. The bay is also known for a pod of Hawaiian Spinner dolphins that frequently visit to rest and feed.
After kayaking we'll stop for a picnic and a tour of a coffee farm. After all, this is the home of Kona coffee and there is no better place to see how it is grown and processed! If there is time and energy, we'll drive down to the "End of the World". A trail here skirts along a former battlefield from the days of King Kamehameha. A bloody battle was fought over the lifting of an imprtant kapu (taboo) mandating that men and women eat separately, and the site of the battle is considered a very important and significant area in Hawaiian history. It is also the site of the surf dramatically pounding against rocks, with water spray being flung high into the sky. On the way home we'll pick up fresh fish to grill when we get back to the lodge. Yum!!
Sunday: We'll pack up this morning and return to Kona. Along the way we'll stop at an exotic animal sanctuary, a non-profit organization whose purpose is to care for injured animals, provide a home for abandoned animals, and teach Hawaiian children about the fragile ecosystem. The woman who started the sanctuary is absolutely amazing with a wealth of information about animal behavior.
More information from Adventures in Good Company :