Peregrine Adventures - vacations and travel
Walk with Wildlife (Family) 7 days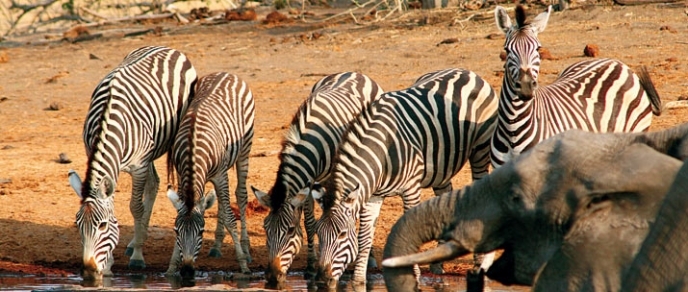 from $2,625* per person
7 Days
April, June, July, September, October, December
Comfort accommodations

Exertion level: 3

Operator:

Peregrine Adventures

12 people max
Johannesburg, south africa
Family & Friends trips
This trip combines the exceptional wildlife viewing of Greater Kruger National Park with the chance to learn more about cheetahs and other wildlife, as well as an incredible close-up experience with elephants! The Elephant Sanctuary and Kapama Cheetah Project both provide amazing hands-on experiences with some of Africa's most majestic animals. At the Elephant Sanctuary we learn many exciting facts about the African elephant and being able to get so close to these massive creatures is a thrilling experience - imagine seeing the bottom of an elephant's foot or feeling the velvety softness of the back of an elephant's ear! We may even be lucky enough to receive a special elephant kiss - trunk to cheek! At Kapama the discoveries continue as we discover the habits of several different species, especially the fastest land animal - the cheetah. Located in a region of incredible beauty, Blyde River Canyon is the largest green canyon in the world, formed at the point where two rivers meet at the Bourke's Luck potholes. There are a number of waterfalls in the area, as well as scenic viewpoints to visit. Kruger National Park and the adjoining private reserves of Greater Kruger National Park form one of Africa's finest wildlife areas, offering superb viewing opportunities all year round. In one of the first national parks to be established in Africa, the custodians of Kruger faced tragedy, triumph and hardship, as they have strived to protect a pristine wilderness region that is sanctuary to over 700 species of mammals, reptiles and birds. We spend 3 nights in a private game lodge in Timbavati Game Reserve, part of Greater Kruger National Park, which boasts a similar range of animals to those found in the park proper. These include the 'Big Five', but the private reserves offer more opportunities for varied and close-up encounters.

Locations visited/nearby
South Africa, Africa
Comments from Facebook
Itinerary
Day 1: Johannesburg
On arrival in Johannesburg you met and transferred to your hotel. The rest of the day is at your leisure. Please note this is just an arrival day, but your overnight accommodation for tonight is covered.
Day 2: Elephant Sanctuary - Ohrigstad
We are met by our local guide between 7:00am and 7:30am and are soon off on our journey. We drive for a total of 350km today, which will take us about 4˝ hours in travelling time. Our first stop is the Elephant Sanctuary at Hartebeespoort Dam, where we meet the resident elephants. The local guides explain to us many of the myths surrounding these gentle giants. They will even show us how clever elephants are by asking the animals to perform normal 'elephant behaviour' on command. Here we also get the unique opportunity to take a short walk trunk-in-hand with these wonderful animals and feed them lunch! On hot days, we may even get the chance to see them having a bath. Our base for the next two nights is at a private game reserve near Ohrigstad, in the heart of the beautiful Panorama Region. Accommodation is in comfortable chalets, each with en suite bathrooms and interconnecting rooms. From our private balcony we may see some of the numerous herds of game passing by at the waterhole.
Meals included: 1 breakfast, 1 dinner
Day 3: Blyde River Canyon - Ohrigstad
This morning we explore the nearby Blyde River Canyon area. This is the largest green canyon in the world and our drive through this region offers spectacular views of this breathtaking gorge from various aspects. As there is so much to see and do, today's itinerary is pretty flexible and dependant upon the season and also our group's interests. We will definitely peer out God's Window and visit Bourke's Luck Potholes. The educational centre at Bourke's Luck is a great source of information and has a number of hands-on exhibits, making it a great place for both children and adults. We may also choose to visit Mac Mac Pools, Mac Mac Falls and Lone Creek Falls or explore the beautiful town of Graskop. There are many opportunities to be out of the vehicle and walking around in this beautiful region.
Meals included: 1 breakfast, 1 dinner
Day 4: Cheetah Sanctuary - Greater Kruger National Park
This morning, after an early breakfast, we may pause at the Three Rondavels viewpoint en route to the Hoedspruit Endangered Species Centre. This centre has established itself as one of the leading private research and breeding facilities for endangered species in the country. It places particular emphasis on the breeding and maintenance of cheetah in captivity, but also concerns itself with several other endangered indigenous wildlife species in southern Africa. The centre is a non-profit enterprise and is funded from gate takings, sales from the curio shop and the tours of the centre, which is what we enjoy this morning. After the tour of the sanctuary we continue into Timbavati Game Reserve (part of Greater Kruger National Park), where we spend three days looking for wildlife – including the famous 'Big Five' – elephant, rhino, buffalo, lion and leopard. It's sure to be an absolute highlight of our trip! We arrive in time for a late lunch at the delightful Umlani Camp, which is our camp for the next three nights. Here we stay in thatched huts, which are lit by oil lamps and candlelight, and shower in open-air (warm) bush showers. We also enjoy our first afternoon-evening safari drive tonight.
Meals included: 1 breakfast, 1 lunch, 1 dinner
Day 5-6: Greater Kruger National Park
We depart with our local resident guides on morning and afternoon game drives in open 4WD vehicles looking for giraffe, zebra, elephant and hopefully some of the predators too (although you should remember you are not in a zoo, so nothing is guaranteed!). The length of the drives will be tailored to suit the group members and included is time for us to get out of the vehicle and stretch our legs. We return mid-morning for a big brunch. After this you may like to take a game walk with the ranger before some eating some lunch and enjoying relaxation time. You may like to cool down with a dip in the pool or a lie in the hammocks before we head out for our afternoon drive. As is traditional in southern Africa, we pause at sunset for a 'bush sundowner' before continuing our game drive using spotlights – keep a look out for some of the many nocturnal animals of the bush that are rarely sighted during the day. We are welcomed back into camp and after freshening up we meet around a blazing fire in an open-air boma under the stars before being served a delicious South African dinner. A very special feature of this camp is the tree house, which is set approximately two kilometres away from the main camp and overlooks a dam. The camp staff can set up bedding for you in the tree house so that you can spend a night sleeping there (please note there are no bathroom facilities). You are dropped off at the tree house after dinner and collected in the morning, before the game drive. A two-way radio is provided so that you may contact the camp staff at any time should you wish to return to the main camp. A spotlight is also provided to allow you to watch for any animals coming to drink at the waterhole during the night. This tree house experience is offered at no extra cost, but needs to be booked in advance. It is also dependent on weather and is therefore not guaranteed.
Meals included: 2 breakfasts, 2 lunches, 2 dinners
Day 7: Greater Kruger National Park - Johannesburg
After one final game drive and another big breakfast, we bid farewell to Greater Kruger for the return drive to Johannesburg. Upon arrival in Johannesburg the group is transferred to Johannesburg's Oliver Tambo International Airport and/or our down town hotel. If you are departing Johannesburg tonight, please do not book a flight to depart prior to 6:00pm. If you would like to fly out in the afternoon you will need to book an additional flight from the Kruger to Johannesburg Airport in order for you to make earlier flights. Please ask us for details and additional flight costs. Additional accommodation and transfers can be pre-booked, at additional cost, if you would like to extend your stay in Johannesburg.
Meals included: 1 breakfast
More information from Peregrine Adventures: