Adventure Associates of Washington - vacations and travel
Galapagos Islands, Ecuador: Wilderness Cruise Package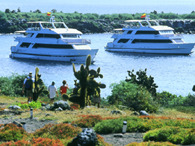 Airport, ecuador near quito, ecuador
Boats, Barges & Small Ship Cruises trips
Join us for this unforgettable wildlife expedition through one of the most diverse and stunningly beautiful marine environments in the world! With your local naturalist guide you spend eight exciting days cruising these islands, snorkeling with colorful fish and taking short day hikes through one of the world's greatest wildlife and volcanic island environments! Don't miss this extraordinary opportunity!
Locations visited/nearby
Ecuador, South America
0 testimonials about this trip.
Reviewer:

Maria M. AA Real

"Many people today, loyal to their own high ideals, walk toward the light of justice, honor, truth, and, the shadow of a good influence fall behind them. They too, attract rather than compel others toward goodness. They lure by the appeal of their own integrity and love."
Thank you for a wonderful trip. I don't know who wrote this above, but it reminded me of you.

5

Reviewer:

Debbie E.

located in

San Juan Islands

"...the experience was fun and the fresh air and islands were exhilarating. Everything (including the food) was wonderful!! It was refreshing, invigorating and I felt very comfortable with the ladies, all of whom I'd never met previously. But it was the shared laughter that struck a chord for me, the memories still bring a smile to my lips. "

5

Reviewer:

-Joan A.

located in

Peru

"A wonderful introduction to the people and culture of Cuzco as well as a physically challenging trek to one of the world's great wonders, all in the company of supportive and fascinating women. My travels with Adventure Associates continue to be highlights of my life."

5
Comments from Facebook
Special information
This is a custom departure, meaning this trip is offered on dates that you arrange privately with the provider. Additionally, you need to form your own private group for this trip. The itinerary and price here is just a sample. Contact the provider for detailed pricing, minimum group size, and scheduling information. For most providers, the larger the group you are traveling with, the lower the per-person cost will be.
Itinerary
DAY 1
Flight from USA to Guayaquil or Quito, Ecuador. Shuttle to Hotel. (Meals on your own)
DAY 2
Breakfast at hotel, shuttle to airport, flight to San Cristobal. Upon arrival to Puerto
Baquerizo Moreno, SAN CRISTOBAL Island, our crew is waiting at the airport to escort you
to your anchored yacht. After the welcome briefing, buffet lunch and safety drill, we set
sail for Playa Ochoa where we have a wet landing. Here, we can test our snorkeling
equipment and at the same time swim with a small colony of sea lions. Behind the beach,
there is a tidal lagoon where bird can be spotted including the rare Chatham mockingbird.
At sunset, we cruise around Kicker Rock (Leon Dormido), a vertical tuff cone formation
that abruptly juts up almost 500 feet out of the ocean. On the cliffs, we spot blue-footed
boobies, masked boobies and magnificent frigate birds. This evening, the guides hold a
briefing followed by the Captain's welcome cocktail. (BLD)
DAY 3
We spend the entire day on TOWER (Genovesa), considered to be one of the most
spectacular Islands in Galapagos for bird species. This morning, we have a dry landing at
Prince Philip's Steps. Red-footed boobies nest here in Palo Santo trees and Nazca
(formerly masked) boobies nest near the trail. In an open lava field, we find storm petrels
in large numbers. If you are lucky, we will see the elusive short-eared owl. After the
walk, snorkel or kayak along the shoreline. Look for the beautiful red-billed tropic bird
usually found in the crevices. After lunch,
take a siesta or relax on deck with a book
from our library. This afternoon, we have a
wet-landing on Darwin Bay, a coral sand beach
where swallow-tailed and lava gulls gather
near the tide pools. Enter a forest of Optuntia
cactus and mangroves where colonies of great
frigate birds nest. The males inflate their redthroated
pouches to attract females as they fly
overhead. The trail leads through a rich inter
tidal zone where we find a wide diversity of
wildlife. After the walk, we can swim and
snorkel from the beach with sea lions in
these northern warmer waters. We set sail
early to motor to the western Islands during
t h e b r i e f i n g f o l l o w e d b y d i n n e r.
(BLD)
DAY 4
This morning, we have a semi-wet landing at Punta Espinoza, FERNANDINA, the youngest
and most pristine Island in Galapagos. Recent lava flows formed by an active volcano
stretch their way around the coast. Hundreds of marine iguanas, the largest colony in
Galapagos, bask in the sun along the rugged shoreline. Observe sea lion harems with
resident bulls carefully guarding their territory. Flightless Cormorants build their nest on
the point and Galapagos Hawks fly overhead. After lunch, we cross the Bolivar Chanel
where we often spot whales and dolphins riding the bow wave. This afternoon, we have a
dry landing at Tagus Cove, located on the western Island of ISABELA. Six volcanoes
flowed together and formed the largest Island in Galapagos. During the walk, we
discover a salt-water lagoon, a scenic overlook with a spectacular view of the ocean, lava
fields and volcanic formations. Graffiti dating back to the 1800's is written on the rocky
cliffs. Explore the Coves by Zodiac or in one of our clear-bottom sea kayaks to find
Galapagos penguins, boobies, pelicans and other seabirds. An excellent snorkeling
opportunity is offered here after the walk. After the briefing and dinner, a sky full of stars
beckons to go out on deck and observe the galaxy. (BLD)
DAY 5
This morning, we have a wet landing at Puerto Egas, SANTIAGO (James). Stroll along the
shoreline looking for octopus, starfish and other sea life caught in the tide pools. At low
tide, catch a glimpse of marine iguanas as they feed on exposed green algae. Watch for
great blue herons, lava herons, American oystercatchers and yellow-crowned night
herons. Our walk ends at the grottos, deep pools of clear water where we encounter fur
sea lions once on the verge of extinction. Before returning to the yacht, there is a
snorkeling opportunity with loads of tropical fish. As an alternative, you may use the
kayaks to explore the marine life without getting wet. During lunch, the yacht motors to
the other side of the Island which provides for scenic landscapes. Located off the Southern
tip or Santiago, SOMBRERO CHINO or Chinese Hat owes its name to its shape. After a wet
beach landing with sea lion colonies, we snorkel or walk the trail that gives way to a
primeval landscape of volcanic rubble including cracked lava formations and lava tubes.
The lava tubes are fragile and one must be careful to stay on the trail. We find marine
iguanas and pairs of oystercatchers. There are good photographic opportunities here as
this site conveys a strong feeling that you've come to a very special place in the world.
There is a briefing followed by dinner as we anchor in a calm protected area. (BLD)
DAY 6
On Bartolome, it seems like we are walking on the moon. This young Island is inhospitable
to most plants and animals. After a dry landing, climb 30 minutes up stairs leading to the
summit of a once active volcano. Along the way, we pause to marvel at lava bombs,
spatter cones and cinder cones. From the top of the wooden stairs, we can gaze out
across the island for a panoramic view of the island and "Pinnacle Rock", an eroded tuff
cone. Down below, crystal clear water is an invitation to snorkel from the beach or
Zodiac with schools of tropical fish and Galapagos Penguins. On the other side of the
Island, encounter sea turtles and white-tipped sharks. This afternoon, we have a dry
landing at North Seymour, a small geological uplift. We follow a trail that leads us to
swallow-tailed gulls, blue-footed boobies and the endemic land iguanas. Visit the largest
colony of magnificent frigate birds found in Galapagos. As we stroll along the beach, we
find marine iguanas and sea lions body surf the northern swells. After the walk there is a
snorkeling opportunity offered in deep water. Passengers who have purchased our dive
package will have two dives in lieu of visiting North Seymour. (BLD)
DAY 7
This morning we travel by bus to the highlands of SANTA CRUZ Island. The scenery
gradually changes as we wind our way through all seven vegetation zones found in
Galapagos. Here, we visit the tortoise reserve at one of the private farms in the highlands
where we encounter giant tortoises In their natural habitat. We visit Los Gemelos,
Spanish for "The Twins", a pair of large pit craters where we find the bright red male
vermilion flycatcher. We stop at "the tunnels", the largest lava tubes found in Galapagos.
After lunch on board, we visit the Charles Darwin Research Station. We visit all three
tortoise corals and the breeding center with new hatchlings and miniature tortoises not
yet ready to be repatriated. Scientists from all over the globe work at the station and
conduct biological research from anatomy to zoology. Visitors can see the pen of
Lonesome George, the last surviving member of the Pinta Island subspecies. Stroll
through the town of Puerto Ayora (population: 20,000) and the largest town in the
Galapagos. Buy souvenirs, mail postcards or kick back at an Internet cafe in the social
heart of the Islands. Passengers who have purchased our scuba dive package will have
two dives in lieu of visiting the Darwin Station. Divers can visit the highlands on their
return from the dive. Dinner is served on board. (BLD)
DAY 8
This morning we have a dry landing at Punta Suarez, ESPANOLA, where we witness the
highest rate of endemic species in Galapagos. Sea lions noisily green us as we land on
their beach. Curious Hood mockingbirds peck at our shoelaces. From April to November,
the waved albatross, found only on Espanola, perform their wild mating ritual. Colonies of
blue-footed boobies engage in "sky-pointing" to show off for potential mates. Nazca
(formerly masked) boobies busily care for their young. Stunning swallow-tailed gulls are
the only nocturnal gulls in the world. Red-billed tropicbirds take shelter under the cliffs.
We also find Darwin's Finches, Galapagos Doves and Galapagos Hawks. Observe a unique
specie of marine iguana identified with traces of red and green colorings. Colorful sally
light-foot crabs crawl along the shoreline near to the famous "blow hole". This is the
scene most people envision when they decide to visit Galapagos. During lunch, we motor
to the other side of the Island. On our last afternoon in Galapagos, we have a wet landing
on Gardner Bay, ESPANOLA (HOOD). Walk along seemingly endless stretches of this
white sandy beach where you'll find large colonies of sea lions. There is no trail to follow
so this is a chance to explore and you may find a Galapagos Hawk, Darwin's Finches or
Hood Mockingbird. Swim with sea lions from the beach or just relax on your last glorious
day in Galapagos. There's an excellent snorkeling site off Gardner Islet with a colorful
diversity of sea life near Tortuga Rock in caves covered with invertebrates. Passengers are
also permitted to use the kayaks at this particular site. This evening, enjoy the Captain's
Farewell cocktail followed by dinner and a disembarkation briefing. (BLD)
DAY 9
This morning, we drop anchor in Puerto Baquerizo Moreno, SAN CRISTOBAL. We visit the
Interpretation Center opened in 1999. Here we gain a more complete understanding of
the natural and human history of the Islands. Afterwards, we head straight to the airport
for our flight back to the mainland. Afternoon return flight to Guayaquil or Quito,
overnight hotel. (BL)
DAY 10
Breakfast at Hotel. Return flights to USA. (B)
More information from Adventure Associates of Washington: