Adventure Associates of Washington - vacations and travel
New Zealand: South Island Active Adventure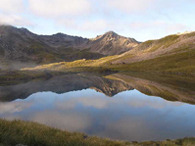 Airport near christchurch, canterbury, new zealand
Active & Adventure trips
Explore the best of New Zealand's stunning South Island - the Jewel of the Pacific! - with a multi-activity trip and plenty of options to suit your fancy! We begin and end in the "Garden City" of Christchurch. At time of booking, choose your three-day adventure: Backpacking through Nelson Lakes National Park, Sea Kayaking in Marlborough Sounds, or Mountain Biking on the Queen Charlotte Track! With your full group, enjoy a snorkeling trip to a seal colony, a wine tasting in rural farmlands, take some of New Zealand's most stunning day hikes, and do some unforgettable sea kayaking and cycling in secluded and beautiful parts of the South Island. We maintain plenty of options, and every activity is optional, so we can make sure the trip works for you. We have two guides to take good care of you, and our itinerary includes a free day in the adventure capitol of Queenstown. If you enjoy the outdoors and like a bit of a challenge, this two-week adventure is the perfect way to experience New Zealand. The accommodations vary - for over half the trip we stay in very comfortable standards (B&Bs, lodges, etc.) and for the rest of the trip we have chosen more rustic accommodations in order to be in the most beautiful, isolated and memorable places in New Zealand.

Locations visited/nearby
New Zealand, Australia and Pacific
0 testimonials about this trip.
Reviewer:

Maria M. AA Real

"Many people today, loyal to their own high ideals, walk toward the light of justice, honor, truth, and, the shadow of a good influence fall behind them. They too, attract rather than compel others toward goodness. They lure by the appeal of their own integrity and love."
Thank you for a wonderful trip. I don't know who wrote this above, but it reminded me of you.

5

Reviewer:

Debbie E.

located in

San Juan Islands

"...the experience was fun and the fresh air and islands were exhilarating. Everything (including the food) was wonderful!! It was refreshing, invigorating and I felt very comfortable with the ladies, all of whom I'd never met previously. But it was the shared laughter that struck a chord for me, the memories still bring a smile to my lips. "

5

Reviewer:

-Joan A.

located in

Peru

"A wonderful introduction to the people and culture of Cuzco as well as a physically challenging trek to one of the world's great wonders, all in the company of supportive and fascinating women. My travels with Adventure Associates continue to be highlights of my life."

5
Comments from Facebook
Special information
This is a custom departure, meaning this trip is offered on dates that you arrange privately with the provider. Additionally, you need to form your own private group for this trip. The itinerary and price here is just a sample. Contact the provider for detailed pricing, minimum group size, and scheduling information. For most providers, the larger the group you are traveling with, the lower the per-person cost will be.
Itinerary
DAYS 1-2
Leave USA airport and fly to Christchurch, NZ. Due to crossing the International Date
Line, you will lose one day (but gain it back on your return home).
DAY 3 (Monday)
Most people leave the Northern hemisphere on a Saturday evening and arrive in New
Zealand early on Monday morning. You'll lose a day to the dateline - but you get it back
on the way home! If you arrive in Auckland, you'll immediately take the short flight to
Christchurch in the South Island arriving by 10am or so. We'll meet you there and drive
up the coast to the seaside town of Kaikoura, where we will spend the afternoon and
evening. We'll take you out to the Kaikoura Peninsula for a snorkeling trip at the seal
colony. You'll be supplied with a wetsuit, mask and snorkel, and you can swim within a
couple of feet of native New Zealand Fur Seals as they cavort in the water. This makes for
a cruisy introduction to New Zealand and gives you the chance to spend most of the day
relaxing and recovering from your flight. Depending on where you're coming from, you'll
probably find jetlag is no big deal. For instance, it's a 12-hour direct overnight flight from
the West Coast of the USA to Auckland and there's only a 3-hour time difference between
New Zealand and US Pacific time. If you're coming from further afield, you'll appreciate
the gentle start to your New Zealand adventure. Overnight: Kaikoura. (LD)
DAY 4
We'll drive north for a couple of hours to Blenheim, in the heart of the Marlborough wine
region. We'll visit Forrest Estate Winery, where you can sample some of their fantastic
wines while we picnic on the vineyard lawn. At the time of booking, you have the choice of
one of three different 3-day/2-night options - a backpacking trip in Nelson Lakes National
Park, a 3-day/2-night sea-kayaking trip in the Marlborough Sounds, or a 3-day/2-night
biking trip on the Queen Charlotte Track. The backpacking trip entails staying in mountain
huts while the cyclists and sea kayakers stay in more conventional lodging, often with
amenities such as hot tubs, private bathrooms and even a bar! Add US$399 + tax for the
sea kayaking or biking options. After lunch, we head off for our various activities:
HIKING OPTION in Nelson Lakes National Park
DAY 4 continued…Our "tramp" starts at the charming village of St. Arnaud, on the edge
of Nelson Lakes National Park. To keep our group sizes down in this beautiful but
fragile environment, we allow our exact route and group composition to be flexible.
We'll spend the afternoon hiking the relatively gentle trail alongside Lake Rotoiti,
staying at Lakehead hut overnight. Nelson Lakes National Park straddles the
northern part of the Southern Alps, an area composed of beech forests, big lakes
and even bigger mountains. This is serious wilderness country - no roads, no shops,
no TVs - just incredible views and marvelous solitude. You don't have to carry a
very heavy pack - our guides are pretty tough and they'll carry the lion's share of
the load. You'll be carrying a sleeping bag, a few spare clothes, and some food - no
need for any more than that, although we'll provide tents and so on if you'd prefer
to camp. (BLD)
DAY 5 – Hiking Option
Today is an unforgettable day - the scenery gets even better with each step! We
walk alongside the Travers River and through native beech forest, before heading
up the Hukere stream to spend the rest of the day hiking up to the ridgeline of the
mountains. This is a steep hike, with an elevation gain of 3,000 feet…and it's
absolutely worth it. There is a gorgeous alpine lake at the top and the remote but
comfortable Angelus Hut is ideally situated right on the edge of the lake. We have
plenty of experience in getting people to the top, whatever your physical fitness
level and age. If you're still keen for more, from Angelus Hut we'll scramble up a
nearby peak to enjoy stunning views in every direction. If you'd prefer to hang out
at Angelus hut with a "cuppa," that's fine too! Many of our clients who have chosen
the hiking option tell us that the Angelus Circuit - still un-spoilt and non-commercial
- was the highlight of their New Zealand experience, and many Kiwis prefer this trip
to the better-known Milford and Routeburn Tracks. (BLD)
DAY 6 – Hiking Option
This morning we'll wake up on top of the world! After breakfast, it's a four to five
hour walk out, first along the stark ridgeline with dramatic views down to Tasman
Bay and the mountains of Kahurangi National Park beyond, then down through
native beech forest. It's a challenging walk out, but it's worth every drop of sweat!
We'll hook up with the kayakers and cyclists before carrying on to the coast. (BLD)
ORSEA
KAYAKING OPTION in Queen Charlotte Sound [Add US$399 + tax]
DAY 4 continued…After lunch you'll head for Anakiwa on the edge of Queen Charlotte
Sound. The waters here are calm and isolated, surrounded by lush forests and
rocky coastline. Here you'll be matched with a modern sea kayak and all the
necessary safety equipment for paddling. You don't need any experience to do this
option, but if you are an experienced sea kayaker, you won't be bored. After a
thorough safety briefing, you'll head out with your guide for a fairly gentle first
day's paddle. (BLD)
DAY 5 – Kayaking Option
Today we'll have a full day's paddling in the more remote reaches of Queen
Charlotte Sound. You can paddle at your own pace and we'll make sure that you get
as much or as little "sea time" as you like! Along the way we'll check out the
secluded beaches and native forest that characterize the area, and we'll see all
sorts of native birds. With a bit of luck, we'll be paddling alongside the local
dolphins and even penguins! It's worth noting that you don't just paddle on this
option - you have plenty of time to stop for short beach and forest walks as well.
After the day's activities, you'll be able to have a hot shower, enjoy a great dinner
and a comfortable night's sleep. (BLD)
DAY 6 – Kayaking Option
We spend the morning paddling to our takeout point at Anakiwa. It's another
chance to spot local wildlife before having lunch. After taking our kayaks out of the
water, we'll transfer to Saint Arnaud, where we hook up with the rest of the group
before carrying on to the coast.
-ORMOUNTAIN
BIKING OPTION on Queen Charlotte Track [Add US$399 + tax]
DAY 4 continued…Another option over this period of time is to do some biking. After
lunch you'll head for Anakiwa on the edge of Queen Charlotte Sound, where you'll
be fitted with a modern mountain bike for a fairly gentle ride to start. We have a lot
of flexibility with this option, so this afternoon's ride will give your guide the
opportunity to tailor the next two days to your level of experience. We offer a range
of fantastic trails to suit your experience and interests - from gentle pedaling along
a wide, flat forest trail to more challenging single-track. It's your call. In the
evening we'll enjoy an awesome dinner in a local lodge before the big day
tomorrow. (BLD)
DAY 5 – Biking Option
A big ride today if you like, or a gentle cruise, if you prefer. We have some
challenging single-track riding on the renowned Queen Charlotte Track for the more
experienced, or if you prefer, wide smooth trails that wind through the coastal
forest. The Queen Charlotte Track is legendary because it is one of the few areas of
wilderness where mountain bikes are permitted. No matter which trail you choose,
you'll experience some of the pristine beaches, native forest and birdlife that
characterize this area. It's worth noting that you don't just cycle on this option -
again, you have plenty of time to stop for short beach and forest walks as well.
(BLD)
DAY 6 – Biking Option
We'll spend the morning biking back towards Anakiwa, either by road or single
track, where we'll have lunch. We'll then transfer to Saint Arnaud to rejoin with the
hikers and the kayakers in the afternoon and carry on to the coast.
Finish 3-day backpacking, biking, or sea kayaking
After regrouping in Saint Arnaud we'll head to the wonderful West Coast area - 500 miles
of gorgeous coastline with a population of only 40,000 people on the whole coast! For
dinner this evening, we'll stop at the tiny seaside settlement of Charleston to pick up the
quintessential kiwi dinner - fish and chips! If it's a fine evening, we'll enjoy our fish and
chips on the beach before heading south down the stunning coastline towards the coastal
village of Punakaiki for the night. (BLD)
DAY 7
We'll spend most of the day in Punakaiki to hike amongst the limestone canyons and lush
rainforest of the Inland Pack Track. We'll also check out Punakaiki's famous Pancake
Rocks and blowholes. Finally, we'll leave in the afternoon to drive down the scenic coastal
road and stop at Hokitika to check out the local art galleries and pounamu carving
workshops ("pounamu" is Maori for jade). Then we'll carry on to Okarito Lagoon, a gem of
the West Coast that is all but untouched due to it being 10 miles down a one-way road
from an obscure highway turnoff. With a tiny population, there are no shops, no
restaurants and no traffic here - and watching the sun set over the Tasman Sea is
definitely not to be missed! Overnight: Okarito. (BLD)
DAY 8
You've got a lot of options at Okarito. You can spend a cruisy day in this sleepy but
beautiful beach town to recharge your batteries, or do some awesome hiking and
kayaking. The Okarito Lagoon is unique in that it hosts the only white heron colony in New
Zealand. You can sea kayak on the lagoon with a backdrop of snow-capped mountains for
a few hours, then spend the rest of the day hiking through the lush coastal forest to Three
Mile Lagoon, and walking back next to the waves crashing on the deserted beach. Okarito
is also a great spot just to hang out in the scenery and enjoy a good book, or talk
philosophy with some of the locals! Overnight: Okarito. (BLD)
DAY 9
Just south of Okarito there are two formidable glaciers descending from the mountains to
the sea. We'll spend most of the day hiking at the glaciers - through the rainforest to
either Alex Knob or Roberts Point - both of which give great views of the terminal face,
lower reaches and lateral moraines of the Franz Josef Glacier. We only do these hikes in
good weather, as the rocks get very slippery in the rain. If it's raining, we'll do a shorter
walk to the terminal face of Fox Glacier, hike around Lake Matheson and visit the Blue
Pools near the Haast Pass. (BLD)
Heli-hike option (add US$240 + tax)
A less strenuous, but outrageously scenic option today is to heli-hike on Franz Josef
Glacier itself. After being fitted with crampons, ice axes and so on, you'll board a modern
turbine helicopter and fly towards the highest peaks of the Southern Alps, landing on the
glacier at 4,000 feet above sea level. Led by specialist glacier guides, you'll hike through
the grand ice formations of the glacier, checking out its crevasses, seracs and tunnels - no
previous experience required! The constant movement of the glacier means every day is
different, so your guides will cut steps in the ice to make sure you make the most of the
conditions. At the end of your hike on the ice, you'll take another helicopter ride out of the
mountains, and back to civilization.
The heli-hike is extremely popular with the general traveling public, so we offer advance
reservations with the helicopter operators and guiding company. At the time of booking,
you can reserve a space on the heli-hike, and we'll make sure a spot is held for you.
Heli-hikers generally return a little earlier, so we all rendezvous at a local café, and head
south. From Franz Josef it's about three hours down the coast to Makarora (pop. 30),
which is a small farming village directly next to Mt. Aspiring National Park. We'll stay at a
beautifully landscaped, family-style homestead on the edge of the village, in the shadow
of the mountains. Overnight: Makarora. (BLD)
DAY 10
We'll head down the road to Lake Wanaka for a hike over-looking the lake and the
surrounding mountains. After lunch and a short drive across the mountains at Cardrona
Saddle, we drop into Queenstown, on the shores of Lake Wakatipu. Here you'll find all the
comforts of civilization: massage therapists, restaurants, sidewalk cafés, windowshopping,
and adrenaline-pumping activities! You'll also find some incredible optional
activities here too, such as hang gliding, bungy jumping, jet boating, skydiving, horse
trekking, fishing and winery tours - it's all here! There are also incredible hikes and bike
rides as well. Queenstown isn't a big place - the population is about 8000 - but there's
plenty to do! Or you can do nothing, if you prefer to just soak up the atmosphere or
lounge about just reading a book. (BL)
DAY 11
Free day in Queenstown, the
adventure capitol of New Zealand.
It's all up to you today - enjoy! (B)
DAY 12
This morning we head down to Te
Anau to hike part of the famous
Routeburn Track. The Routeburn is
one of the best-known hiking tracks
in New Zealand and we do the best
part of the track, which overlooks the
Hollyford Valley, Lake Marian and Mt.
Christina. After hiking back to the
trailhead, you'll be fitted with a 21-
speed front-suspension mountain
bike for a spectacular ride through
the Hollyford Valley. This remote and
gently-rolling backcountry road is
lined with unspoilt beech forest and
surrounded by towering peaks! If
cycling isn't your thing, you can skip
it and just enjoy the scenery - like all our activities, the cycling is completely optional.
We'll all end up at Hollyford Camp, a beautiful, tranquil place, with a dozen cabins
scattered around a museum and historic general store. Hollyford Camp is right next to the
Hollyford River and is surrounded by the mountains of Fiordland National Park. It's
definitely not a 5-star hotel, but it's a great little place, and a wonderful location to hang
out at the end of such an adventurous day! Overnight: Hollyford Camp, Hollyford Valley -
rustic but idyllic OR Milford Lodge, Milford Sound (BLD)
Guide note: "Hollyford Camp is a famous kiwi icon - a slice of old-time New Zealand, if
you will - but the facilities are pretty basic compared to all the other places we stay during
this tour. The owners, a lovely couple, have put a lot of love into the camp while aiming to
maintain the old-world charm of a workers camp from the 1930s. It really is a chance to
experience our history."
DAY 13
It's an early start today. First we'll have a short drive through the Homer Tunnel, which
comes out at the top of a spectacular alpine road that winds its way downhill to Milford
Sound. The lush rainforest carpeting the lower slopes of the mountains gives way to the
massively steep, glacier-carved slopes and waterfalls of the Darren Range. Milford Sound,
rated the 8th Natural Wonder of the World by Rudyard Kipling, is breathtaking. Sheer rock
walls plunge thousands of feet to the Tasman Sea, surrounded by snow-capped
mountains! Most people see Milford Sound from the deck of a cruise ship, but we've got a
better way - gliding along in a sea kayak, causing minimum disruption to the seals and
dolphins, which are very friendly and often eager to visit. This is an awesome trip, run by
specialist kayak outfitters, and it's equally suitable for beginners or experts. When you get
back from your morning's paddle, we'll head back to Hollyford Camp for lunch before
continuing on to Lake Te Anau. From here you'll have a chance to cycle along the peaceful
country road that meanders its way through southern farmlands to an inn beautifully
located on the lake's edge. Again, if you prefer, you can skip the cycling and just enjoy
the great views out over the lake and the surrounding mountains of Fiordland National
Park. Overnight: Lake Manapouri. (BLD)
DAY 14
Today we have a relaxed start, and head back up the road to Queenstown, where we stop
for a couple of hours. This gives you the chance to get some lunch, do any last minute
shopping, send postcards home, or whatever you might need to do before heading back
into the wilderness for the remainder of your trip. We'll drive up to Lake Pukaki, near Mt.
Cook, where we stay on Duncan and Carol McKenzie's 60,000 acre high-country sheep
farm, called Braemar Station. ("Station" is the New Zealand word for a big ranch.) While
we're here, we stay in the shearers' quarters. Again, it's not a 5-star hotel but many of
our previous clients have told us this was one of their favorite places on the whole trip!
The view out the kitchen window in the morning will knock your socks off - one huge
mountain, rearing towards the sky on the far side of a gorgeous cobalt-blue lake. And
with no lights for miles around, the stars on a clear night are like nothing you've ever
seen - just the place for your last couple of nights in New Zealand! Overnight: Shearer's
Quarters, Braemar Station. (BLD)
DAY 15
This morning it's an hour or so to Mt. Cook Village, at the head of Lake Pukaki. Mt. Cook,
known as Aoraki or "cloud piercer" by the local Maori, is the highest mountain in New
Zealand, and we have a stunning and little-known day hike (weather permitting) to the
main ridge above Mueller Glacier – directly opposite Mt. Cook! It's a tough slog up, but
you'll remember the view of the Mueller Glacier and the surrounding peaks of the Main
Divide forever! There are also other hiking options if you'd like to take it a little easier.
The weather conditions are very important in this area, as it's a true alpine climate
notorious for sudden weather shifts. If we aren't able to do the Mueller hike, we'll take an
impressive hike up the Hooker Valley to a glacial lake at the base of Hooker Glacier,
complete with icebergs! Then we head back to the shearers' quarters for the last night of
the Rimu. We'll enjoy a traditional kiwi BBQ and a cold drink as we sit outside and watch
the sun set over Mt. Cook. Overnight: Shearer's Quarters. (BLD)
DAY 16 (Sunday)
This is the last day of your two-week trip around the South Island. We'll leave after
breakfast for the three-hour drive to Christchurch, and arrive in the afternoon in time for
flights to Auckland and onto home. Schedule your international flight after 4pm, and we
can make domestic flights as early as 2.30pm if we have a little notice. International
flights from Auckland usually leave early evening, so if you're heading back to the US,
you'll get home some time on Sunday, even though you left on Sunday evening! (BL)
More information from Adventure Associates of Washington: