Maple Leaf Adventures - vacations and travel
Alaska Adventures: Small Ship Cruise By Sail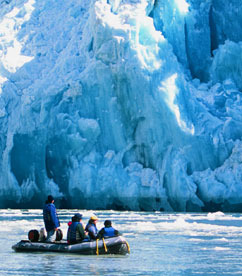 from $6,090* per person
12 Days
July
Comfort accommodations

Exertion level: 3

Operator:

Maple Leaf Adventures

12 people max
Prince rupert, british columbia, canada
Boats, Barges & Small Ship Cruises trips
Glaciers, whales and the last frontier
Millions of people visit southeast Alaska for its grandeur and frontier history. But a fraction of these people will actually visit Alaska's wilderness.

On this Alaska adventure, get close to wild Alaska's tidewater glaciers, humpback whales and enter the ancient rainforests. This small ship cruise, sailing aboard the classic schooner Maple Leaf, is for the adventurous who seek the road less travelled.

Trip Description
Southeast Alaska breathes majesty with every breath. It is a pristine wilderness of fjords, islands, rivers, and tidewater glaciers.
Locations visited/nearby
North America , Alaska, United States
Comments from Facebook
Itinerary
Day 1 Prince Rupert, B.C., to wilderness anchorage, wildlife viewing, shore excursion with introduction to coastal temperate rainforest.
Day 2 Motor-sailing across Dixon Entrance, wildlife viewing. Ketchikan exploration. Wilderness anchorage.
Day 3 Cruising and wildlife viewing in Tongass National Forest. Evening kayaking.
Day 4 Sailing, Wrangell Narrows, Petersburg.
Day 5 Whale watching, sea lions. Anchor at fjord entrance with view of ice bergs.
Day 6 Cruising spectacular fjord to tidewater glacier, exploration of ice bergs, wildlife viewing.
Day 7 Frederick Sound, whale watching, spectacular Baranof Island anchorage, bear viewing, estuary meadow exploration.
Day 8 Hot springs at Baranof, nature hike, cruising the "waterfall coast" of Baranof.
Day 9 Bear viewing, forest and beach hike, cruising to west coast.
Day 10 Exploring Alaska's west coast wilderness. Seabird island, intertidal life, sea otters, remote hot springs.
Day 11 Sailing to Sitka. Guided tour of Sitka, Tlingit and Russian historical town. Last night dinner and stay at Sitka hotel.
Day 12 Free time in Sitka, bus to airport.
More information from Maple Leaf Adventures: