Maple Leaf Adventures - vacations and travel
Galapagos Islands Adventure Cruise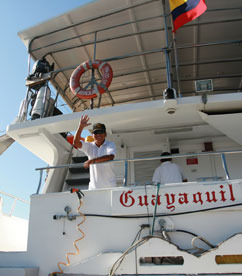 from $5,250* per person
11 Days
May, August, November
Comfort accommodations

Exertion level: 3

Operator:

Maple Leaf Adventures

12 people max
Airport, ecuador near quito, ecuador
Boats, Barges & Small Ship Cruises trips
A Galapagos tour, sometimes called a Galapagos cruise, offers a nature-lover's dream: encounters with wildlife that is unafraid of humans.

The Galapagos Islands, in all their dramatic and desolate volcanic beauty, lie 600 miles west of mainland Ecuador's Pacific coast. This living natural laboratory, inspiration for Darwin's theory of evolution, is home to marine and land creatures - some found nowhere else to the world - which have no instinctive fear of humans.

Travelers sailing around the islands, one of the greatest diving sites on earth, come in close contact with an impressive array of animal and bird life including fur seals, hammerhead sharks, iguanas, boobies, manta rays, penguins, turtles, and tortoises in this, the greatest wildlife sanctuary on earth.

Locations visited/nearby
Ecuador, South America, Galapagos
Comments from Facebook
Itinerary
Day 1: Quito
Meals: none. Guest arriving today are met at the airport by our Quito guide and transfered to Hotel Patio Andaluz.
Day 2: Quito
Meals: B, L, D A.M: Briefing by our Quito guide, fol- lowed by a cultural walking tour of Quito's Centro Histórico, which is a UNESCO World Heritage Site. PM: Afternoon free. Welcome dinner in Theatrum Restaurant.
Day 3: Quito to Galapagos
Meals: B, L, D AM: Early flight to Galapagos Islands. Transfer from airport on Baltra Island to Santa Cruz Island, for a tour to the highlands to see giant tortois- es in the wild. Lunch in a ranch in the highlands. PM: Tour the Charles Darwin Research Station, in Puerto Ayora. Late afternoon, board Reina Silvia and set sail.
Day 4: Floreana Island
Meals: B,L, D AM: Punta Cormorant: beach with greenish olivine crystals, flamingo lagoon, walk to white sand beach with turtles' nests and stingrays in the shallows. Post Office Bay: site of whalers' post office barrel and early settlement Champion: fantastic snorkeling site, lots of sea lions. PM: Cruise to Puerto Velasco Ibarra, visit to Pirates' Caves, with stop at gi- ant tortoise sanctuary en route.
Day 5: Southern Isabela Island
Meals: B,L,D AM: Bahia Elizabeth: Breeding site for Galapagos penguins, the largest concentration in the islands. Panga ride and snorkeling. PM: Punta Moreno: Dramatic lava flows , red mangroves, lava herons
Day 6: Central Isabela and Fernandina Islands
Meals: B,L,D AM: Bahia Urbina: in 1954 this area was uplifted 4 meters by volcanic activity, so it is a geologi- cal wonder. Also the site of the largest land iguanas in the Galapagos. PM: Cruise to Punta Espinoza on Fernandina Island: huge heaps of marine iguanas, nesting flightless cormorants, Galapagos hawk.
Day 7: Northern Isabela Island
Meals: B,L,D AM: Tagus Cove: panga ride along the cliffs for good sightings of blue footed boobies, flightless cormorants and Galapagos penguins. Dramatic snorkel- ing in rock gardens at the foot of the cliffs – swim with penguins! Hike past salt lake crater and up to top of tuff cone for spectacular 360 degree view. PM Punta Vicente Roca: at the foot of Ecuador Volcano, a panga cruise looking for huge Ocean Sunfish (Mola Mola) as well as of masked and blue footed boobies on the cliffs; great snorkeling site, lots of green turtles.
Day 8: Santiago Island
Meals: B,L,D AM: Playa Espumilla: Idyllic beach, green turtles, sea lions and good snorkeling. Caleta Bucanero: stunning scenery and interesting bucaneer history. PM Puerto Egas: Fur seals, marine iguanas, yellow crowned night herons and many other shore birds.
Day 9: Santa Cruz & North Seymour Islands
Meals: B,L,D. AM PM: Las Bachas: beautiful sand beach for swimming and snorkeling small lake with flamingos. North Seymour: large land iguanas, nesting frigate birds, blue footed boobies and swallow tailed gulls.
Day 10: Galapagos to Quito
Meals: B,L,D AM: Transfer to Baltra for flight to Quito. Farewell dinner in Alma Cocina (subject to change).
Day 11: Quito to home or onward journey
Meals: B. Transfers to airport for homeward flights. Note: Transfers are not provided for guests leaving after the trip end date.
More information from Maple Leaf Adventures: