Andean Trails - vacations and travel
Galapagos Islands Multi Activity Small Group Adventure Holiday
"  I just wanted to let you know how much we enjoyed our trip to the Galapagos!!!  It was the… "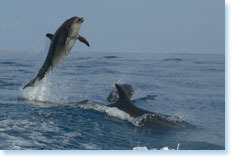 from $2,810* per person
10 Days
Year-round
Comfort accommodations

Exertion level: 5

Operator:

Andean Trails

16 people max
Quito airport, quito, ecuador
Active & Adventure trips
From the heights of the second largest volcanic crater in the world to the depths of the rich and unexplored waters of Galapagos, our carefully planned activity tour is perfect for all lovers of outdoor adventure.

We combine snorkelling, trekking, biking and (optional) diving on this multi-activity tour.

There is a thrilling downhill MTB descent peppered with the rich history of the islands; visits to see Giant Tortoises; many fantastic snorkelling opporunities with sea lions, turtles and harmless sharks; a great trek to a huge volcanic crater and there is always the chance to spot whales or that a pod of dolphins will come and play around the bows of the Christine.

All this is taken at a good pace and combined with comfortable hotels to ensure a great rest before the next day's adventure.
Locations visited/nearby
Galapagos Islands, Ecuador
1 testimonial about this trip
Reviewer:

Julie

located in

London

,

UK


 

I just wanted to let you know how much we enjoyed our trip to the Galapagos!!!  It was the most memorable trip we have ever had.  It will be hard to surpass it with anything else (although we enjoyed our international vacation SO much we want to do more, and use Andean Trails as well). 

Everything was wonderful; our guide, Pablo was so knowledgeable and passionate about teaching us about the islands, from the culture to the geology to the wildlife to the conservation and education of his people about the islands.  Our accommodations were exceptional; our hotel on San Cristobal had a hammock in it which I slept in for 2 nights!!  The food was great; fresh juices, fruit, fish, and yogurt.  The Ecuadorian people were all very nice and helpful also.  Even the people on our group were great; all healthy, energetic, fit individuals who enjoyed it all as much as we did. 

We saw sea lions, sea turtles, manta ray, boobies, frigates, the tortoises and my favorite the marine iguana.  Such interesting things to learn about them thru evolution!! 

Thank you so much for helping us get this trip set up on such short notice.  We will carry a piece of the Galapagos in our hearts forever.  If it is possible to give rave reviews for our guide Pablo, please do for us.  He was amazing and truly made the trip even more special. 

We plan on booking again maybe next year?  We hope to visit the Amazon rainforest.  Let me know which is a good tour, will you?

5
2 testimonials about the provider, Andean Trails :
Reviewer:

Wendy Cheek

located in

USA


We had a WONDERFUL time – really incredible. All the folks we traveled/worked with were great. We really enjoyed Zacharias – he was very knowledgeable, and I really tested him on the plants! The only comment we would probably have was with the excursion to Taquile – I would have much rather spent more time on Amantani. It was really just a hike of the island and people watching…

I'm sure I'll send back more comments as I get caught up back here! We really had a super time, and really look forward to another trip back to Peru. Let Tom know we're thinking Galapagos for next April… J

Thanks!



5

Reviewer:

Catherine McAvoy

located in

England




The Paine trek was fantastic. After hearing horror stories from other travellers about the gale-force winds & horizontal rain, I couldn't believe my luck when we had 4 days of blue sky and only a little bit of wind on the last day. Perfect.

Our guide, Jay (Chaid is his real name I think, he's from turkey) was brilliant. He couldn't have done more for us, sorting out a few things in the hotel as well as making sure we didn't have to worry about anything other than putting one foot in front of the other. He also made the worlds best sandwiches! I said a big thank you but would be grateful if you could pass this on. So you couldn't have done a better job.




Thanks again for your help with organising it all, I've got some great photos to make everyone jealous with (& just the one blister!)

Catherine


5
Comments from Facebook
Itinerary
Day 1 The tour starts in Quito. We meet up at the group hotel in the new town of Quito.
There will be a welcome letter waiting for you at the hotel plus an information pack with a list of things to do and see in and around Quito.
That evening there will be a full briefing on the week ahead and logistics of your adventure tour in Galapagos - you can pick up a kit bag as well if you need one for the islands. Later on the group convenes for a welcome dinner at a local restaurant which serves local and international dishes. (D)
Day 2 The trip begins with an early morning transfer to the airport and a flight to San Cristobal Island, Galapagos. Here you will be meet by our friendly staff and transferred to your hotel.
After lunch will we make our way to the top of San Cristobal through the settlement of El Progresso, to La Soledad from where we will have panoramic views out over the Pacific towards Santa Cruz, Floreana and Santa Fe.
Afterwards we jump on the bikes for an exhilarating down hill through the lush highlands of the island, through El Progresso down to the beach La Loberia.
Here we'll be able to watch sea lions sun bathing, playing and vying for our attention. If you can't wait to get in the water, this is your first opportunity. As the sunsets, we'll bike back to town and get ready for a welcome dinner of fresh fish and island cuisine at a small local restaurant. B, L, D.
Day 3 The day starts with a short boat ride to Kicker Rock, observing along the way the abundant marine life that Galapagos is renowned for. On the way we stop off at Isla de Lobos to observe nesting Frigate birds and Blue Footed Boobies, and swim/snorkel with playful young Sea lions. A real highlight of the trip! We then continue onto Kicker Rock, the remains of an underwater volcano rising vertically 150m out of the sea. A truly impressive sight!
Here we can dive and snorkel keeping an eye out below for Sea Turtles, Manta Rays and maybe the odd harmless Galapagos shark, just to name a few.
Puerto Grande, a beautiful beach accessible only by boat, is our final stop for the day. After lunch on board, feel free to spend your time swimming in the turquoise water or snapping photos of Kicker Rock in the distance. We'll head back to town late afternoon to visit the Interpretation Center where we will learn about the history and mystery of the archipelago from its discovery to the present day efforts to protect this amazing World Heritage site.
To culminate the educational afternoon, pick a spot at nearby Playa Mann, or Mann Beach, with the playful sea lions or grab a front row seat at Casa Blanca to watch the sunset. Dinner is own your own tonight and we'll be sure to offer you plenty of suggestions.
(B, L- OPTIONAL DIVING, PLEASE ENQUIRE)
Day 4 After breakfast, we'll depart by boat for the least inhabited of the main islands, Floreana. En route, keep your eyes peeled for dolphins, whales and the waved albatross. We'll have a pre-lunch snorkel before going ashore to a black sand beach at the home of the Witmer's, one of the islands first settlers. With a population of less than 150 people, Puerto Velasco Ibarra is a sleepy little town but not without its secrets. You can read up on how life came to be on Floreana and how some lives mysteriously ended.
After lunch, take a siesta while listening to the waves or walk along the coast in search of sunbathing iguanas. This afternoon we'll bus up to the highlands of Floreana to visit the Pirate and Whaler Caves from long ago. We'll return to town and our beachside accommodation in time to enjoy the day's last light before heading to the Baronesa for dinner. (B, L, D)
Day 5 This morning we embark for Isabela, the largest island in the archipelago. Once we arrive in Puerto Vilamil, we'll take a short walk to a nearby wetland which is home to pink flamingos and pintail ducks. After lunch, we'll board small pangas to explore a protected bay and search for the Galapagos Penguin – the only penguin found north of the equator.
We'll hop out for a short walk at Tintoreras or Shark Alley, an isolated islet and popular iguana nesting site that's home to hundreds of marine iguanas. Next, we'll test the waters for a snorkel in a calm inlet that's home to a variety of colourful fish and winding underground lava tubes. This area is often frequented by green sea turtles that like to rest on the calm, sandy bottom.
If sea conditions allow we will find time for a paddle in our kayaks, no previous experience needed. (Please note, your guide may decide to change this to a different day, should conditions not be ideal) We'll return to town late afternoon in search of our own sandy resting spot to toast to our first Isabela sunset, arguably the most beautiful of all the islands. (B, L, D)
Day 6 Lace up your hiking boots, we're heading up a volcano! Sierra Negra Volcano is one of the most active volcanoes in Galapagos; its last eruption was in October 2005. A short uphill hike takes us to the perimeter of the caldera. Once we reach the rim, we'll have a nine kilometer view that stretches across one the most active calderas in the world. We'll continue on to traverse the vast lava fields of Chico volcano to a lookout that boasts breathtaking views reaching to the north of Isabela.
After enjoying a hearty sense of accomplishment, we'll make our way back to town late afternoon for some free time to curl up with a book or venture down to the water for a relaxing swim before dinner. (B, L, D)
Day 7 We'll start the morning with a leisurely walk through a coastal lagoon. This mangrove-lined path will lead us to Isabela's Giant Tortoise Breeding Center where we'll see giant tortoises in all stages of development. The center has almost a thousand giant tortoises training for life on their own!
Next, we'll take a step back in time to visit the Wall of Tears. Built by convicts and still standing over 50 years later, this landmark reminds us of Isabela's penal colony past. From there you can catch a ride back to town or choose a relaxing stroll down a white sand beach. The afternoon is yours to explore the town, sit with the birds and iguanas or head toward your favorite beach bar. (B, L)
Day 8 We'll wave goodbye to Isabela this morning as we depart for Santa Cruz Island. After checking in, we'll hop on a bus bound for the Highlands to explore an underground lava tunnel and visit Primicias Ranch. For the first time we'll be able to see Giant Tortoises in their natural habitat cooling off in a watering hole or munching away.
After lunch, we'll visit the Charles Darwin Research Foundation and hopefully get a glimpse of Lonesome George – the last of his species from Pinta Island. We'll learn about the foundations successes in repopulating the islands with the once endangered land iguana and several species of Giant Tortoise. From the collection of the eggs to the age of release, we'll observe how the giant tortoises are raised and readied for life on their own.
This afternoon we'll talk a short walk that ends in white sand and luscious waves. Tortuga bay is gorgeous beach accessible only by foot and laden with choices. Do I want to swim, sunbath, bodysurf or do all three? After our fun in the sun, we'll make our way back to town for our farewell dinner to the Enchanted Islands. (B, L, D)
Day 9 Get up early for a final hike or savor your last moments on the island for souvenir shopping – the choice is yours.
Finally we depart San Cristobal Island and return to Quito where we are met on arrival and return to the same hotel in Quito. Our representative in Quito will be able to advise you and help with some of the many day tours available in and around Quito if you need any setting up. In the evening, the group meets up for a celebratory meal. (B, D)
Day 10 Quito, departure day (B)
More information from Andean Trails :