Southern Explorations - vacations and travel
Argentina Mountains & Wineries Tour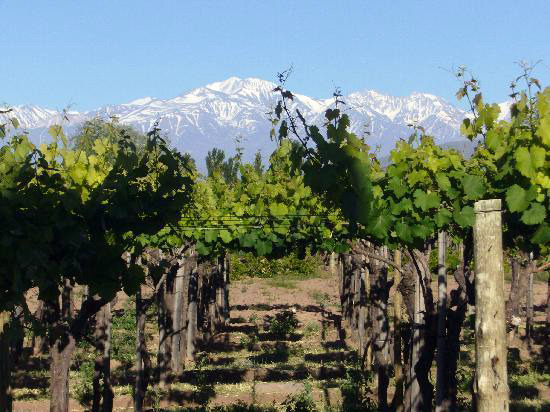 from $2,670* per person
9 Days
November-March
Comfort accommodations

Exertion level: 3

Operator:

Southern Explorations

12 people max
Buenos aires airport, argentine
Culinary & Wine Travel trips
Join us on an unforgettable Argentina tour of two of the country's most impressive regions: Mendoza, home to Argentina's world-renowned wines, and Bariloche, the heart of the beautiful Lakes District of Northern Patagonia. Based out of Buenos Aires, the Paris of South America, this Argentina trip takes you to the center of Argentina's vineyards: the Medoza Region with over 900 distinct wineries. In the foothills of the Andes, you will explore the best of these vintners with two deliciously full days of Argentine wine tours all the while surrounded by impressive landscapes. From Mendoza, continue on to tour Patagonia's Lakes District. Hike, kayak, and raft through this outdoor wonderland, staying in the resort town of Bariloche on the shores of beautiful Nahuel Huapi Lake. This active Patagonia tour pairs well with a taste of Argentine wine for a weeklong trip any sophisticated adventurer is sure to love.
Locations visited/nearby
Argentina, South America
0 testimonials about this trip.
Reviewer:

Sharon Rault

located in

Wisconsin

,

Galapagos and Peru

"I traveled to Peru and Equador (the Galapagos) in January 2010. While I have traveled extensively throughout the world, this trip was my introduction to South America. I was extremely impressed with Southern Explorations and the high level of their operations. The itinerary was expertly planned, the hotels were wonderful and perfectly located, the guides spoke excellent English and were well informed, and the transfers were handled with ease. I had an absolutely delightful and memorable holiday and would not hesitate to book another one with Southern Explorations."

5

Reviewer:

Eric Vilbert

located in

Peru

"We're already looking to book up the Galapagos Multisport trip with you for the same timeframe of next year. The trip exceeded expectations, and we all felt like we got excellent value for our money on this trip."

5

Reviewer:

Joe Kromdyk

located in

Peru

"We had a ball, satisfied some personal goals, and traveled in some of the most beautiful parts of the world I have ever seen."

5
Comments from Facebook
Special information
This is a custom departure, meaning this trip is offered on dates that you arrange privately with the provider. Additionally, you need to form your own private group for this trip. The itinerary and price here is just a sample. Contact the provider for detailed pricing, minimum group size, and scheduling information. For most providers, the larger the group you are traveling with, the lower the per-person cost will be.
Itinerary
Day 1 (Sun): ARRIVE BUENOS AIRES View Buenos Aires accommodations picture gallery Meet a Southern Explorations representative at the international airport upon arrival. Transfer to your hotel and enjoy the remainder of the day at your leisure in this world class city. Buenos Aires is a thriving capital city with ample sights and exciting areas to explore. Consider adding our popular Four Balconies tour of Buenos Aires to become more familiar with this expansive metropolis. Overnight at a local hotel.
View Optional Pre-Itinerary Tour Extensions
Day 2 (Mon): BUENOS AIRES - MENDOZA View Mendoza accommodations picture gallery After breakfast, transfer from your Buenos Aires hotel to the domestic airport for your flight to Mendoza, where your driver will meet you and transfer you to your hotel to relax for the next stage of your Argentina tour. (B)
Day 3 (Tue): WINE TOUR LUJAN DE CUYO REGION View Mendoza accommodations picture gallery Today you will experience why the Lujan de Cuyo region just south of Mendoza has gained a considerable presence on the world wine scene. You will be picked up from your hotel to visit four wineries within this region, which is the very heart of the famous Malbec country, with the snow-capped Andes Mountains always in the background. Many of Argentina's most prestigious wineries are located in this area and it is a mere thirty minute drive from the city center.
Our first visit is to Alta Vista, a one hundred year-old winery founded by Spaniards but now owned by a very progressive French family. They specialize in "Terroir Expressión" whereby they produce several single vineyard Malbecs, all scoring very high points. Here we taste three wines, starting with their Torrontés and finishing with their Grand Reserve, both Gold Medal winning wines. From here we travel a short distance to Hacienda del Plata which continues to play an important role in Mendoza's wine history. Founded in the 18th Century the then estancia was known as La Estancia San Ignacio de la Familia González. It has taken generations of hard and intensive labor on the barren desert land that surrounds the estancia to cultivate it and produce outstanding Malbec and Cabernet Sauvignon. The visit includes a fabulous tasting from barrels and bottles, and a very informative stroll through the vineyard.
We lunch in Cava del Cano; this micro winery is worth a visit just to see how the entire process can be fitted into a garage sized room. Set in a beautiful, colonial style building this is an atmospheric step back in time with underground tanks converted into bottle cellars and dining rooms. Lunch is a spectacular buffet with every type of delicacy. Our day concludes with a visit to Carmello Patti. Given that all winemakers are artists, this man is the personification. He does not advertise his boutique winery in any way and only makes what his devoted customers actually ask for. Carmelo Patti has been making wine in Mendoza for thirty-six years. He buys all of his grapes, and knows where to get the best and gets the best out of them. Here you will learn the true meaning of "cult wine." Return to your hotel in the evening. (B,L)
Aconcagua High Mountain Upgrade - $145 per person
For those seeking out a different kind of adventure, spend the day traveling near impressive Mt. Aconcagua instead of the vineyard valleys. After breakfast at your hotel, begin your trip passing Rio Mendoza and the agricultural town of Potrerillos along the Cordon del Plata. Arrive at Uspallata, a lush town in contrast to the surrounding multicolored Andean hills and tunnels. Continue in this famed valley, past the colonial bridge over the Picheuta River, and small picturesque towns such as Punta de Vacas and Polvaredas. After the ski resort of Los Penitentes, visit a unique Inca bridge and the ruins of thermal baths with distinguishing mineral deposits of red and yellow. Nearly to the Chilean border, pass Las Cuervas, the last Argentine settlement in this remote area. Continue your ascent, weather permitting, to 12,600-foot La Cumbre Pass, location of Uruguayan sculptor, Mateo Alonso's, immense bronze Christ the Redeemer of the Andes nearly twenty-six feel tall and weighing over four tons. The monument was erected in 1904 to signify peace between the two neighboring countries. Make your way back down to Mendoza, stopping for an appetizing regional lunch at Estancia Uspallata. Take advantage of the ranch's prominent position at an altitude of 6,600 feet with impressive panoramic views of the lower valley. Return to your hotel in the late afternoon. (B, L)
Day 4 (Wed): WINE TASTING BY BICYCLE View Mendoza accommodations picture gallery What better way to visit vineyards and taste their delicious wines than by a leisurely bike ride through this beautiful region? Today, travel twenty minutes south to Beltrán and the family-owned and operated Bodega Familia Zuccardi. This winery is well-known for its constant innovation and unique style. In fact, the region first began with the founding Zuccardi's inventive irrigation system design used to grow grapes in this otherwise difficult area. As you will see, this tradition of experimentation continues to thrive. Begin with your guide at the Casa del Visitante gardens and bike to the Finca F.L. Beltrán to savor three varieties of the Santa Julia Chardonnay--original, organic, and reserve. Next, visit the Syrah vineyards, where Familia Zuccardi creates their Santa Julia Syrah and Syrah Rosé. Continue to the notable Malbec vineyard, home to the three varieties of Santa Julia Malbec: original, organic, and reserve. Return to the picturesque start of your trip to top off your Mendoza wine tour with a gourmet lunch paired with additional regional wines. After a full day of wine tasting, return to your hotel to rest. (B, L)
Wine Tour Maipu Malbec (Optional alternative)
You will be picked up from your hotel after breakfast for the thirty minute drive to Mendoza's viticultural epicenter, Maipu. Most of the European immigrants settled in this region upon their arrival in Argentina during the late 19th century. Today, wine connoisseurs travel to Argentina from throughout the world to sample the bounty of Maipu. That the valley contains as many olive groves as vineyards is testament to the huge and welcome Italian influence here.
The first stop on today's Argentina tours is the Carinae Winery, once abandoned, but lovingly restored by its charming French owners. Carinae's reputation for high quality wines is derived in part through the guidance of renowned French oenologist, Michel Rolland. Following a tour of the vineyard and winery, guests will taste six selections including Carinae's top wine, Prestige.
Next on today's Argentina tours, you'll drive fifteen minutes to Tempus Alba, an attractive winery, owned and operated by a multi-generational viticultural family. The superb Malbecs of this modern winery are the result of its in-vitro laboratory where micro-propagation of different Malbec clones has identified those best-suited to the winery's vineyards in three separate regions. Tempus Alba has perfectly married the "Terroir" to the variety and clone.
Thirty minutes away is the third and final winery of the day, Zuccardi. This pioneering winery has resurrected grape varieties destined for oblivion, planting small crops and producing small quantities of wine in its superbly equipped microvinification hall. Zuccardi has brought new life to these lost grapes by blending them with other varieties, or occasionally producing stand-alone varietals. A tour of this progressive winery is followed by a tasting and then a truly Argentine experience, an asado (barbecue) in Zuccardi's picturesque restaurant set amongst the vines. You will be returned to your hotel, a forty five minute drive, by 6 PM. (B,L)
Day 5 (Thu): MENDOZA - BARILOCHE View Bariloche accommodations picture gallery Before your midday flight to Bariloche, take the day to tour the many sites of this Andean city. Visit the colonial center, Independence Plaza, Plaza San Martín, Cerro de la Gloria, General San Martín Park and many other open spaces and parks the city is known for. Also explore the unique España Avenue and plaza with its impressive mosaics. Enjoy one last meal and transfer to the airport for your flight, connecting in Buenos Aires. Land in Bariloche, a scenic resort town perfectly situated on the shores of Lake Nahuel Huapi. Take the rest of the day to relax and visit this mountain town. (B)
Day 6 (Fri): BARILOCHE HIKING or MANSO RIVER RAFTING / CLASS III-IV View Bariloche accommodations picture gallery Enjoy breakfast at your hotel before your choice of two activities. For those looking for adventure, try your hand at river rafting the legendary Manso River. Begin by traveling by private van along the Manso River into Nahuel Huapi National Park. Arrive at John's Ranch and enjoy coffee on the shore of the river. Change into your wetsuit and prepare for an exciting rafting adventure with a safety briefing from your guide. During the thrilling ride down the river you'll pass luxuriant forests through the canyon. Finish at the border with Chile where you will change clothes and head back to the ranch for a traditional barbeque. If you prefer to stay dry, travel to one of the gorgeous hikes through the mountains surrounding Bariloche. Your guide will pick you up and discuss your trekking options for the day, selecting one that perfectly fits your interests and activity level. Spend the evening back in Bariloche. (B, L)
Day 7 (Sat): NAHUEL HUAPI LAKE - KAYAKING View Bariloche accommodations picture gallery Enjoy breakfast at the hotel and travel to the launching beach. Today will be spent on the serene waters of Nahuel Huapi Lake. Regardless of your fitness level or previous kayaking experience, you will surely take pleasure in this full day of paddling in a heavenly setting. Pause midday for a delicious picnic lunch on the shores of the lake. Complete your trip at the renowned Llao-Llao Hotel, from where you will transfer back to your hotel for a last world class dinner. (B, L)
Patagonia Hike & Kayak Option
If your group prefers, we can arrange instead to combine relaxed trekking with kayaking. Enjoy breakfast before starting out on this exciting Patagonia tour. From Lopez Bay, you will hike to Tristeza's granite lookout with impressive views of the Lakes Region. Here you will enjoy a scenic lunch before hiking back. You will travel to Moreno Lake and receive a safety briefing. The rest of the afternoon will be spent paddling this beautiful lake before returning to your Bariloche hotel. (B,L)
Day 8 (Sun): BARILOCHE - HIKING View Bariloche accommodations picture gallery Travel to the trailhead after breakfast. You'll begin your ascent into the beautiful wilderness reaching the alpine zone after two to three hours. Stop to rest and dine on a superb picnic lunch before continuing on the remaining three to four hours, all the while surrounded by pristine lakes and impressive peaks. Return to your Bariloche hotel to prepare for a delightful night on the town. (B, L)
Day 9 (Mon): BARILOCHE - BUENOS AIRES - HOME View Explora accommodations gallery Take the morning to relax in this mountain town before your afternoon transfer to the airport for the flight to Buenos Aires. Upon arrival, transfer to the international airport for your departure home or Contact Us to arrange additional tours of the city, surrounding areas, or longer extensions. (B)
Key: (B)reakfast (L)unch (D)inner
More information from Southern Explorations: