Breakaway Adventures - vacations and travel
Exploring The French Caribbean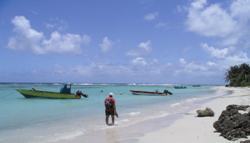 from $4,147* per person
12 Days
November-April
Comfort accommodations

Exertion level: 3

Operator:

Breakaway Adventures

24 people max
Pointe-à-Pitre international airport, pointe-a-pitre, guadeloupe
Active & Adventure trips
Your discovery begins on butterfly-shaped Guadeloupe. The two wings of the island offer a myriad of opportunity for easy exploration by car, on foot and by sea. Take time to discover thundering waterfalls, coastal mangrove trails or golden sands lapped by warm azure waters – and each day you can do as little or as much as you want. Nestling in the hills above Trois-Rivières, your base here is the fabulous 9-room Jardin Malanga. As well as affording unrivalled balcony views across the sparkling Atlantic, as far as Dominica on a clear day, offers a panoramic swimming pool and luxuriant tropical gardens.

Moving onto Martinique, the Island of Flowers, exploration here is even more relaxed, in tune with the island's atmosphere. Savour the amazing diversity of natural beauty that makes the island so alluring; beaches with sand ranging from volcanic black to the purest white or the cathedral-like canopy of virgin rainforest in the Fôret d'Absalon. Your base here is the discreetly charming Hotel Plein Soleil, a gorgeous Créole villa style accommodation just outside Le François looking out over Thelmont Bay. With just 16 individually crafted rooms, it exudes a feel of understated luxury - upgrade to a suite and you'll even get your own private plunge pool!

Cuisine on both islands is a mouthwatering mélange of Creole and French flavours, like succulent swordfish served with grilled banana or sea bream on a bed of creamy coconut rice.

Locations visited/nearby
Guadeloupe, Caribbean, South America
Comments from Facebook
Itinerary
Day 1 Arrive on Guadeloupe
Arrive at Pointe-à-Pitre airport, where you collect your rental car . Then an easy 75min drive to your hotel.
Day 2 Three Cabret Waterfalls 10km/6mi
A relaxing day exploring Basse Terre's cascading Cabret waterfalls. A stairway of three thundering falls descend from their source on La Soufrière volcano, which forms a jagged backdrop to the day. Yellow warblers swoop overhead, as the Cabret River gushes through rainforest thick with ferns, ruby heliconia and tree vines on its journey to the tranquil Caribbean waters at Capesterre-Belle-Eau.
Day 3 Les Saintes 5km/3mi or 7km/4mi
You arrive at Terre de Haut's harbour where colorful fishing boats sway gently in the sheltered bay. A coastal cacti-fringed path winds towards Pompierre Bay and to the Napoleonic Fort where iguanas bask in the sunshine. Time to relax on the palm-fringed sands or take a dip in the sea before heading back to Jardin Malanga.
Day 4 North Basse Terre 10km/6mi
Today you explore Guadeloupe's agricultural heartland where fields of sugar cane blanket the rolling landscape and pure white egrets speckle the panorama. Nearby Plage des Amandiers provides a tempting spot for a refreshing dip in the sparkling Caribbean waters.
Day 5 Marie Galante
For a relaxing day take the early morning ferry (small cost, pay locally) to Marie Galante, an island paradise of turquoise waters, swaying coconuts and sun kissed sands. Walking through mango, almond and guava trees, you descend to beautiful Plage de Moustique, the air fragrant with white frangipani for lunch. Alternatively, we provide walking notes for the more energetic to hike La Soufrière.
Day 6 Grande Terre's Coastal Paths 4km/2mi or 7km/4mi
First to Pointe de la Grande Vigie viewpoint, spectacular views of Antigua and Montserrat on the horizon. An inland path bright with pink oleander and trumpet trees leads to Pointe du Souffleur , where Atlantic breakers crash against the jagged volcanic cliffs. Then along the coast to Porte d'Enfer lagoon, for a late afternoon swim then back to your hotel for your final delicious dinner at Jardin Malanga.
Day 7 Transfer to Martinique
After a tropical breakfast, take the coastal road back to the airport for your 40min flight to Martinique. It's an easy 25min drive to your beautifully located Plein Soleil just outside Le François.
Hotel Plein Soleil ***
Le François, Days 7-11
The gorgeous Hôtel Plein Soleil is a small 3 star family run hotel, which is discreetly situated near to Le François on Martinique's eastern shores. This 16-room villa-style accommodation offers stunning views over Thelmont Bay. It is small and intimate, with exceptional service and eye to detail. The hotel is set in its own grounds, with the reception and restaurant in the main building. The rooms themselves are situated in 3 creole style, brightly painted villas. Each room has its own separate entrance. The hotel only has double rooms but all are ensuite (shower only) with ceiling fan and hairdryer. There are different categories of rooms; however all are very Creole in style – extremely elegant with either white washed wooden or brightly painted walls, tiled floors, pretty wooden furniture and beds with white drapes and pristine white linen. The suites benefit from their own private individual pool; however there is a large pool with sun loungers for all guests to use.
Further details on the hotel website.
Day 8 The Sleepy Southern Coast 5km/3mi
Driving south past sugarcane and banana plantations you reach the southeast Atlantic coast. Frigate birds swoop overhead as you explore the Domaine de Grand Macabou, a lonely chapel guards the headland. A sheltered palm fringed bay, scattered with conch shells, appears magically through the mahogany forest. Continue to Piton Crève Coeur , where an easy ascent rewards you with incredible views across sleepy St Anne, its turquoise harbour dotted with colorful fishing boats.
Day 9 Exploring Northern Martinique 4km/2mi
After a visit to the Volcano Museum in St Pierre, you head to the northern Caribbean coastline. Here a path contours the craggy headland past spectacular Kapok trees strung with lianas, before descending to stunning Anse à Voile - the perfect setting for an al fresco lunch.
Day 10 Free day
Perhaps take time to relax today by the hotel's sparkling pool. Or follow the incredibly scenic Route de la Trace, which weaves inland across the island's spine through the Absalon rainforest, studded with scarlet heliconia, returning perhaps via Le François.
Day 11 La Caravelle Peninsula 7km/4mi
Descending through dry tropical forest you reach the salt rich coastal mangroves. After a picnic overlooking the ocean, explore the ruins of Château Dubuc – a fascinating reminder of plantation days. Time for a paddle at Tartane's sandy bay before returning to the hotel for your final gastronomic dinner .
Day 12 Return home
After a relaxing morning by the pool, or perhaps some last minute shopping in Fort de France, you drive to the airport in time for your flight home.
More information from Breakaway Adventures: