Sacred Rides Mountain Bike Adventures - vacations and travel
Yoga/Mountain Bike Retreat | Mexico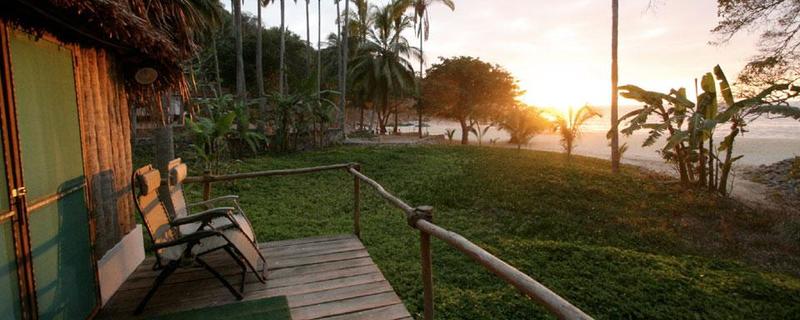 Puerto vallarta near mexico city international airport, mexico city, mexico
Active & Adventure trips
Feeling the winter blahs?

We've got just the ticket for a recharge - an adventure for mind, body and soul!

Thrilling mountain bike riding combines with invigorating and relaxing yoga on this fantastic retreat on a spectacular private beach on the Pacific Coast of Mexico.

Each day includes a thrilling ride and 2 yoga sessions, along with time to relax and soak in the sun and surf on our private beach. We'll also head up into the mountains for an evening at an eco-hacienda in the historic town of San Sebastian Del Oeste, and spend time volunteering with a local community project. Your winter escape awaits!

Super-guide, instructor and yoga teacher Johanna Weintrager will lead this retreat along with knowledgeable local guides: expect to be challenged, expect to learn, and expect to relax on one of the most beautiful beaches in Mexico. Johanna will lead 2 yoga sessions per day (sunrise and sunset), covering a variety of styles appropriate to the time of day and day's activities: power, hot, vinyasa flow, yin, and kundalini. On this trip we'll ride singletrack trails along with some technical doubletrack, with medium to long climbs and a moderate technical challenge component.

Safety in Mexico

Although the drug trade has led to instability and major violence along the U.S./Mexico border, violent or organized crime is not a concern in this part of Mexico: the problems are mainly restricted to the areas near the border. Punta Monterrey Resort and San Sebastian, where we spend most of the trip, are two of the most peaceful places anywhere in Mexico (or the world, for that matter).

We work with local guides who are keenly aware of any issues that might affect our groups' safety - rest assured that the safety of our clients is of paramount concern to us and we would never do anything that would compromise it.

Is This Ride For You?

This Ride is for intermediate Riders who enjoy riding singletrack and don't mind riding the odd dirt road to access beautiful places. You love the ocean and beautiful beaches. You either have a regular yoga practice or are willing to give it a try. You love to explore other cultures and try new things, and don't mind getting out of your cultural comfort zone to open up to new experiences.


Locations visited/nearby
Mexico
0 testimonials about this trip.
Reviewer:

Enrique Nodarse

located in

Puerto Rico

,

Hey Mike! First of all I wanted to say the Peru trip was amazing. Wayo is the man!! Given..he had the perfect setting, surrounded by the perfect Andean mountains, nonetheless he turned an already 'cool as hell' trip into a nearly flawless one. Simply one of my best vacations yet. I think I was more winded by our constant laughing than the low-oxygen high elevation climbs!! Lets not forget, Jose and Russo, without them the trip would not have been nearly as cool. I think I can speak on behalf of all of us that took the trip when I say the day we spent in Joses Farm made the trip very different than anything we or at least I ever expected from any tour or organized travel. I didn't expect that...the guide does not usually take you to his home!! ...which happened to be a beautiful 40 acre citrus tree haven surrounded by some of the most amazing greenest hills that I have ever had the privilege of riding. As if that was not enough our perfect day of riding was supplemented by fresh juices, cheeses, cold peruvian beers served by the poolside and culminated with the delicious BBQ chicken lunch. Well, I could go on and on, but I think you already have a pretty good idea of how much I enjoyed my trip. I won't continue my rant, and leave you with more time to get out there and scout more 'sacred rides' for the rest of us to see and hopefully ride.

5

Reviewer:

Barbara and Mick

located in

UK

Just a note to let you know that Mick and I thoroughly enjoyed our Sacred Rides holiday. We had an absolutely fantastic time. The trails Eddy and Val took us on were excellent and we will remember them for a long time.

I think most of us felt that our riding had improved during the course of the week, and Mick and I have certainly noticed a difference since we got back to England and have been riding our favourite Lake District trails. We had a devil-kicking session last weekend, where Mick confidently rode the off-camber boardwalks that he is usually hesitant on, and I rode a particularly tricky rocky section that I have always jibbed at before. Both were conquered with ease!

Everyone in the group got along really well and Eddy and Val were a pleasure to be around. All in all, it was a fab holiday. Thanks very much!

Best regards,

5

Reviewer:

Kim Ruthers

located in

US

Thank you. I loved every minute of it. My bike skills and confidence have improved and I have seen truly amazing sights. A terrific trip!

5
Comments from Facebook
Special information
You need to form your own private group for this trip. It will be scheduled for a date you arrange with the provider. The itinerary here is just a sample.
Offers some solo-only/singles departures.
Offers some women-only departures.
Itinerary
Day 1. Arrive Puerto Vallarta, transfer to Monterrey Beach.
We'll meet you at Puerto Vallarta airport and transfer you to your cabin on a secluded and spectacular private beach 1 hour north of the city. Tonight we'll have our first delicious dinner, get to know each other, and look forward to a fantastic week of yoga and mountain biking.
Day 2. San Pancho ride.
We'll start the day with a sunrise yoga session overlooking the Pacific Ocean. After a delicious and healthy breakfast, we'll put together our bikes and have our pre-trip safety meeting. We'll start with our first instructional session of the week, covering the fundamentals (even advanced riders will appreciate going over such basics as proper body positioning and bike-body separation). Then it's off to our first trail, the San Pancho ride. This is a 25-km intermediate-level ride. We'll return to our cabins for lunch, and then have the afternoon to relax and enjoy the surf and sun. We'll cap off an incredible 1st day with a sunset yoga session, then get to know each other over another gourmet dinner.
There is an optional surf lesson in the afternoon.
Day 3. Las Lomas
We'll start our day off with another sunrise yoga session by the water. Then after breakfast it's off to the Las Lomas trail, a 27-km moderately technical trail through the jungle. We'll spend the morning working on technical skills, before returning to Monterrey Beach for lunch. You'll have the afternoon to relax, or can join us for an optional Spanish lesson. At sunset, we'll enjoy another yoga session overlooking the ocean.
Day 4. Blair Witch ride, volunteering project in Las Lomas.
After morning yoga and breakfast, we'll hop in the van for a quick drive to Bucerias and the start of the Blair Witch trail This trail is a fantastic 29-km singletrack romp through the jungle. On our way back to Punta Monterrey, we'll visit the community of Las Lomas where we'll have a traditional Mexican lunch. Las Lomas is a small community of 90 people just up the road from Punta Monterrey. Most of the community lives on subsistence farming. After lunch, we'll spend a few hours volunteering our time with a local project. As part of our Keeping Rides Sacred program, we're also contributing a percentage of trip revenues to a local project. When we're done we'll head back to the beach for a bit of relaxation time before evening yoga and dinner.
Day 5. San Sebastian Del Oeste
After yoga and breakfast we'll hop in the van for a drive up into the mountains to the beautiful old mining town of San Sebastian del Oeste. San Sebastian dates from 1605, and was once home to over 40,000 residents. Today less than 1,000 people call this town home and it retains a charming, peaceful feel. We'll check into our hotel, a charming and tranquil eco-hacienda, and then hop on the bikes for a great afternoon of riding, including a ride to (and into) an abandoned mine. Dinner is in the main square of San Sebastian, overlooking the mountains.
Day 6. Epic Descent to Puerto Vallarta
After morning yoga and breakfast, we'll get ready for a big day of mountain biking. Today we descend 1,400 m from San Sebastian all the way to Puerto Vallarta, with a total drop of almost 1,800 m/6,000 feet (there's some climbing too). This spectacular and challenging ride will leave you tired and grinning at the end of the day, as we head back to our beautiful cabins on our private beach.
Day 7. El Horcones
After morning yoga and breakfast, we'll hop in the van for the drive to El Horcones. We'll get on the bikes for a short ride, then leave our bikes with the local community while we hike to a beautiful and secluded waterfall. After swimming and cliff-diving, we'll have lunch then return to the bikes for a fantastic 2-hour singletrack ride, then return to Punta Monterrey for our last dinner and final celebration.
Day 8. Return Home
Time to pack up the bikes and yoga mats and say goodbye to Monterrey Beach and look back on a fantastic week of fun, yoga, mountain biking and new friends! The shuttle departs Punta Monterrey at 9 am.
More information from Sacred Rides Mountain Bike Adventures: