Eyes on nature expeditions - vacations and travel
Kicheche Conservancy Safari Laikipia And Masai Mara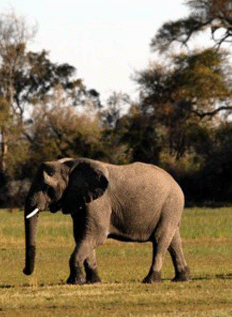 Contact provider for price
7 Days
Year-round
Comfort accommodations

Exertion level: 1

Operator:

Eyes on nature expeditions

15 people max
Nairobi airport, nairobi, kenya
Culture & Nature trips
Sweetwater's Tented Camp
A sheltered oasis, clustered around a waterhole and set in the pristine calm of its own private reserve, Sweetwater's Tented Camp is in a class of its own. Abounding with wildlife, unfettered by the more rigorous strictures of the Kenyan National Parks and designed to offer a charming blend of under canvas ambiance and uncompromising luxury, it has long been the preferred retreat of wilderness and safari lovers alike. One of only four private game reserves in Kenya, Sweetwater's excels in the provision of privileged seclusion and private game viewing. Thanks to its private status it also allows such unforgettable pleasures as night game drives, guided bush walks and both horse or camel riding across its game-teaming plains.

Sweet Waters tented Camp is located in the OL PEJETA CONSERVANCY the only place in Africa that offers the opportunity to see CHIMPANZEES AND THE BIG 5. Ol Pejeta Conservancy is a 90,000 acre wildlife conservancy. Home to over 40 chimpanzees, 73 endangered black rhino, 5 endangered white rhinos, elephants, lion, leopard, buffalo, grevy zebra, giraffe, cheetah, Thomson's gazelle, black-back jackals, ostrich, grant's gazelle, baboons, waterbuck, oryx, eland and several hundred bird species.
Normal 0 false false false EN-US X-NONE X-NONE MicrosoftInternetExplorer4

Locations visited/nearby
Nairobi , OL PEJETA CONSERVANCY , Laikipia, Kenya, Africa
Comments from Facebook
Special information
This is a custom departure, meaning this trip is offered on dates that you arrange privately with the provider. Additionally, you need to form your own private group for this trip. The itinerary and price here is just a sample. Contact the provider for detailed pricing, minimum group size, and scheduling information. For most providers, the larger the group you are traveling with, the lower the per-person cost will be.
Family oriented trip.
Itinerary
Day 1
You will be met at Nairobi JKIA airport or your Nairobi hotel and transferred to Wilson airport for the flight (8 am or
10.20 am) to Nanyuki airstrip. Upon arrival you will be transferred to the camp in Ol Pejeta Conservancy, journey time
is approximately one hour. Lunch at camp then relax until afternoon tea is served. Venture out onto the rolling plains on a game drive to enjoy the wonderful array of game on offer. Game driving in the OlPejeta Conservancy is a rare pleasure with few vehicles permitted access. This evening enjoy a sundowner drink followed by a spotlight drive back to camp. Take a hot shower before joining other guests for a drink around the campfire or in the cosy lounge tent. Dine with your hosts either under the stars or in the adjacent dining tent.
The Ol Pejeta Conservancy There is a huge amount of game on this 90,000 acre Conservancy including Kenya's largest population of black rhino, elephant, buffalo, giraffe, lions, cheetah and more. There are few vehicles on the Conservancy therefore game viewing is a very private and rewarding experience. On the Conservancy there is also an opportunity to take Night Game Drives which focus on species not seen on regular day drives. Interpretive Game Walks are another activity permitted on the conservancy, these provide ideal opportunities to learn about the building blocks of the eco-system whilst providing some exercise. There is also a Lion Tracking program which monitors the lions of the area (some of which have been collared with receivers). As part of the program we are able to track the lions with a portable telemetry system and relay the data to the study centre.
Other attractions include the Chimpanzee Sanctuary for orphaned chimps. The sanctuary is an excellent venue to observe the two families and learn about the perils facing chimpanzees in the wild. We offer private visits to the
sanctuary outside the normal visiting hours.
Day 2
An early start to the day with piping hot coffee, tea or hot chocolate brought to your tent. This morning take a longer game drive and enjoy a sumptuous picnic breakfast out on the plains. Return to camp for an al-fresco lunch and relax viewing the game and birdlife around the waterhole. This afternoon we will take you to the Chimpanzee Sanctuary on a private visit. Following some time with the chimps continue on your evening game drive until dusk.
Day 3
This morning one can take a walking excursion with one of our guides and a ranger. Walks range from 2-3 hours and can be adapted to suit your preference. Enjoy a picnic breakfast out on the plains before returning to camp. This afternoon one can explore the wilderness again on a gamedrive, visit the ranching program or the Wildlife Centre. Drinks tonight will be around the campfire or in our cosy lounge, dinner will be served in the adjacent dining tent. Kicheche Laikipia Camp The camp consists of six luxurious tents nestled at the foot of indigenous forest overlooking a waterhole in the centre of the Conservancy. The Camp will be hosted by Andy and Sonja Webb, a very experienced management couple, ensuring you have a wonderful stay at our bush hideaway. Andy is reckoned to be one of the finest walking guides and birders on the whole continent and Sonja is not only an outstanding cook but also a wonderful host, many people have enjoyed their legendary hospitality in the Mara and we are delighted to have them at the helm of our new property. They along with our experienced guides will co-ordinate your activities during your stay.
Day 4
Following a leisurely al fresco breakfast, depart for Nanyuki airstrip at 8.45 am for your flight to Masai Mara. Upon
arrival at Olkiombo airstrip your Kicheche guide will be there to welcome you and drive you to camp whilst enjoying a short game drive en route. At the camp you will have a bit of time for leisure, lunch and afternoon tea. Then you will set off for your afternoon game drive, sun downers overlooking the plains… back in camp in time for showers and drinks around the camp fire. Olare Orok Conservancy – Masai Mara, The only private Conservancy in the Masai Mara eco-system. The Conservancy not only offers outstanding wildlife viewing it also offers an uncrowded wilderness.
There are 30,000 acres of rolling grassland, hills, escarpment and the Motorogie plains located immediately to the north of the Ol Kiombo area of the Reserve. Within Olare Orok there is great walking country and also the opportunity to overnight in a fly camp. The Conservancy is a ground breaking venture between the local Masai landowners and several small eco-camps including Kicheche Bush Camp.
Day 5.
Rise early with tea or coffee brought to your tent. At dawn set off for another game drive on the plains. Return to the camp for a leisurely breakfast. Lunch and a chance to enjoy a siesta in one of the hammocks slung between the trees. This afternoon you may wish to visit a traditional Maasai manyatta (village) or take another evening game drive. Return to camp for an evening around the campfire. Kicheche Bush Camp / Masai Mara : A Small, classic, intimate, luxury tented camp completely unfenced, accommodating a maximum of twelve guests. Kicheche offers a certain 'quality' of wilderness
living, but it is a canvas bush camp and the natural sounds of the bush are all part of the experience. The tents are spacious, fully insect proof and all with en-suite private bathrooms and flushing toilets. Kicheche has a big plot here so all tents are at least 40 metres apart. The camp host is Greg Poole, a qualified guide who has spent years guiding all over the continent. His wealth of knowledge and considerable humour makes him ideally qualified for this sort of bush hospitality.
Day 6.
his morning take an escorted game walk, which takes approximately 2 hours and offers another perspective in viewing the terrain and fauna whilst crossing the plains. This afternoon you may wish to visit a traditional Maasai manyatta (village) or take another evening game drive.
Day 7.
An early morning game drive in the Olare Orok region or, if you are departing in the afternoon, a full morning game drive with a picnic breakfast. After returning to camp for lunch we transfer you back to the airstrip for your flight back to Nairobi (departures - 11 a.m. & 4 p.m.) You will be met at Wilson airport and transfer to Jomo Kenyatta international airport for your outbound flight back home.
More information from Eyes on nature expeditions: