SpiceRoads Cycle Tours - vacations and travel
River Of Kings Ride
"Jum and Rin were outstanding! I enjoyed learning from them and appreciated their outstanding efforts in keeping us happy and… "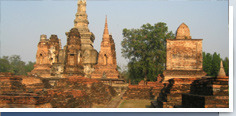 from $2,100* per person
14 Days
June, July, November, December
Comfort accommodations

Exertion level: 4

Operator:

SpiceRoads Cycle Tours

16 people max
Chiang mai international chiang mai thailand
Active & Adventure trips
The River of Kings Ride through Thailand exposes you to the kingdom's ancient history and colorful culture. From Chiang Mai, the capital of north Thailand, we cycle through the Chao Phraya river valley where Thai civilization began and visit the ancient cities of Lampang, Sukhothai, Khampeng Phetand Ayutthaya. The route follows quiet back roads where you will be amazed at how little traffic is encountered. Cycling takes you off the beaten track to the lesser known towns of Pa Mok and Uthai Thani, where you will definitely find the "land of smiles." The scenery is ever changing as it starts in the mountainous north, then continues through the emerald paddy fields of the central rice belt and then to the rugged jungles of Kanchanaburi before arriving in the vibrant metropolis of Bangkok.
Locations visited/nearby
Thailand, Southeast Asia
3 testimonials about this trip
Reviewer:

Stephanie Busque

Jum and Rin were outstanding! I enjoyed learning from them and appreciated their outstanding efforts in keeping us happy and hydrated.

I learned a lot about Thailand - its people, food and culture through Jum and Rin.

An excellent adventure. Rin and Jum made this trip a wonderful experience!

5

Reviewer:

Judi Puru

Thanks Jum & Rin for the best cycling holiday.I have never been on a tour that looked after you so well, Very organized. Food great accommodation great. I would recommend River of Kings to any medium riders. Korp kun.

5

Reviewer:

Marianne & Rolf Ziegler

We have done many cycling tour in the last years but the River of Kings Tour was just one of the greatest tour we have ever done. This tour has an excellent combination with the start in Chiang Mai then following the rivers and before arriving in Bangkok visiting the area of river Kwai.


We booked a privat tour for 2 people and it was just fantastic with Tee as tour guide and Bee as driver and support. We were feeling like travelling with friends.


The trip profile is mainly on flat small roads and just a few hills, so that we could enjoy the wonderfull countryside and had still enough time and energy to visit historical sites.


We would like to say thanks to all the staff from SpiceRoads who made it possible that we had once again such a fantastic bike tour in Thailand. Many thanks to Ms. Rattanaporn who managed the emails with always very quick answers to our questions. Then we had this year the chance to see the office of SpiceRoads and were very impressed how many people are working there, also thanks to the mechanics who always provided very good bikes.


We are looking forward to see you next year and wish you a happy new year 2009.

5
Comments from Facebook
Itinerary
Day 1
Arrive in Chiang Mai and meet for welcome dinner at a restaurant overlooking the Ping River.
Day 2
Explore the ancient and modern city of Chiang Mai, drive up Doi Suthep to Wat Phra Thad Doi Suthep (AD 1384), the most sacred temple in North Thailand, and take in a panoramic view of the city.
Day 3
We leave Chiang Mai on the old highway and stop to visit an elephant camp and one of the oldest and most religious Chedis in Thailand, before a transfer to Lampang -- the cowboy town.
Day 4
Ride on country roads through local villages, with time to stroll through markets or stop at one of the many temples we pass. We climb a few hills before we reach the Mysterious Rock Garden and our overnight at Uttaradit.
Day 5
We head off the beaten track as we wind towards Sri Satchanali Historical Park and then transfer to our hotel at the first capital of Thailand, Sukhothai.
Day 6
A day to ride around the UNESCO World Heritage site of Sukhothai to see some of the 193 ruins. Cycle at a leisurely pace so you can capture some of the stunning Buddha statues.
Day 7
Cycle on pleasant country roads to Khampeng Phet, a military fortress used to help defend Sukhothai from invading armies.
Day 8
During our ride you'll quickly understand why Thailand is the top exporter of rice when you see the many paddies on your route to Uthai Thani. Lunch on board a charming restored rice barge while you cruise on the Sakaekrang River.
Day 9
Ride on the forested island of Thepho, where the Chao Phraya River and Sakaekrung rivers meet, cycle to Chai Nat in time for lunch and then visit the Wat Pa Mok's reclining Buddha before arriving in Ayutthaya.
Day 10
Cycle south to Bang Pa In to visit the summer palace of King Rama V and then transfer to Kanchanaburi, stopping to visit the bridge over the River Kwai before heading to our jungle resort on the river.
Day 11
Follow the River Kwai as we ride through the jungle, between farmer's fields, along a mixture of jeep trails, tarmac and quiet back roads to the town of Kanchanaburi.
Day 12
In the morning we visit the famous floating market and then start our bicycle ride following canal paths and small back roads
Day 13
We transfer to Bangkok and take a ride in the green part of Bangkok called Ban Kra Jao. Our farewell dinner will be a river cruise on a converted rice barge on the Chao Praya River.
Day 14
Free day to enjoy Bangkok until your onward flight.
More information from SpiceRoads Cycle Tours: