SpiceRoads Cycle Tours - vacations and travel
Sri Lanka Spice Trails
"The tour was a great way to get right into the heart of Sri Lankan lifestyle and culture. There was… "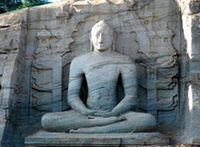 from $2,250* per person
12 Days
May, July, October-December
Comfort accommodations

Exertion level: 4

Operator:

SpiceRoads Cycle Tours

16 people max
Colombo airport, sri lanka
Active & Adventure trips
The quiet back roads of this tear-drop shaped island make it ideal for cycling. We start along the west coast catching glimpses of the sails of the local fishing boats, before we cycle inland through a multitude of Buddhist and Hindu monuments. Ceylon, as Sri Lanka was once known, has been influenced by ancient dynasties, Indians, Portuguese, Dutch and British, all leaving their imprints and a resulting curious mix of ancient cities, monuments and atmospheric colonial architecture to explore.

We continue to the rock fortress of Sigiriya and the once medieval capital of Polonnaruwa. Here we put the bikes aside for an afternoon and take a wildlife safari in the Wasgomuwa National Park. We take a rest day at the hill town of Kandy so you have time to view the Temple of the Tooth, relax on the lake or walk through the splendid botanical gardens. We then follow rivers flowing down to the south coast and and end on the beaches near the fortress of Galle.

Locations visited/nearby
Sri Lanka, Asia
2 testimonials about this trip
Reviewer:

Gail Dickman Sri Lanka SpiceTrails, January 2010

The tour was a great way to get right into the heart of Sri Lankan lifestyle and culture. There was a hidden treasure around every corner and plenty of gorgeous locals who helped us along with a shout and a smile! Although every muscle in my body ached every morning it was exciting to get back on the bike to experience new sights, sounds and of course the beautiful smells. The food was fantastic and I must say some of luxury accommodation with pools and cocktails helped after a long day in the saddle. The crew were fantastic and a great help to us first timers....an altogether amazing experience!


5

Reviewer:

Loren Midlane Sri Lanka SpiceTrails, January 2010

What a magic trip. There is something really cool about cycling through villages where the locals have NEVER seen tourists before. And when the curiosity turns to smiles and waves - awesome. Being new to cycle tours and SpiceRoads I wasn't sure what to expect. But I would definitely do tours again after my Sri Lanka experience! Cycling through beautiful scenery - the tea plantations especially were beautiful and something I've never seen, and after a day cycling - arriving at gorgeous hotels, nestled in a mango plantation, or sitting on top of a mountain surrounded by tea plantations. With a much earned swim, and beer - waiting for us. Fantastic holiday.

5
Comments from Facebook
Itinerary
Day 1
Meet at the Goldi Sands hotel in Negombo for a trip briefing and welcome dinner.
Day 2
Riding along the coast we pass the distinctive patchwork sails of the Karavas fishing community. Turning inland on quiet back roads we head to Dambulla to visit a 2nd century Buddhist cave temple. Also known as the Golden Temple, it is the largest and best-preserved cave temple complex in the country and contains more than 150 Buddha statues.
Day 3
Riding through the countryside on a mix of tarmac and red dirt roads passing orchards, paddy fields and elephant grass we cycle to the ancient 5th century rock fortress Sigiriya (Lion Rock) where we use our feet for a 300 m ascent to view the ruins of King Kasyapa's summer palace. After our descent our afternoon ride follows an old irrigation canal framed by long green grass
Day 4
Today you have to watch out for wild elephants on our descent out of the Kaladuwa Hills. We ride through the historic park of Polonnaruwa, the 10th Century capital and best preserved of the ancient cities. Abandoned in the 13th Century, it was rediscovered in the 18th Century and is now a UNESCO World Heritage Site.
Day 5
We ride along the eastern fringes of Wasgomuwa National Park, home to a large population of Sri Lankan elephants and many other mammals -- including sloth bears, leopards, deer, wild buffalo -- and more than 100 bird species. In the afternoon we swap our two wheels for the four wheels of jeeps and take a 3-hour safari inside the park.
Day 6
Today we climb up to the Laggala pass on what is often described as the most stunning road in Sri Lanka. Our undulating ride takes us through the Knuckles wilderness before descending on the so-called spice road to Matale, the spice center of Sri Lanka. We end the day in Kandy, Sri Lanka's second largest city.
Day 7
A rest day in picturesque Kandy -- an important religious center of the Sinhalese and a place of pilgrimage for Buddhists. Explore the town center's old shops, antique and gem specialists or the bustling market. A must do is to see the UNESCO World Heritage site of the Temple of the Sacred Tooth Relic.
Day 8
Be prepared for a day of long climbs. We pass by small Tamil communities, colorful Hindu temples, scared tree shrines and lots of tea plantations, which means lots of tea breaks as well. We'll reach a highpoint of 1386 m, but if the hills are too much there's always the support vehicle to hop into if you tire.
Day 9
Today's ride will be along gravel roads and tea estate tracks, through the heart of Sri Lanka's tea growing region. You'll be greeted by the pickers at work and their children as we head towards a tea planters retreat.
Day 10
Riding from the hotel we pick up one of the irrigation canals flowing south, providing water for the many banana plantations we pass.We continue on rural country roads riding the last few kilometres along the main coast road to Tangalle, with time to catch sunset over the Indian Ocean.
Day 11
Free day to relax, enjoy the beach or visit the turtle sanctuary at Rekkawa about 20 km away.
Day 12
We transfer to the historic port of Galle, a UNESCO World Heritage Site. Stroll along the largest remaining fortress in Asia built by European occupiers then transfer to Colombo where we'll have our farewell dinner. Tonight we'll have a transfer to the airport or we can drop you at a hotel.
More information from SpiceRoads Cycle Tours: