Access Trips - vacations and travel
Morocco Culinary & Cultural Tour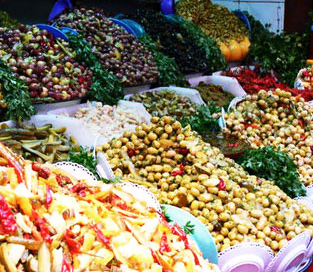 from $2,890* per person
9 Days
March-May, September-December
Comfort accommodations

Exertion level: 3

Operator:

Access Trips

12 people max
Casablanca airport, morocco
Culinary & Wine Travel trips
Journey to Morocco to experience a culture and cuisine that is at the crossroads of civilization, blending the most delectable Arabic, Berber, French and Spanish influences. On our Moroccan cooking tours you'll head from vibrant Casablanca to the charming fishing town of Essaouira, relax in a tiny Berber village in the High Atlas mountains, and finally, explore extraordinary Marrakech, the most African of Morocco's cities. Along the way you'll learn to cook the local cuisine, bargain at souk (the fresh food market), tour the highlights of each area, and stay in stunning Moroccan riads.
Locations visited/nearby
Morocco, Africa
0 testimonials about this trip.
3 testimonials about the provider, Access Trips:
Reviewer:

Courtney

located in

USA, 29

I had an AMAZING trip. I loved everybody, I consider myself very lucky to have been in such a small group and was able to make such strong ties because of it. I got to take back a sport with me for the rest of my life, how many vacations can you say that about? You have something very special I hope that your success only gets bigger from here.

5

Reviewer:

Sean

located in

UK, 35

Just a quick note to thank you for the best trip i`ve ever been on, had a superb time, got to do lots of things i didnt think i could, eat muffins and meet, ride and laugh with some great people. Thank you!


5

Reviewer:

Michael

located in

Belgium, 23

The trip was brilliant, awesome, inspirational, reviving, fun. It was absolutely the best skiing trip I`ve ever done. When I signed up I was thinking `even if half of what they claim is true, it`ll be amazing`. I was a bit scared of expecting too much and getting disappointed, but in reality it was better than anything I had hoped for. I even caught myself dreaming I was practicing a 180 and a 360.

5
Comments from Facebook
Itinerary
Day 1
Welcome to our Morocco cooking tour! Prepare yourself for one of the most fascinating, colorful and culture-rich countries on the planet. Also prepare for some of the world's best food! We will pick you up at Casablanca's Mohammed V International Airport and drive you to our 5-star hotel in the center of Casablanca. If your flight arrives before dinner you'll get your first taste of delicious Moroccan cuisine at one of Casablanca's popular restaurants.

Day 2
Casablanca is the most cosmopolitan of all Moroccan cities, a vibrant economic hub with the largest port in the Maghreb. After breakfast at our hotel we'll set off to visit the highlight of this modern city: the majestic Hassan II Mosque, the third largest religious monument in the world, and the only mosque in Morocco that non-Muslims are permitted to enter. After our mosque tour we'll head out of town, embarking on a scenic 5-6 hour drive through the countryside to Essaouira. We'll stop for lunch along the way and arrive in Essaouira in the late afternoon. We'll spend the night in an exquisite ocean-view riad.

Day 3
You'll wake up in the charming fishing village of Essaouira, with its relaxed and artistic vibe. Today we'll explore the town's impressive medina, whose massive ancient fortifications are a mixture of Portuguese, French and Berber architecture overlooking the emerald sea. Next we'll enjoy a spectacular seaside lunch, where freshly caught fish is grilled to perfection before your eyes. Top it off with famous Moroccan mint tea and delectable French pastries at one Essaouira's many cafes. In the afternoon ride a camel or a horse, try your hand at windsurfing, or simply soak up the atmosphere on the town's magnificent beach. Late afternoon you'll experience your first cooking class, where you'll prepare a fresh Mediterranean salad and fish tajine using the fresh catch of the day. And then you'll enjoy the scrumptious meal you just created!

Day 4
This morning you can awake at your leisure and spend the morning strolling through Essaouira's serene squares, browsing artisan workshops and perusing art galleries. After lunch, we will take a three and a half hour drive to the Berber village of Anrar, in the High Atlas mountains. The stunning and incredibly hospitable riad Kasbah Omar will be our home for the next three days. We'll stretch our legs with a walk around the village, and stop in for a cup of tea with a local Berber family before heading to the Kasbah for dinner.

Day 5
After a delicious Berber breakfast, we will head to the souk lathnine the traditional Monday market where Berber villagers from throughout the valley come to trade. We will walk with our donkey for about 45 minutes through olive and fruit groves, along the river and through the ancient Jewish village of Algjii. At the souk we'll select organic vegetables, meat and chicken-everything we need for our cooking classes at the Kasbah. Then we'll visit the local blacksmith before heading back to the Kasbah with our groceries loaded onto our donkey. At the Kasbah we'll prepare our food for a delicious Berber barbeque. The afternoon is yours to explore, or relax and enjoy a traditional Moroccan hammam, hot bath. In the late afternoon we'll have our next cooking workshop, where we'll learn to prepare Moroccan soup and traditional couscous, just in time for dinner.

Day 6
This morning we'll have a brief cooking class to make our delicious breakfast of Berber crepes. After breakfast we'll explore the Ourika Valley, one of the most beautiful and traditional valleys of the High Atlas. Today we'll see Berber village life amidst the stunning backdrop of the High Atlas. First we'll drive to the ancient Jewish village of Algjii, where we'll meet with the last Jew in the valley, who has dedicated his life to guarding the 500 year old tomb of a legendary Rabbi. We will then visit an organic herb garden. After lunch there are two options: you may choose to do a 2.5 hour moderate hike to a waterfall, or return to our village of Anrar for a ceramics workshop where you can watch a demonstration of this traditional craft and even try it out. We'll return to the Kasbah for an early evening cooking class, where we cook (and eat!) Berber salads and pastilla, a Moroccan delicacy that combines flaky pastry, savory meat and sweet spices.

Day 7
Today we take a short drive to exotic and mystical Marrakech, an enchanting palm oasis set against the snow-capped peaks of the High Atlas mountains. We'll visit the Bahia Palace with its expansive harem quarters. Next we'll enter the ancient royal Saadian Tombs, and then explore the vibrant and historic Jewish mellah (quarter) and the majestic Koutoubia Mosque before entering the 9th century walled medina. As we explore the medina, we'll wind our way through the serpentine labyrinth of the ancient bustling souk, where we'll see Moroccan craftsmanship at its finest. We'll have the opportunity to learn about traditional Moroccan crafts, such as carpets and metalwork, as we visit local artisan co-ops.

In the evening, thrill in the magic that emerges from heart of the famed square, Djemaa el-Fna. Mystical snake charmers, hustlers and mischievous monkeys are part of the nightly drama that unfolds, as Berber acrobats, fortune tellers, musicians and engaging storytellers seduce rapt crowds.

Accommodation tonight is at our charming riad inside the Marrakech medina.

Day 8
Today is a relaxed day to explore the imperial city of Marrakech at your leisure, perhaps as you people-watch at Djemaa el-Fna and pick up some local souvenirs. In the afternoon, we will have our final cooking class. Our farewell dinner tonight is at our riad , where we enjoy our own delicious Moroccan creations of beef with prunes and almonds, and lemon chicken.

Day 9
Our Moroccan cooking tour ends today as you transfer to the airport for your return home. Depending on your flight plans, we will either drop you off at the Marrakech airport or arrange for a private car transfer to Casablanca's airport. Or ask us about our exciting extensions in Marrakech, Fez and the Sahara Desert!
More information from Access Trips: