Eyes on nature expeditions - vacations and travel
Kenya Cultural tours and Wildlife Safari
"Enthusiastic. Good methods of giving toursl as far as wildlife is concerned. One thing I didn't like: next time don't… "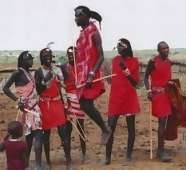 Contact provider for price
11 Days
Year-round
Luxury accommodations

Exertion level: 3

Operator:

Eyes on nature expeditions

15 people max
Nairobi airport, nairobi, kenya
Culture & Nature trips
Experience Kenya and its 'melting pot' appeal as the people of West, African plains and forests meet in this bustling East African state. Throughout history western and European influences have had their effect on the cultural fabric of Kenya and what you see and feel today on your Kenya cultural safari is undoubtedly an eclectic fusion of the best with the indigenous ethnic.

The most important colonial tradition that survives in Kenya is the concept of safari tours that was thought of by the first European settlers who wanted to discover this magic world.

Travel to deep into the enthralling Masai land and tour the Kenya wildernesses where man and beast have lived in perfect harmony since time immemorial. Let the mountains, forests, lakes and coasts of Kenya weave their spell on you on your Kenya cultural safari with Kenya Wild Safari.

See the land of Mombasa and Nairobi and watch with wonder as local tribes perform wild rituals that are enthralling as well as intimidating on your Kenya cultural safari with Kenya Wild Safari.

We partake to facilitate your opportunity to explore and enjoy the diverse cultural and traditional practices of different tribes of Kenya.

The major tribes in Kenya are Luo, Kalenjin, Kamba, Kikuyu and Luhya which together account for 70% of the total population. In their rural homes, these tribes exhibit distinct cultural code of practices and traditions peculiar to each [pretty different from the others]. We are flexible in these itineraries as the number of days depends on which tribe, season, occasion and distance from the starting point




Locations visited/nearby
CHIMPANZEES SANCTUARY , Nairobi/Nakuru , Maasai Mara, Kenya, Africa
2 testimonials about this trip
Reviewer:

Paul

located in

London

,

Uk

England

Enthusiastic. Good methods of giving toursl as far as wildlife is concerned. One thing I didn't like: next time don't mix more than one kind of Location hard to learn when mixed. Enjoyed class and lab very much.

http://adventure-travel.co/travelreviews/view_travel_operators_review.php?toid=18249&rpa=5


5

Reviewer:

Charlo

located in

Abuja

,

Africa

Nigeria

Nature Man was extremely helpfully [sic] in answering questions whenever asked. An above average

5
Comments from Facebook
Special information
This is a custom departure, meaning this trip is offered on dates that you arrange privately with the provider. Additionally, you need to form your own private group for this trip. The itinerary and price here is just a sample. Contact the provider for detailed pricing, minimum group size, and scheduling information. For most providers, the larger the group you are traveling with, the lower the per-person cost will be.
Family oriented trip.
Itinerary
Day 1:Nairobi
On arrival at the Jomo kenyatta International Airport, you will be warmly welcomed by your guide from Eyes on nature expeditions who will then transfer you to either Panafric Hotel or Windsor golf club Hotel. Overnight at Panafric hotel/ Windsor golf club Hotel (FB)
Day2:TO THE CHIMPANZEES SANCTUARY
Depart Nairobi and Travel north after brakfast, where you drive past pineapple coffee, bananas plantation to one of the largest open air markets in East and Central Africa Karatina. A brief stop to sample what is sold and tom meet the local inhabitants who belong to the biggest tribe in Kenya- the Kikuyu. Proceed to the sweet water game reserve/ranch and chimp sanctuary, which is on your way to Mt. Kenya, in time for lunch. Game viewing and visiting the chimps in the one -square Kilometer sanctuary. This sanctuary is home to more than 26 orphaned chimps age varying from 2 -25 years most of which came from Jane Goodall Institute in Burundi return to Nairobi in the late evening(late inclusion is baby Zee, rescuer from a pet shop in United Arab Emirates), back to Nairobi later in evening to your hotel.Dinner and overnight at your Nairobi hotel.
DAY3:Nairobi/Nakuru
After breakfast, and a briefing from the Company representative, you'll begin your journey from Nairobi to Lake Nakuru in the Rift valley of Kenya through Central Province having lunch en route. The route travels through breathtaking scenery and delightful rolling tea plantations, arriving at Lake Nakuru late afternoon.With evening game viewing,flamingoes at the lake and many wild animals.
Overnight at a luxurious Lake Nakurulodge/Lion hill View guest house (FB)
Day4:Maasai Mara
0830 hrs Depart from our Nakuru lodge/ hotel for a journey south along the floor of the Great Rift Valley. Lunch at Narok and then climb the western wall entering Hemingways country.serengeti plains Arrive in late afternoon in the Maasai Mara Game reserve. Set up a camp or lodge for dinner and overnight.
Day 5: Maasai Mara
A full day spent game viewing across (from 0800 - 1830 hrs) the rich, tree studded grassland and rolling hills the famous Mara is renowned for its great herds of plainís game, black manned lion, leopard and cheetah. I also has numerous elephants and virtually every type of wildlife to be found in Kenya. All meals and overnight at campsite/ lodge.
Day 6: Maasai Mara / Nairobi
Pre- breakfast game drive from 0630-0930 hrs, back to the camp/ lodge for late breakfast. Leave Maasai Mara, Lunch en route arrive in Nairobi later afternoon back to your Hotel room. Dinner and overnight at you hotel.
Day7:Bomas of Kenya
After an early breakfast, you'll leave for Bomas of Kenya to visit the Cultural activities taking place, different ethnics tribal groups performs here daily to promote our diversify culture. Various cultural groups including the Kikuyu,Luo,Luhya and many more communities which will entertain you with music, dancing and story telling.
Spend the whole day with the local communities, walks/tours returning to the Hotel in the evening. Dinner and overnight at your hotel.
Day 8: Nairobi /Tsavo West
Very early morning leave Nairobi and drive south past Kapiti Plains arriving in time for lunch at your camp/lodge. Explore the Tsavo West Park in the afternoon. Return to the camp/lodge for dinner and overnight.
Day 9: Tsavo West
Leave after breakfast and have a game viewing drive; a visit to the Mzima Springs which are not far from the lodges or camps, the pool is rich with hippos, crocodile and bird life. There is an underwater viewing chamber to give you a view of sub-marine activities. Return to the camp/lodge for dinner and overnight.
Day 10 Tsavo West
After breakfast visit the Shetani Lava Flows and the Chyulu caves (the caves are just outside the Chyulu gate). Continue to Chaimu Crater South of Kilanguni lodge, this can also be trekked if time allow us.Dinner and overnight at the Lodge/Camp.
Day 11 Tsavo West / Nairobi/Mombasa
After breakfast visit the Ngulia Rhino Sanctuary at the base of Ngulia Hills,you have a good chance of seeing the black rhino (we have about 30), You will stop to visit a local farmer and have a tour of his farm then take a picnic lunch at the hotel.
before transferring to the airport to catch your flight back home.
More information from Eyes on nature expeditions: