Access Trips - vacations and travel
New Zealand Adventure Multisport Tour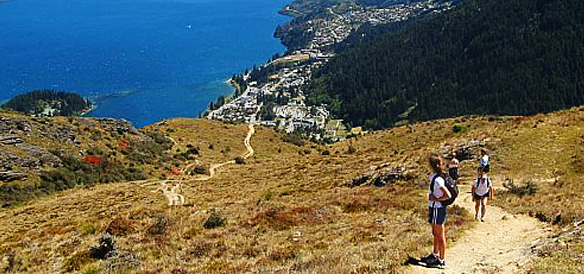 from $4,384* per person
13 Days
January, February
Comfort accommodations

Exertion level: 3

Operator:

Access Trips

15 people max
Nelson airport, nelson, new zealand
Active & Adventure trips
Experience the best of New Zealand's magnificent South Island, one of the most beautiful and diverse ecological regions in the world. Our 12-day multi-sport adventure tour will take you through the most spectacular parts of New Zealand: the renowned wine country of Marlborough, the secluded bays and turquoise waters of Abel Tasman National Park, the rugged coastline of the west coast, the natural beauty and adrenaline activities of Queenstown and Wanaka, the forests and glaciers of Mt. Aspiring National Park, the dolphins and waterfalls of Milford Sound.

Over the course of our journey you'll experience dense rainforests, aquamarine lakes, deserted white-sand beaches, towering mountains, and ancient glaciers. You'll also have the opportunity to try out a number of outdoor sports, from mountain biking and glacier hiking, to whitewater rafting and sea kayaking plus hiking, wine tasting and sight-seeing. You'll stay in some of the finest apartments and lodges in New Zealand, spend two nights camping at a secluded beach, and enjoy countless delicious meals thanks to New Zealand's fresh seafood and produce. For anyone who claims to love the outdoors, New Zealand is a must-see travel destination, and our tour ensures that you experience the very best that this diverse island has to offer.


Locations visited/nearby
New Zealand, Australia and Pacific
0 testimonials about this trip.
3 testimonials about the provider, Access Trips:
Reviewer:

Courtney

located in

USA, 29

I had an AMAZING trip. I loved everybody, I consider myself very lucky to have been in such a small group and was able to make such strong ties because of it. I got to take back a sport with me for the rest of my life, how many vacations can you say that about? You have something very special I hope that your success only gets bigger from here.

5

Reviewer:

Sean

located in

UK, 35

Just a quick note to thank you for the best trip i`ve ever been on, had a superb time, got to do lots of things i didnt think i could, eat muffins and meet, ride and laugh with some great people. Thank you!


5

Reviewer:

Michael

located in

Belgium, 23

The trip was brilliant, awesome, inspirational, reviving, fun. It was absolutely the best skiing trip I`ve ever done. When I signed up I was thinking `even if half of what they claim is true, it`ll be amazing`. I was a bit scared of expecting too much and getting disappointed, but in reality it was better than anything I had hoped for. I even caught myself dreaming I was practicing a 180 and a 360.

5
Comments from Facebook
Itinerary
DAY 1: Arrive and Explore
Our journey begins in Nelson, the oldest and sunniest city in New Zealand's spectacular South Island, and home to a thriving arts scene. Guests will be picked up from Nelson Airport and driven to our accommodation, stylish apartments in the heart of Nelson. Today will be a rest day time to explore the cafes, beaches, and art galleries of Nelson. You can arrive anytime on this day.

DAY 2: Wine Tasting
After a relaxing morning we'll drive to Marlborough, the heart of New Zealand's wine country. We'll spend the afternoon visiting wineries and then head back to Nelson to get a good night's sleep before we begin our kayaking adventure.

DAY 3: Sea Kayak in Turquoise Waters
Our next three days will be spent in magnificent Abel Tasman National Park, arguably New Zealand's most beautiful coastal region. The park is road-free so the main mode of transportation is hiking and kayaking. We'll start our day with a short drive to Marahau. From here we'll jump in two-person sea kayaks and make our way past deserted white-sand beaches, rocky-islands home to seal colonies, and lush coastline. Tonight we'll camp at a beautiful beach.

DAY 4: Kayak through a Marine Reserve
This morning we'll explore the many deserted beaches, coves and spits of the national park in sea kayaks. Our journey will take us into a marine reserve where there is an abundance of sea life, including fur seals, dolphins and penguins and will enable us to get into some of the most remote parts of the park. Tonight we'll camp at a different beach.

DAY 5: Coastal Hike and Drive to Punkaiki
This morning we'll take a 2.5 hour hike through lush rainforest and past deserted beaches to return to our vans. After lunch we'll drive through the spectacular Bulla Gorge before ending up at one of New Zealand's most iconic scenic spots, the uniquely formed 'pancake' rocks with their impressive blow holes. We'll explore the rocks and then head to a local pub for a typical New Zealand pub dinner. Tonight we'll stay in stylish resort on the beach.

DAY 6: Explore Spectacular Glacier
We'll start the day with a coastal drive before heading into the rugged farmland of the West Coast. In the afternoon we'll embark on a guided hike of Franz Josef Glacier, the West Coast's longest and most impressive glacier, made all the more remarkable by the fact that it runs through temperate rainforest. The 4.5-hour trip will begin with a hike through the rainforest. Upon reaching the glacier we will don crampons and spend an hour walking over the glacier. Our journey home will be via a different, but equally scenic track. After dinner we'll go on a nighttime walk to see glow worms!

DAY 7: Scenic Drive and Hike
Today we'll drive through some of the South Island's most rugged and spectacular scenery. We'll start with breakfast at Lake Matheson (otherwise known as "Mirror Lake" because of its amazing reflective properties). After a 1-hour hike around the lake we'll drive through a remote region flanked by wild beaches on one side and the jagged Southern Alps on the other. We'll then head inland via a road that takes us through dense cloud forest, stopping several times for short walks in the forest. In Wanaka we'll settle into stylish apartments with views of the lake and surrounding mountains.

DAY 8: Alpine Hike
Today we'll do the Rob Roy Glacier hike, considered by many to be the most scenic day hike in all of New Zealand. The 4-hour hike will take us through lowland flats along the Rob Roy Stream and into beech forest with a rich undergrowth of mosses and ferns. As we get higher we'll emerge out of the trees and into the alpine zone, characterized by low tussock vegetation. Impressive overhead hanging glaciers beneath Mount Rob Roy is the highlight of the walk as are the numerous Keas (the only alpine and smartest parrot in the world) flying overhead.

DAY 9: Mountain Biking
Wanaka has some of the best mountain biking in New Zealand, from picturesque lakeside trails to challenging single track forest rides, and even the chance to explore old miners' tracks and backcountry trails. Depending on the interest of the group, we will navigate the West Wanaka track, a 4-5 hour ride on old farm trails that offers sublime views across Lake Wanaka, beautiful deserted beaches and a crystal river crossing along the way. In the afternoon, we'll take a short but scenic drive to Queenstown, the undisputed adrenaline capital of the South Pacific and one of New Zealand's most scenic towns. Our accommodation for the last three nights are stylish apartments centrally located to explore the many shops, cafes, and galleries in Queenstown.

DAY 10: Heli-Biking or Flight/Cruise
Today there are two options: heli-biking or a scenic flight/cruise to Milford Sound. The heli-bikers will start the day with an incredible heli-ride over the Southern Alps to reach the remote tussock lands that surround Queenstown. After enjoying the spectacular views you'll mount your bikes and enjoy an exhilarating 1700m single-track descent through pristine alpine scenery, ending at the historic Cardrona Pub (New Zealand's most famous pub) for a well-deserved beer. Those who choose the Milford Sound option will take a breathtaking flight over the Southern Alps and down to one of New Zealand's most famous scenic landmarks: Milford Sound. Here you'll take a boat trip in the fiord (known for its hundreds of waterfalls) before flying back to Queenstown. These activities are optional extras. Those who do not opt for these upgrades will have the chance to go on a guided walk in the hills surrounding Queenstown or you can simply relax and enjoy the town and lake.

DAY 11: Exhilarating Whitewater Rafting
This morning will be action-packed as we enjoy a 4.5 hour rafting trip down the world-renown Shotover Gorge. Rafting from Deep Creek over peaceful waters at first, we head toward the exhilarating rapids of the lower Canyon, experiencing a series of memorable rapids before heading through the unforgettable 170m Oxenbridge Tunnel. In the afternoon you'll be free to relax or partake in the many adrenaline activities available in Queenstown.

DAY 12: Farewell & Departure
Our trip is over. We'll drop you off at Queenstown International Airport for your flight home.
More information from Access Trips: