SpiceRoads Cycle Tours - vacations and travel
Saigon to Bangkok by Bicycle
"I've just completed the Saigon to Bangkok tour & it totally rocked! Three totally different countries & three great adventures!… "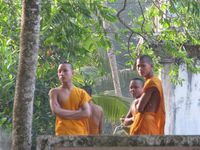 from $2,250* per person
14 Days
May, July, October-December
Comfort accommodations

Exertion level: 4

Operator:

SpiceRoads Cycle Tours

16 people max
Saigon's airport, vietnam near ho chi minh city, vietnam
Active & Adventure trips
This tour takes in three of Southeast Asia's most diverse and fascinating countries. From Saigon we head into the Mekong Delta, riding quiet back roads over canals. Our entry into Cambodia is by boat as we head up one of Asia's great rivers, the Mekong, to Phnom Penh. Cycle on toKampong Thom to visit temples before we head to Siem Reap and more famous temples of Angkor. After exploring Angkor we head to the faded colonial city of Battambang before heading to Thailand and the beautiful beach.
Locations visited/nearby
Cambodia, Thailand, Vietnam, Southeast Asia
3 testimonials about this trip
Reviewer:

Sean Browne

I've just completed the Saigon to Bangkok tour & it totally rocked! Three totally different countries & three great adventures! The guides were top class & made my trip & the other members that little more special. Thanks.

5

Reviewer:

Roger

We laughed all the way between Saigon and Bangkok. There is no better way to see the country than by bike. It would take you weeks to find your way in and out of the Mekong Delta along all those tiny jungle trails.
A great group from 6 different countries. Everyone loved it and weeks afterwards we are still emailing pictures to and from. I can't wait to get back on another tour possibly North Vietnam and Laos. Although I really fancy Bhutan. So much to do so little time

5

Reviewer:

Gary Fogal

A very enjoyable tour, we definitely got our money's worth.


Cycling through the Mekong delta region on those wonderful cement paths was just terrific. Swimming (and eating) at Rabbit Island was a great way to end our tour.


Many thanks to Spice Roads for giving us a lot of fantastic memories.

5
Comments from Facebook
Itinerary
Day 1
Meet in Saigon (Ho Chi Minh City) for dinner at the enchanting Temple Club Restaurant.
Day 2
Transfer to Cai Be, the gateway to the Mekong Delta, to start riding down narrow roads and lanes, past banana plantations and fields of sugarcane, across rivers to Tra Vinh a pretty tree-lined town.
Day 3
There is plenty to observe today - fishermen, village life, temples -- as we cycle scenic roads, crossing many small bridges, to Can Tho.
Day 4
Visit Cai Rang floating market before a transfer to the start of the ride on a gently undulating road as mountains begin to loom as you ride closer and closer to Chau Doc, stopping on the way to visit the Killing Fields of Vietnam at Ba Chuc.
Day 5
We rest our legs as we boat it up the Mekong River to Phnom Penh.
Day 6
From the capital of Phnom Penh we cycle on back roads to the town of Oudong, a former capital of Cambodia. Afternoon is free to explore Phnom Penh.
Day 7
After a transfer to near Kampong Thom and the ancient temple site of Sambor Prey Kuk we saddle up and ride between the temples by bicycle. After lunch we have a beautiful ride through paddy fields and small villages before a transfer to Siem Reap.
Day 8
We ride to the Angkor Temple complex before starting the Grand Circuit, stopping at each major temple area before riding back to Siem Reap.
Day 9
We enter the temple complex by a much quieter gate and then ride into the countryside and we turn off the main tourist road to Banteay Srei, visiting Banteay Samre on the way.
Day 10
Today we have another break from riding and visit the floating village before heading across the Tonle Sap to Battambang,
Day 11
We saddle up and ride south to Pailin along an undulating road, crossing streams and bridges and really get a feeling of riding into unchartered territory.
Day 12
It's a short pleasant ride on quiet scenic roads to the Thai border and then we ride through the countryside to the beach.
Day 13
Free day at an off the beaten track beach with the option of a casual morning ride around the local sites of Chantaburi.
Day 14
Morning free to enjoy the beach before we head back to Bangkok.
More information from SpiceRoads Cycle Tours: