Backroads - vacations and travel
Bhutan Walking & Hiking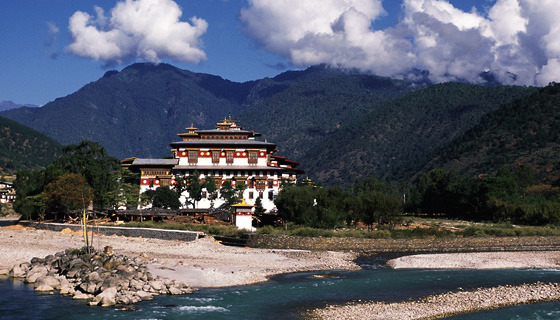 from $5,998* per person
8 Days
April, September, October
Luxury accommodations

Exertion level: 5

Operator:

Backroads

24 people max
Bangkok international airport bangkok thailand
Active & Adventure trips
Itís a place so few experience. So exotic. So dramatic. Hidden deep in the Himalayas. It has an unspoiled essence thatís indescribable. Centuries-old temples clinging to forested cliffs. Sacred daily rituals. Mountains with seemingly no end. There arenít trains or helicopters. No traffic lights in the capital. Change is coming to Bhutan, but at its own pace. And youíll see it. In the monk on his cell phone. In the satellite dish perched above a traditional home. In the emerging democracy. But the untouched Bhutan is still there. Thousand-year-old festivals. A deeply rooted spirituality. A king who measures ďgross national happiness.Ē Youíve discovered something that seemed like it couldnít still exist. But it does. See it for yourself.

An ancient landscape where lifeís daily rituals remain sacred
Hike to secluded temples and monasteries, including the famed Tigerís Nest
Namgay, our guide and friend, opens doors normally closed to foreigners
Ascend herdersí trails to find valley views and colorful prayer flags
Exchange ideas with Buddhist monks and receive a blessing


Locations visited/nearby
Bhutan, Asia
Comments from Facebook
Itinerary
Day 1 Namgay, our guide and longtime friend, opens doors normally closed to foreigners; ask him about his tenure in the National Assembly Explore Paro Dzong, a massive fortress and hub for spiritual and community life.
Days 2-3 An ancient landscape where life's daily rituals remain sacred Cresting Dochu La mountain pass, take in a panorama of snowcapped Himalayan peaks Pine forests line our path through Punakha Valley Hike to Chorten Nebu, a 14th-century temple accessible only by foot.
Day 4 Ascend herders' trails to find valley views and colorful prayer flags Exquisite riverside Punakha Dzong, Bhutanís 300-year-old winter capital, still exudes eminence See the dzong from a different perspective during our rafting adventure on the Po Chhu River.
Day 5 Exchange ideas with Buddhist monks and receive a blessing Enjoy lunch at the Royal Thimphu Golf Club overlooking the Royal Palace Visit the giant, nearly completed Buddha statue towering above the Wang Chuu river - it contains 100,000 tiny Buddha statues inside!
Days 6-8 Hike to secluded temples and monasteries, including the otherworldly cliff-clinging Tiger's Nest Make your way past ride paddies, stands of prayer flags and small villages to a 100-year-old farmhouse Paro's shops abound with exotic items A prominent Buddhist scholar joins us for a Q&A Sip a hot brew 9,200 feet up at Taktshang teahouse and savor superb views.
More information from Backroads: