Backroads - vacations and travel
Peru Walking: Lodge To Lodge Trekking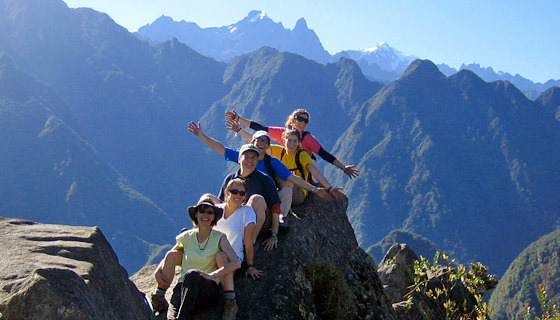 from $4,998* per person
9 Days
April-December
Luxury accommodations

Exertion level: 6

Operator:

Backroads

20 people max
Cusco, peru
Active & Adventure trips
It's easy to grasp the ancient Inca mindset. Easy, that is, once your lungs adjust to the rarefied Andean air. Once your brain absorbs the heart-stopping splendor of your surroundings. You're atop Salkantay Pass at 15,200 feet. Above you looms snow-mantled Nevado Salkantay, the 20,500-foot monarch of the Vilcamba range. Towering nearby is colossal Humantay peak. From this vantage point, it's clear why these magnificent pinnacles of rock and ice inspired awe among the region's native inhabitants. And at the apex of this trek, Machu Picchu. You're breathless. Is it the altitude or the views? A little of both.
Hiking lodge to lodge, with porters and mules carrying our luggage
Trek an Inca route to 15,000 feet for superb views of the snow-covered Andes
Gaze upon Machu Picchu from the seldom-traveled Llactapata trail
Relax at high-altitude lodges - many with hot tubs!
Locations visited/nearby
Peru
Comments from Facebook
Itinerary
Day 1 Expert-guided explorations of monumental Incan architecture
Savoring stunning vistas of the Cusco Valley, trek to the Inca sites of Q'enko, Temple of the Moon and fortress-temple Sacsayhuamán.
Days 2-3 Relax at a high-altitude lodge with an outdoor hot tub
While you're getting acclimated, go for a walk up to a glacial lake or get lost in views of towering white-capped Salkantay - Inca mythology's most sacred mountain
Taste pisco sours, the country's national drink, before our dinner of regional organic cuisine.
Days 4-6 Hike lodge to lodge, with porters and mules transporting your luggage
Condors soar overhead as you travel up the Río Blanco Valley, circling Humantay Peak
Descend through a lush subtropical landscape above the Salkantay River before passing the Santa Teresa River Valley's patchwork of orchards and coffee plantations
See who's out and about in a village en route
Feeling adventurous? Try cuy (guinea pig), cooked in a large pit of hot rocks, at a traditional Andean feast.
Days 7-9 Gaze upon Machu Picchu from the seldom-traveled Llactapata trail
Head downhill through bamboo forests to the Vilcanota River
Explore magical Machu Picchu: hike to the Gate of the Sun for an impressive overview, then get up close as our local guide reveals secrets of the Lost City's astrological designs.
More information from Backroads: