Backroads - vacations and travel
Vietnam & Cambodia Walking: Old Indochina From Hanoi To Angkor Wat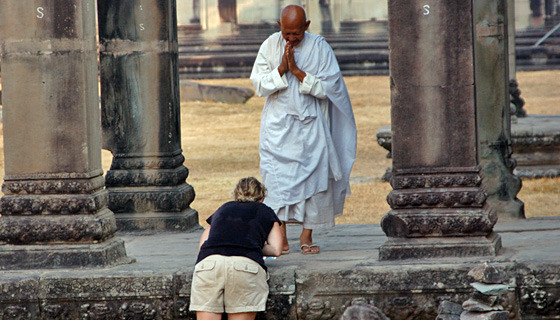 from $4,998* per person
10 Days
February, December
Luxury accommodations

Exertion level: 4

Operator:

Backroads

20 people max
Hanoi, vietnam
Active & Adventure trips
It's unlike anywhere else. Raw and simple one minute, bustling and friendly the next. In one breath dramatic and tranquil. A sail among the limestone peaks in Halong Bay. Footpaths that snake through secluded rice paddies. A quiet nod from villagers leading buffalos to water. Touching the ethereal ruins of Angkor with your own hands. It's a journey full of color and intrigue. Every meal is a metaphor for the region's complex culture. Every hotel offers soothing comforts. Temples that defy centuries. Smiles that bridge oceans. And local guides that open doors long closed.
Cambodia's thrilling Angkor Wat ruins
An insider's perpective from our two local guides, longtime Backroads friends
Hoi An: beautifully preserved and a delight to explore
Cruise and kayak on gorgeous Halong Bay
Indulge in some of Asia's freshest and tastiest cuisine
Locations visited/nearby
Cambodia, Vietnam
Comments from Facebook
Itinerary
Day 1 A wealth of insight from our local guides, Dragon and Bunlay, who bring to life the intertwined cultures of Vietnam and Cambodia
Ride in a bicycle rickshaw through old Hanoi's narrow streets packed with food and flower stalls
Hungry? Asia's freshest and tastiest cuisine is within reach
Explore Ngoc Ha, a lively district seldom visited by foreigners.
Days 2-4 Cruise and kayak on heavenly Halong Bay, a World Heritage site with hidden beaches, cool caves and beautiful lagoons
For a unique look at everyday life, you're welcomed by a village headman into his ancient home
Enjoy two peaceful evenings overnighting beneath a canopy of stars in Halong Bay.
Day 5 The historic monuments of Hué, Vietnam's ancient capital, including the mysterious and imposing Royal Citadel, site of intense conflict during the Vietnam War.
Days 6-7 Hoi An: beautifully preserved and a delight to explore, with an old port and wooden shop houses
Ride a dragon boat up the Perfume River, and walk among waterfront villages and imperial mausoleums
White-sand beaches invite relaxation.
Days 8-10 Thrilling Angkor Wat, where Khmer empires ruled and extraordinary ruins await
Explore awe-inspiring temples, statues and other wonders off the beaten path
Meet villagers in the fishing hamlet of Tonlé Sap.
More information from Backroads: