ExperiencePlus! Bicycle Tours - vacations and travel
Bicycle Tours in Spain: Cycling the Camino de Santiago - Roncesvalles to Santiago
"The whole trip was really wonderful! Dinners maybe get my vote; or tied with our guides! We loved our trip… "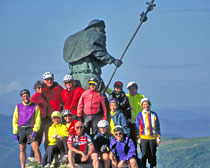 from $5,350* per person
15 Days
June, August, September
Boutique accommodations

Exertion level: 4

Operator:

ExperiencePlus! Bicycle Tours

16 people max
Madrid-barajas airport, madrid, spain
Active & Adventure trips

"A pilgrimage to Santiago de Compostela is the finest journey in Spain," wrote James Michener in his book Iberia. Join our bicycle tour across northern Spain and you too will discover the magic of the Camino de Santiago. Our tour follows the original guide for the Camino written by a monk in the 12th century. Along the way you'll explore Gothic cathedrals, visit medieval monasteries, pedal through one of Spain's premier wine growing regions - the Rioja - and encounter adventurous travelers from around the world. More than just a bicycle tour, this is an adventure of a lifetime.
Locations visited/nearby
Camino de Santiago , , Bicycling the Camino de Santiago , Way of St. James , El Camino de Santiago , Galicia, Spain, Europe
3 testimonials about this trip
Reviewer:

Sue S.

located in

Mesquite

,

NV

USA

The whole trip was really wonderful! Dinners maybe get my vote; or tied with our guides! We loved our trip and can't wait for the next one! Thanks for everything!

5

Reviewer:

Heidi and Jerry L

located in

Boulder

,

CO

USA

It couldn't have been more fun for my family (7 out of the 15 on the trip!) to be together for the 2 weeks of the ride. And I can't thank you all enough for making it so special for Jerry and me. It was our 10th trip, so a FREE one, and we were treated royally! Many times we were given the best room, or one of the best, and I'd forgotten until reminded one day that this was company policy: we had been on more trips than anyone else, and we were the eldest on the trip, (and we were responsible for half the participants signing up?) and we happened to celebrate our 42nd anniversary during the trip. For many reasons, a very special 2 weeks!

5

Reviewer:

Lani M.

located in

Fort Collins

,

CO

USA

Out of the 6 trips we have done, we think this is the best we've taken. We loved leaning about the Camino and seeing the pilgrims.

5
Reviewer:

Steve B.

located in

Asheville

,

NC

USA

"I felt I had the best benefits of a group tour - logistics, preplanning, support during the day, luggage handling, meeting new people - and the benefits of independent travel, in that I could ride on my own, at my own pace, and see the towns we stayed at as I saw fit, without being stuck with a group if I did not want to. A hard balance to achieve, but achieved it was."

5

Reviewer:

Carl N

located in

Portland

,

OR

"The tour was excellent! Our tour guides were outstandingly knowledgeable of the region. They were awesome and exceptionally attentive to our needs and details of the trip. They truly made it a memorable 'experience (plus)'!"

5

Reviewer:

Anne C.

located in

Bristol

,

TN

"Your system of chalk arrows is by far the very best method that we have ever seen for marking a cycling route. It would have been totally unnerving to try to read directions and be aware of traffic."

5
Comments from Facebook
Itinerary
Day 1: Tour begins in Pamplona - Shuttle to Roncesvalles
Monument to Bike Pilgrim
Highlights: Pilgrim's Passports, introductory dinner, bike fitting
Meet mid-afternoon today in Pamplona, then we'll shuttle as a group to Roncesvalles. There, we'll fit bicycles, visit the 13th-century monastery that is the traditional starting point for the Camino, and pick up our pilgrims' passports. This evening we'll celebrate with a welcome dinner at our hotel.
Lodging: Hotel La Posada
Day 2: Roncesvalles to Puente la Reina
Church of Santa María Eunate
Highlights: Church of Santa María Eunate, historic Puente la Reina
Our journey begins with a downhill ride from Roncesvalles following the Iratí River. Along the way, we'll visit the 12th-century Church of Santa María Eunate. Our hotel tonight is in Puente la Reina, where all the pilgrim's routes from France become one. Dinner together. Distance: 77 km (48 miles).
Lodging: Casa Rural Bidean
Day 3: Puente la Reina to Laguardia
Highlights: Scenic cycling, winery visit, wine tasting
This morning we'll head across the Rio Salado before reaching medieval Estella. From there, we'll head through farmlands and vineyards on the way to our hotel in the walled town of Laguardia. There we'll visit one of the oldest and smallest wineries in Spain, where we'll enjoy a wine tasting, before dinner together. Distance: 102 km (63 miles).
Lodging: Hotel El Collado
Day 4: Bicycle Laguardia to Santo Domingo
Winding Road in Rioja
Highlights: Cycling in Rioja Alta wine region, winery visits
A short detour today leads us to one of Spain's most important wine-producing areas, the Rioja Alta. Along the way, our route passes through the 16th-century town of Haro. Then, it's back to the Camino and on to Santo Domingo de la Calzada, where we'll spend the night and have dinner on your own. Distance: 47 km (29 miles).
Lodging: Hotel Parador de Santo Domingo Bernardo de Fresneda
Day 5: Santo Domingo to Burgos
Highlights: Ancient Burgos, Gothic cathedral
You will enjoy a beautiful ride today as we cross the Oca Hills to the ancient city of Burgos, home of Spain's favorite son, El Cid. Our hotel is in front of the city's famous cathedral - one of the most impressive in Europe - and the tomb of El Cid. Distance: 89 km (55 miles).
Lodging: Hotel Mesón del Cid
Day 6: Burgos to Carrión de los Condes
Storks on a Church along the Camino
Highlights: Historic Church of St. Anton, overnight in refurbished monastery
This morning we head across the rolling plains of the meseta to Castrojeriz, where the Camino runs right through the ruins of the Church of St. Anton. We'll finish today's ride in Carrión de los Condes where we'll spend the night in a refurbished monastery. Dinner together. Distance: 99 km (62 miles).
Lodging: Hotel Monasterio San Zoilo
Day 7: Sahugún to León
Highlights: Sahagú, Basílica de San Isidoro
Passing through one of the most famous stops on the Camino, in Sahagún, we'll pedal our way to León today. A former capital of Spain, León is famous for its cathedral and the Basí??lica de San Isidoro. Since we'll be spending the next two nights there, you'll have plenty of time to explore both. Our hotel is just a short distance from the cathedral. Distance: 109 km (68 miles).
Lodging: Hotel NH Plaza Mayor
Day 8: Rest day in León
The León Cathedral at night
Highlights: Guided walking tour of León museums, shops, Basílica de San Isidoro
Sleep in this morning, as this is a rest day in León.??A local historian will lead us on a guided walking tour of the city, then you're free to spend the day as you wish. Explore the local shops and museums. Catch up on your reading. Or just relax in one of the local café. It's your choice. Dinner together tonight, we'll meet anyone joining us on the last part of our trip. Distance: rest day.
Lodging: Hotel NH Plaza Mayor
Day 9: León to Astorga
Highlights: Visit to cathedral and palace designed by Antonio Gaudí
Our destination today is Astorga, home of the 15th-century cathedral and neo-Gothic palace designed by the famous Catalan architect Antonio Gaudí. Distance: 63 km (39 miles).
Lodging: Hotel Via de la Plata
Day 10: Astorga to Cacabelos
Ponferrada Medieval 13th Century Castle
Highlights: Scenic cycling through the Spanish countryside, Astorga's chocolate museum
Leaving Astorga today, we head toward the hills that separate the provinces of León and Galicia. As we pass through tiny hamlets and monuments untouched since early Christianity, it's easy to imagine the awe that original pilgrims making this trek must have felt. By mid-afternoon, we'll arrive at our destination in Cacabelos. Dinner together. Distance: 76 km (47 miles).
Lodging: Hotel Villa de Cacabelos
Day 11: Cacabelos to O'Cebreiro
O'Cebreiro from above
Highlights: Countryside of Galicia, historic Villafranca del Bierzo
We head into the green fields of Galicia today. On the way, you'll pass through the old Camino town of Villafranca del Bierzo, founded by French pilgrims as a place of absolution for those too weak to continue their pilgrimage. Our hotel this evening is on top of O'Cebreiro, a historic mountain on the Camino, where we'll enjoy dinner together. Distance: 43 km (27 miles).
Lodging: Hotel Albergueria Frade
Day 12: O'Cebreiro to Portomarín
Group picture leaving O'Cebreiro
Highlights: Galician culture and countryside
You will get a real taste of Galicia today - a region with a culture and musical style reminiscent of Ireland - as we pedal our way to Portomarín, where our hotel overlooks the Minho River. Dinner together. Distance: 69 km (43 miles).
Lodging: Hotel Santa Mariño Portomarín
Day 13: Portomarín to Touro
Highlights: Quiet & scenic roads, stay in a country manor
One of the prettiest rides on the tour awaits you today as we meander along forgotten country roads through the beautiful Galician countryside. Rolling hills and green pastures lead us to our destination for the evening near Touro, where we'll stay in one of the traditional country houses (similar to B&Bs) that dot the landscape. Dinner together. Distance: 79 km (49 miles).
Lodging: Pazo de Andeade
Day 14: Arrive in Santiago de Compostela
Cathedral at Santiago
Highlights: Arrival in Santiago, Cathedral of St. James, farewell dinner
Today's ride is a fitting end to the Camino, as we pedal along rural roads through woodlands and pastures to Santiago. Once in town, you'll have plenty of time to look around the famous Cathedral of St. James that forms the city's heart. Tonight, we'll celebrate our journey's end with a great farewell dinner together. Distance: 43 km (27 miles).
Lodging: Hotel San Francisco
Day 15: Tour ends in Santiago de Compostela, Spain
Highlights:
After breakfast this morning, it's time to say goodbye to the historic Camino and to begin your own pilgrims' trek to wherever your journeys may lead you. Buen viaje!
More information from ExperiencePlus! Bicycle Tours: