Red Lantern Journeys - vacations and travel
Nepal Explorer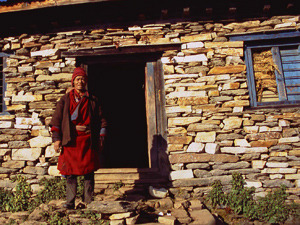 Contact provider for price
10 Days
Year-round
Comfort accommodations

Exertion level: 3

Operator:

Red Lantern Journeys

12 people max
Kathmandu airport, nepal
Culture & Nature trips
See the highlights of Nepal from the culturally rich city of Kathmandu to the thick jungles of Chitwan. Take in views of the towering Himalaya, spot rare wildlife, and soak in Nepalese culture. This itinerary is designed for you to experience some of the most impressive yet diverse aspects of Nepal on privately guided tours.

Locations visited/nearby
Nepal, Asia
0 testimonials about this trip.
Reviewer:

Ki G.

located in

Seattle

,

WA

USA

Dear Ambrose,

Marty and I wanted to thank you again for your super-meticulous planning of our trip! It really was incredible how everything, and I do mean every plan we made with you, came to pass on our madcap journey through India! You really heard our desires, and we experienced more richness than we had hoped for in the short time we had.

I had read every travel book, had dreamed about going for years, and was at a loss how to pull it all together. You eased the burden of choosing by arranging it all for us; having a guide in each stop to get us quickly in-depth added pleasure and knowledge to our experience. The guides themselves were charming and passionate, taking great pride in sharing their country with us. The time we spent on our own was perfectly balanced with these guided experiences. Really, Ambrose, I wouldn't think twice about signing on with you again for another Red Lantern Journey. It was a vivid dream come true for us!

Ki G. and Marty C.

Seattle, Washington


5

Reviewer:

Ivonne B.

located in

San Juan

,

Puerto Rico

USA

Hi Ciara,
I just got home from New York and was welcomed by your beautiful flowers. Thanks for such a nice touch. It was a fitting ending to a wonderful trip.

The travel experience was excellent and exploring Indochine was simply unforgettable. While Cambodia and Laos were my two favorite destinations, and spending New Year's Eve @ Halong Bay took my breath away, overall I was impressed with the people of the fascinating Southeast Asia region, all of whom were so kind and attentive.

I especially enjoyed having a private guide to take us by the hand in each city, giving us inside information of each location and allowing us to relax and forget about transportation logistics so we could truly enjoy every moment to its fullest. It really made all the difference in the world, specially being in that part of the world.

We had 6 different guides (3 males and 3 females).If I were to grade them, I would say that Mr. Hua (Hanoi/Halong) and Mr. Chang (Luang Prabang) were simply outstanding.They were not only very knowledgeable but also went out of their way to help us solve certain situations that arose and make us feel at home. The female guides were all very nice (JJ in Bangkok, Thuy in Saigon and Kim in Cambodia). The only one that was average was Tom (Hue/Hoi-Ann), mostly because his thick accent made it very difficult to understand him.

In terms of hotel choices, I was also very impressed, both because of their wonderful location and truly five-star services. The Shangri-La (Bangkok) and the Sofitel Metropole (Hanoi) were an attraction in itself. Also, the Maison (Laos), the Majestic (Saigon) and both Victoria properties (Hoi Ann & Seam Reap) were very cozy & charming. However, Hue's Imperial Hotel, while it was rated as a 5-star, it was not up to par with the other hotels. It seems to cater to a more local clientele and both the food and facilities left much to be desired. I believe the classic La Residence or the modern Mercure would have been a better choice.

Overall, I can say I've been spoiled by Red Lantern's way of travel and I would definitely recommend it to my friends or to serve as reference for your potential clients.



5

Reviewer:

Heidi K.

located in

Seattle

,

WA

USA

Ambrose,

I haven't done this sooner because I am just now having time to sit down and process the China trip. I did want to make sure that I took the time to let you know what a fabulous trip it was. I'm sure being with a great group didn't hurt, but we all enjoyed ourselves immensely. Essentially there were not hitches to be found, even though we kept adding things willy nilly and didn't have the simplest itinerary. Michelle, our guide in Beijing, was superb. She was professional, yet friendly, knowledgeable, and very flexible in her heroic attempts to satisfy our every whim. We kept her busy keeping us busy from dawn 'til way past dusk - I do remember the look of relief on her face when we assured her that we didn't expect her to hike the section of the wall with us. I am sure that if we'd wanted her along she would have come.

I was interested to see how being in China during the October national holidays would affect our trip and, I can say wholeheartedly, that it made it better. I consider myself a somewhat experienced traveler but I'd never been to China and expected it to be a lot more overwhelming than it was. Really, I think I could live there in a heartbeat. I loved the fact that we visited places like Tiananmen Square, the Forbidden City, and the Summer Palace with hoards of other people - and that most of them appeared to be Chinese, if not locals. There was this party feel in the air and plenty of subjects at which to point my camera. Guilin, the Li River, and Yangshou were more unique and beautiful than I imagined and I specially enjoyed the river cruise.

I won't say that, in some ways, I'm not glad to be home but you can be assured that I will recommend Red Lantern Journeys to my friends and family and will keep you on the short list for further trips. (Kevin mentioned that you are working on including Mongolia in your future offerings - I've always wanted to be able to resurrect my horsemanship skills and race my Mongolian war pony home to my yurt for supper). I'll also be sure to include a review and recommendation of RLJ on my blog once I get around the posting about the trip. (Yes, I'm slow I know - work just keeps getting the way).

Heidi K.

Seattle, Washington

5
Comments from Facebook
Special information
This is a custom departure, meaning this trip is offered on dates that you arrange privately with the provider. Additionally, you need to form your own private group for this trip. The itinerary and price here is just a sample. Contact the provider for detailed pricing, minimum group size, and scheduling information. For most providers, the larger the group you are traveling with, the lower the per-person cost will be.
Itinerary
Day 1: Arrive Kathmandu
Arrive at the Kathmandu airport where you will be welcomed by our representative and transferred to your hotel. Overnight in Kathmandu. (Dinner)
Day 2: Kathmandu
After breakfast set out to tour Kathmandu. In the morning visit Bodhanath, the Stupa of a Million Dew-Drops and circumambulate the stupa with monks and devotees. Then visit Pashupatinath, Nepal's most sacred Hindu temple dedicated to Lord Shiva, the destroyer. Here, watch a Hindu cremation along the banks of the Bagmati River and then drive to Bhaktapur – the City of Devotees. Spend your afternoon exploring this ancient town that feels like one big museum with temples, palaces and houses dating back several centuries. Drive back to Kathmandu. Overnight in Kathmandu. (Breakfast, Lunch)
Day 3: Kathmandu to Pokhara
Take a half hour flight to Pokhara—a picturesque, lakeside town known for its magnificent views of the Central Himalaya. Enjoy a free day to relax and explore Pokhara's quaint restaurants, shops, bookstores, and more. (Breakfast, Lunch)
Day 4: Pokhara
In the morning, take a short drive to the International Mountain Museum and have lunch. Spend the rest of the afternoon enjoying the many exhibits at the Museum or just relaxing in the museum's premises. Overnight in Pokhara. (Breakfast, Lunch)
Day 5: Pokhara to Chitwan
In the morning embark on a 6 hour drive to Chitwan. Upon arrival at you resort, you will be briefed on the area to learn about the National Park and the jungle activities available to you over your next couple of days. (All meals)
Day 6 and Day 7: Chitwan
Chitwan is the Heart of the Jungle. Situated 75 miles south-west of Kathmandu, it is home to the endangered Royal Bengal tiger and Greater One-horned Rhinoceros. Chitwan is also Nepal's first national park, established in 1973 specifically with the objective of conserving the tiger population in the park. During your safari in Chitwan, you will engage in jungle activities – elephant ride, jungle drive, boating, bird-watching, etc. – that will allow you to experience the park's wildlife, nature and people. (All meals)
Day 8: Chitwan to Kathmandu
Transfer to Bharatpur airport and take a short 25 minute flight back to Kathmandu. After transferring to your hotel, enjoy the rest of the day free to relax, shop, or explore the city on your own. In the evening enjoy dinner at a Nepali home. (All meals)
Day 9: Kathmandu
After breakfast, visit the 5th century Swayambunath or Monkey Temple with its characteristic Buddha eyes that keep a protective watch over the Kathmandu Valley. Then drive to the Patan Durbar Square complex for lunch, followed by a tour of the ancient Palace Square and temples. If time permits, end the day with a visit to the Tibetan Refugee Center at Jawalakhel. Return to hotel in the afternoon and have free time to relax until dinner. In the evening attend a traditional Nepali dinner accompanied by a cultural program. (All meals)
Day 10: Departure
Enjoy a free day to explore Kathmandu before your flight onward. Take an optional one-hour mountain flight that will bring you close up views of Mt. Everest and the surrounding Himalayan peaks. Transfer to the Tribhuvan International Airport for your final departure.
More information from Red Lantern Journeys: