French Escapade - vacations and travel
Majestic Switzerland: Cultural and Painting Tours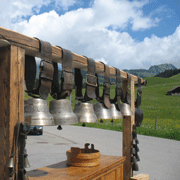 from $3,190* per person
8 Days
Year-round
Comfort accommodations

Exertion level: 3

Operator:

French Escapade

12 people max
Train station near vevey, switzerland
Culture & Nature trips
Nestled in the heart of Europe, this small country of soaring mountains and sparkling lakes is a gem. Swiss traditions and art de vivre have enchanted us, and we are eager to share our secret findings with you!

There is more to Switzerland than mountains and lakes. On this unique trip, you'll also experience authentic Swiss traditions, such as chocolate- and cheese-making and the ancient art of paper cutting.
Locations visited/nearby
Switzerland, Europe
0 testimonials about this trip.
3 testimonials about the provider, French Escapade:
Reviewer:

Jill G., Laytonville

located in

Laytonville CA

USA

We had never done a tour before we traveled with you, and we will never do another tour unless it's with you. We always appreciated all the hard work you put into your tour, but now, we REALLY appreciate it, having experienced what it's like on a "non-French Escapade" tour ", now that we are on a motorcycle tour of southern Italy. Although there have been many wonderful moments on the trip so far, it has been a disappointment because you have spoiled us on the French Escapade tour! Oh, how I wish you were here with us! You attention to details, your kindness, your knowledge of the region made the trip so memorable. We will travel with you again next year."

5

Reviewer:

Jim H.and Cully B.

located in

Los Altos, CA

USA

"'Shall I tell you what I think are the two qualities of a work of art? First, it must be indescribable and second, it must be inimitable' -Renoir.
Jac and Valerie, this quote from Renoir captures our feelings very well, you created something that is beyond words and certainly can't be imitated."

5

Reviewer:

Bonnie C.

located in

Oakland, CA

USA

"From the moment we connected at the airport, I felt myself relax! Jackie and Valerie attended to every detail of making the trip safe, educational, entertaining, and country-French authentic. Yet they did it with a kind of grace and that felt like each person's needs and tastes were important, and respected. It was so refreshing to just surrender to the beauty of the place, and to their special charms and TLC. We all wanted to live there forever, or, lacking that, take them both home with us. Dream on, dream on."

5
Comments from Facebook
Special information
This is a custom departure, meaning this trip is offered on dates that you arrange privately with the provider. Additionally, you need to form your own private group for this trip. The itinerary and price here is just a sample. Contact the provider for detailed pricing, minimum group size, and scheduling information. For most providers, the larger the group you are traveling with, the lower the per-person cost will be.
Itinerary
Day 1: Arrival in Switzerland
We'll pick you up at the train station in Montreux, capital of the Swiss Riviera at Lake Geneva, and drive you to our hotel. Upon arrival, you'll be able to unpack and get settled for the week, rest and relax or explore this charming village with its hilltop chalets and lakeside parks.
Before our dinner together, you'll meet your fellow travelers at a welcome reception and a short orientation meeting.
Day 2: From wooden chalets to flowery balconies
After our first Swiss breakfast, we'll tour Rossinière, a picturesque alpine village with private chalets scattered on the mountainside. You'll have no trouble selecting a spot in the village to start your painting session with tour artist Sonja Hamilton.
We'll visit the Grand Chalet, the biggest chalet in Switzerland and one of the largest wooden dwellings in Europe. Known for its immense size and 113 windows, the chalet was once home to modern artist Henri Balthus, whose work we'll also see in the village museum.
Day 3: Welcome to Heidi's country in Gruyeres
We'll spend the day in medieval Gruyères, famous both for its cheese and impressive hilltop castle. You'll be enchanted by this fortified town, which has retained its character and charmed visitors for hundreds of years.
After your painting session, indulge in shopping in boutiques that sell what Switzerland is known for: clocks, watches, knives, bells, cheese and more.
We'll wrap up this wonderful day in style at the top of Moleson Peak with a lovely cheese fondue dinner and a breathtaking panoramic view of the Alps.
Day 4: : Rougemont: More chalets and the art of papercutting
Rougemont, the last stop before entering the German-speaking cantons of western Switzerland, is an attractive historic village with a 11th century Romanesque church and dozens of wooden chalets. With picture postcard views from every vantage point, you can select from a wide range of vignettes to paint, from wooden doors and flowery balconies to grazing cows and majestic mountain peaks.
At the end of the day, we'll meet a local artist specializing in scherenschnitte, the art of Swiss paper cutting and a specialty of the area.
Day 5: Swiss for a day
Morning: Visit to a farm
We believe a truly authentic travel experience includes meeting the locals. Switzerland is known for its thousands of small family-run organic farms, so today we'll meet a Swiss family who've opened their home and hearts to us. You'll learn what it is like to be a farmer in Switzerland and enjoy a typical Swiss lunch with fresh ingredients and dishes prepared especially for you by our hostess.
Morning: Visit to a chocolate factory
Your trip to Switzerland wouldn't be complete without famous Swiss chocolate, so we'll tour a chocolate factory, where you'll taste famous candy bars and be able to buy at factory prices.
Day 6: Back to Gruyères: Select your shade of yellow
The French have their champagne and the Swiss have their Gruyère, one of the world's finest cheeses often used as an ingredient in quiche, French onion soup, chicken cordon bleu, salads and pastas. You'll have a chance to see how this specialty cheese is made.
The rest of the day will be spent painting a still life or landscape in this perfectly preserved old castle-village.
Tonight we'll have dinner in a Swiss chalet restaurant in the heart of the village.
Day 7: Breathtaking Lake Geneva
After a week of exploring alpine villages, now it's time to see a more bustling side of Switzerland. We'll spend our last day in Montreux, an exclusive Mediterranean-style resort along the shores of Lake Geneva.
Home of the rich and famous (Charlie Chaplin, Barbara Hendrix, Igor Stravinksy and Queen singer Freddie Mercury lived here), Montreux sits in a sheltered bay and is surrounded by vineyards and snow-covered Alps.
You'll be able to paint, visit art galleries and shops, enjoy the farmers' market or just stroll along the lake while soaking up one of the most beautiful views in Europe.
Day 8: Departure
After our last breakfast, we'll say good-bye and drive you to Montreux train station, your heart-warming memories of a glorious week in the summer Alps still fresh for your journey home or wherever your travels may take you.
More information from French Escapade: