Grand Asian Journeys - vacations and travel
The Complete South India Experience
"I travel the world with a critical journalist's eye: observing, comparing, documenting and rejoicing each time I come close to… "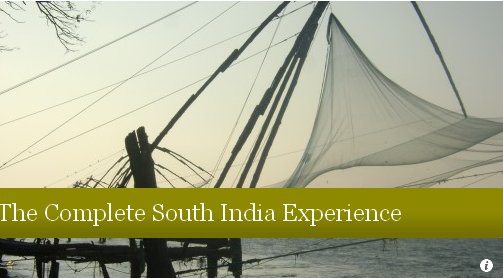 from $2,675* per person
14 Days
Year-round
Boutique accommodations

Exertion level: 3

Operator:

Grand Asian Journeys

16 people max
Chennai airport,chennai, tamil nadu
Culture & Nature trips
South India, still relatively overlooked by the masses, is steeped in rich and ancient history. Let Grand Asian Journeys introduce you to some of the world's most beautiful, fascinating sites and the rich, vibrant, ancient cultures. From spicy cuisine to laid back nature, it has something for everyone. Authentic experiences await in markets, temples, kitchens, canals and jungles. Tamil Nadu is the heart of ancient India's Dravidian culture, whose legacy will be felt in the temples of Tanjore and Mammalapuram. And no South India journey is complete without Kerala, where we will float down the lush backwaters in a traditional houseboat, explore emerald green tea plantations and immerse ourselves in one of the friendliest cultures in India.

Beginning in Chennai and ending in Kochi, you will be immersed in one of the friendliest cultures in India. Beginning on the east coast of southern India in Chennai, you will make your way through the provinces of Tamil Nadu and Kerala, getting a sense of their unique history, culture and food. Witness the world-famous stone carvers in Mammalapuram. Wander through historic, centuries-old temples and learn about India's colorful past. Explore Kerala's famous backwaters in classic, luxurious Keralan style. Stay in South India's tea capital, Munnar, and tour the immaculately sculptured tea plantations. See where Marco Polo came to trade for Indian spices and more!


Highlights:

Cruise the Keralan backwaters on a luxurious houseboat, exploring the canals and being introduced to "God's Own Country."
Walk through the tea plantations of Munnar, soaking up the culture of one of India's largest exports.
Stay in classic Five Star Heritage Hotels, and be overwhelmed by the rich beauty and hospitality.
Search for Bengal tigers in one of India's most popular wildlife reserves.


Locations visited/nearby
India, Asia
1 testimonial about this trip
Reviewer:

Christine T

located in

Tifton

,

GA

USA

I travel the world with a critical journalist's eye: observing, comparing, documenting and rejoicing each time I come close to people in their places, feeling the energies of their community. That's the story for my readers, and the experience I want my stories to give them. Jwalant leads the way with remarkable skill. I consider his guiding hand a reliable way to experience Asia.

5
Comments from Facebook
Itinerary
Day 01 - Chennai
Arrive in Chennai, the chaotic capital city of Tamil Nadu province. Spend the afternoon getting acclimated to Indian time and culture. Meet your other tour mates at a group dinner at the famous Taj Hotel. (No meals)
Stay: Taj Connemara, Chennai

Day 02 - Chennai to Mamallapuram to Chennai
We will spend the day at Mamallapuram, the historic, picturesque town once known as Mahabalipuram that is world-renowned for their highly skilled stone carvers. The sweeping stretch of golden sands lacing the Bay of Bengal has defied time and retained its pristine nature, and is the setting for the amazingly well preserved shore temples that date back to the 8th century. In the afternoon, watch the Indian fisherman practice the labor intensive ancient art of pulling in their haul by hand from the beach. (Breakfast)
Stay: Taj Connemera, Chennai

Day 03 - Chennai to Trichy/Tanjore
After breakfast, we will fly to Tiruchchirappali, also known as Trichy, where we will visit the Srirangam Temple, the foremost temple devoted to Vishnu in the world. It is the largest and arguably most impressive temple complex in the world spanning 156 acres and including 21 magnificent towers. Prepare to be amazed! (Breakfast)
Stay: Hotel Parishutam, Tanjore

Day 04 - Tanjore to Karaikudi
Tanjore is dominated by the superb World Heritage Site of Bridhadishwara Temple and Maratha Palace. We will visit both of these exquisite palaces, and enjoy the rich history and traditions there. In the afternoon, we'll drive through beautiful landscapes as we make our way towards Karaikudi. Later, we'll have an opportunity to walk around the quaint town, and enjoy a traditional South Indian dinner. (All meals)
Stay: Bangala, Karaikudi

Day 05 - Karaikudi
The exquisite Chettinad Palace, home of the Chettinad rajas will inspire your imagination! We will also visit a traditional South Indian family home, and in the evening participate in a cooking class conducted by Mrs. Meyappan and prepare a special meal. Chettinad cuisine epitomizes South Indian flavors. Tastebud tingling meals are based on rice, dal and sambar, Chettinad chicken interspersed with idlis and dosas. Everyone will receive a recipe book. (All meals)
Stay: Bangala, Karaikudi

Day 06 - Karaikudi to Madurai
After a sumptuous breakfast at the Bangala, we drive to Madurai arriving in the early afternoon. Rest at your hotel, located atop a hill overlooking the city of Madurai, and prepare for your evening visit to the Sri Meenakshi temple dedicated to Lord Shiva. Meenakshi is the South Indian name for Shiva's consort Parvati. In this temple, devotees first worship Meenakshi before proceeding to worship Shiva. Over 15,000 Hindus and tourists alike visit this temple every day. A high wall surrounds the huge complex with 12 intricately carved pyramidal gateways. (Breakfast)
Stay: GRT Regency, Madurai

Day 07 - Madurai to Munnar
Driving through the picturesque Western ghats of South India, past rice fields and tea plantations, we'll depart Tamil Nadu and arrive high in the mist-shrouded hills of Kerala. One of India's premier tea growing regions, Munnar's hills are some of the most picturesque in India. At the Windermere Estate we will be welcomed by the fascinating physician-turned-spice-gardener owner Mr. Simon before retiring to the private balconies of your rooms overlooking the local tea plantations. (Breakfast)
Stay: Windermere Estate, Munnar

Day 08 - Munnar
The province of Kerala is known as "God's Own Country" because of its natural beauty, and it also boasts the highest literacy rates in India. Munnar is many people's favorite place in Kerala because of its picturesque beauty, ample opportunities to enjoy nature, a cooler climate than the coastal regions, and a rich history of tea culture. Here you can see tea farmers doing their magic on the tea trees and taste the garden fresh specimens, or even take a short hike and stop en-route to enjoy a tour of a working tea estate. (Breakfast)
Stay: Windermere Estate, Munnar

Day 09 - Munnar to Kumily
Today we will make our way to Kumily, home of India's most popular wildlife reserve. Our hotel offers a spectacular opportunity to indulge in an authentic Keralan-style ayurvedic massage or other treatment in first class luxurious style after learning a bit about the ancient technique. This evening we'll view a first-class Bharatnatyam performance, one of the oldest classical Indian dance styles accompanied by classical Indian music. (Breakfast)
Stay: Spice Garden, Kumily

Day 10 - Kumily
Rising early, we will explore Periyar, searching for the wide variety of birds, reptiles and mammals that call this home. Periyar was originally the hunting grounds of the Maharajah of Travancore, and was declared a wildlife reserve in 1933. Animals you might spot include Bengal tigers, Nilgiri langur, Asiatic elephants, monkeys, hyenas, wild boar, porcupines, sloth bear, otters and numerous varieties of exotic birds. Binoculars are a must! After lunch, we will visit Mr. Abraham's spice farm to learn about the many varieties growing there. Tasting the spices you use every day – like cardamom, black pepper, cinnamon, cloves - growing fresh from the garden is a sensory explosion! (Breakfast)
Stay: Spice Garden, Kumily

Day 11 - The backwaters of Kerala
Today we will board a "rice barge" for a tour through the backwaters. This is, after all, the main attraction of a trip to Kerala. Cruise on a comfortable, air-conditioned boat through quiet canals lined with coconut palms and rice paddies. Eat the most delicious Keralan food, perhaps even buying fresh seafood from the fishermen still in their boats! Before roads were built the waterways were the highways of South India. This is a peaceful slice of heaven in a world far away from the clamor of India. (All meals)
Stay: Evergreen Tours boats

Day 12 - Allepey to Kochi
Arrive in Cochin, the distinctive colonial town that has been home to Jewish settlers, Portuguese and Dutch traders, Chinese visitors with threads of Syrian, Christian and Portuguese merchants. Cochin clings to its vibrant historical traditions such as Kalarippayat, a gravity-defying martial art, and theyyam, a trance-induced ritual Kathakali, a blend of religion and dance. Beautiful! (Breakfast)
Stay: Malabar House, Cochin

Day 13 - Kochi
Wake up and meet the fishermen at Cochin's famous Chinese fishing nets during their morning catch. The strong are invited to help pull in a net! Enjoy a fascinating walking tour of Cochin's heritage sites including St. Francis Church, Jew Town, and the world famous spice markets. Shopping opportunities abound! If all that walking has you tired, indulge in one of Kerala's famous ayurvedic massages. (Breakfast)
Stay: Malabar House, Cochin
Day 14 - Departure

Transfer to the airport for final departure. (Breakfast)
More information from Grand Asian Journeys: