SpiceRoads Cycle Tours - vacations and travel
Biking Hanoi to Luang Prabang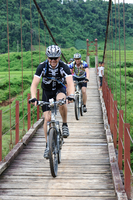 from $1,850* per person
12 Days
March, October, November
Comfort accommodations

Exertion level: 4

Operator:

SpiceRoads Cycle Tours

16 people max
Hanoi airport, vietnam
Active & Adventure trips
Escalating the most spectacular mountain range in Southeast Asia — this bike journey from Hanoi to Luang Prabang presents stunning views and rare cultural encounters. Challenging inclines and scintillating descents make our trail, which winds through Sapa's grooved hillsides, up Vietnam's highest mountain pass and through enchanting tribe villages. Cycle into the picturesque Na River gorge, through the surrounding hills and valleys to Dien Bien Phu, the historic site of the Viet Minh's decisive victory over the French. Bike into Laos to witness agrarian local life and untamed topography as we overnight at riverside guest houses. We'll finish our bicycle trip in atmospheric Luang Prabang.
Locations visited/nearby
Lao, People's Democratic Republic, Vietnam, Southeast Asia
Comments from Facebook
Itinerary
Day 1
Meet in Hanoi before we catch the King Express Train, the overnight train to Lao Cai and the start of our adventure.
Day 2
After an early morning arrival in Lao Cai we transfer to the hill station town of Sapa and check into our hotel. We test out the bikes with an off road ride on trails used by the ethnic locals to get to market.
Day 3
Starting from the hotel we head off road to the village of Ta Phin and ride on a loop track that traverses forested hillsides and takes in many of the minority villages of the Sapa area.
Day 4
Today we ride out of Sapa and climb up to Tram Ton pass - the highest road pass in Vietnam at 2,000 m. We pass tea plantations on our descent and later in the day wind back up to Khau Giang Pass.
Day 5
It's a three pass day as we head up and over Muong Mun, Huoi Long and Meo Hoa. The many ethnic tribal villages along the way offer a plethora of photo opportunities, so be sure to have your cameras handy.
Day 6
A gentler day with a route that undulates through quiet back roads and picturesque gorges that gradually lead downhill towards Dien Bien Phu.
Day 7
Enjoy a rest day in the history-rich city of Dien Bien Phu and time to visit the war museum and a local market.
Day 8
The trail twists and turns before reaching the Laos border. After a swap of crews we cycle to the crossroads town of Muang Khoua on dirt roads through remote villages mainly comprised of Red or Black Thai ethnic tribes.
Day 9
A mixture in scenery today, as we start with jungle that gives way to rice paddies, the road rises and falls and varies from broken road to dirt tracks. At the end of the day we have a long down hill into the town of Udom Xai.
Day 10
We are now in the central highlands of Laos and there are spectacular views across the rugged mountain landscape. Cycle through Hmong villages in a region that few people ever visit. Overnight in Nong Kiau at a guesthouse that overlooks the river.
Day 11
Cycling an undulating road we head west along the Nam Ou River to Pakbeng. After a transfer we cycle south to the historic town of Luang Prabang.
Day 12
The morning is free to explore the beautiful city of Luang Prabang before onward travel.
More information from SpiceRoads Cycle Tours: