Andean Trails - vacations and travel
Wilds Of Madidi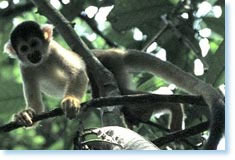 from $490* per person
5 Days
Year-round
Simple accommodations

Exertion level: 3

Operator:

Andean Trails

16 people max
La paz airport, bolivia
Active & Adventure trips
Madidi National Park covers 4.500.000 acres (1.8 million hectares). It is home to more than 1,000 species of birds, an estimated 44% of all New World species of mammal and 38% of New World amphibians plus several thousand plant species.

It is also a critical global hotspot for biodiversity conservation. You have the chance to visit the heart of Madidi National Park, travelling along the Tuichi River until you reach the Chalalán Ecolodge.
Locations visited/nearby
Bolivia
0 testimonials about this trip.
2 testimonials about the provider, Andean Trails :
Reviewer:

Wendy Cheek

located in

USA


We had a WONDERFUL time – really incredible. All the folks we traveled/worked with were great. We really enjoyed Zacharias – he was very knowledgeable, and I really tested him on the plants! The only comment we would probably have was with the excursion to Taquile – I would have much rather spent more time on Amantani. It was really just a hike of the island and people watching…

I'm sure I'll send back more comments as I get caught up back here! We really had a super time, and really look forward to another trip back to Peru. Let Tom know we're thinking Galapagos for next April… J

Thanks!



5

Reviewer:

Catherine McAvoy

located in

England




The Paine trek was fantastic. After hearing horror stories from other travellers about the gale-force winds & horizontal rain, I couldn't believe my luck when we had 4 days of blue sky and only a little bit of wind on the last day. Perfect.

Our guide, Jay (Chaid is his real name I think, he's from turkey) was brilliant. He couldn't have done more for us, sorting out a few things in the hotel as well as making sure we didn't have to worry about anything other than putting one foot in front of the other. He also made the worlds best sandwiches! I said a big thank you but would be grateful if you could pass this on. So you couldn't have done a better job.




Thanks again for your help with organising it all, I've got some great photos to make everyone jealous with (& just the one blister!)

Catherine


5
Comments from Facebook
Special information
This is a custom departure, meaning this trip is offered on dates that you arrange privately with the provider. Additionally, you need to form your own private group for this trip. The itinerary and price here is just a sample. Contact the provider for detailed pricing, minimum group size, and scheduling information. For most providers, the larger the group you are traveling with, the lower the per-person cost will be.
Itinerary
Day 1: La Paz – Rurrenabaque
Fly La Paz - Rurrenabaque (50 minutes). Our staff transfer you from Rurenabaque airport to the Chalalán office by bus where you fill in the forms necessary to enter Madidi National Park and receive information about your trip to the Ecolodge.
This night. You stay in a nice hotel in the centre and have the rest of the day to relax in Rurrenabaque.
Day 2: Rurrenabaque – Chalalán Ecolodge
After breakfast at the hotel, you take a boat up the River Beni and on to Chalalan. It takes 5½ hours up the rivers Beni and Tuíchi. Our boats are equipped with: roof, comfy seats, life jackets, raincoats and a first-aid kit. Snack en route.
After lunch at the lodge, there is time to rest or swim in the lagoon before you hike in the rainforest. There is a walk along the Paraba path to the viewing point where you can see the beautiful landscape across the lagoon, mountains and the Madidi rainforest.
We return by canoe along the rivers leading to the Chalalán lagoon, watching birds and monkeys on the way. Dinner at the lodge followed by a night hike to see insects, tarantulas, amphibians, mice, and nocturnal birds and monkeys.
Day 3: Chalalán Ecolodge – Madidi National Par
After breakfast, you walk through the jungle, learning about the forest and the wildlife. There are themed walks to choose from: natural interpretation of the forest, natural history, ecological processes, medicinal plants and hardwood trees, animal behaviour and bird watching.
Return to the lodge for lunch and then spend the afternoon taking a short walk in the Amazon. Late afternoon features a choice of activity: handicrafts, canoe on the lagoon or watching videos about the community and the national park.
In the evening, there is a canoe trip on Chalalán Lagoon spotting amphibians, nocturnal birds and alligators - easily seen because of their glowing eyes.
Day 4: Chalalán Ecolodge – Madidi National Park
You spend the day out and about. You walk along the rivers Rayamayo and Eslabón where you can fish and watch spider monkeys, tapirs, deer, wild boar and maybe match a glimpse of a jaguar.
Following a packed lunch on the banks of the River Eslabón, you wander back to the lodge, spotting birds, mammals and insects and catching fish if you wish. This evening there is a traditional "dunucuabi" dinner of catfish wrapped in leaves or fish á la "tacuara". This is followed by a traditional Quechua – Tacana night with music and dances from the San José de Uchupiamonas community.
Day 5: Chalalán Ecolodge – Rurrenabaque – La Paz
After breakfast, it's a short walk to the river Tuíchi to take the boat back to Rurrenabaque (3 hours). At 11.30 you are at Rurrenbaque ready for your flight back to La Paz.
NB: The times can be changed as guests wish or because of the weather, flight delays, etc.
More information from Andean Trails :