Andean Trails - vacations and travel
Salt Flats Of The Altiplano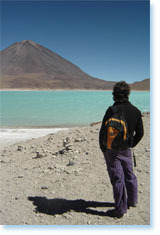 from $3,440* per person
15 Days
Year-round
Comfort accommodations

Exertion level: 3

Operator:

Andean Trails

16 people max
Salta airport, salta, argentina
Active & Adventure trips
The fantastic holiday combines trekking in Argentina's altiplano, the magnificent Salar de Uyuni of Bolivia and the arid beauty of the Atacama desert, Chile.

You journey on the historical trails that the locals still use to this day, passing colourful cultures, rock formations and a dazzling array of different scenery.

We start in the province of Salta, a dry and beautiful area full of vineyards and surrounded by mountains. It is in these mountains that we visit towns such as Humahuaca, Tilcara, Uquía and Purmamarca, which thrive among the amazing multi-coloured rocks of the surrounding moutains.

Purmamarca boasts a Mountain of Seven Colours. A short distance away is a great salt field, on the high plains of Lipan. This region is oft named as one of most barren in the world but it bursts with colour. We get to see lakes of many colours, flamencos and condors against a clear blue sky.


The trek

We acclimatise in Humahuaca a bustling town packed with artisan shops, a dramatic town square and often live music in the streets. On the trek, we walk an average of 6 to 7 hours a day with a couple of longer days, including high passes and some steady climbs.

Next, it's the the Wilderness of Southern Bolivia, Uyuni, Salt Lakes, volcanoes. From Uyuni, we head out into the vast southern desert to enjoy the starkly beautiful landscapes of this dramatic desert wilderness.

Lakes that change colour, geysers and bizarre rock formations are just some of the highlights of this enormous salt plain.

From here, it's to Chile and San Pedro de Atacama desert. We explore the varied Atacama landscape. One day you are floating around in the salty Laguna Cejar, the next, gazing at the awesome scenery from atop a salty peak.
Locations visited/nearby
Bolivia
0 testimonials about this trip.
2 testimonials about the provider, Andean Trails :
Reviewer:

Wendy Cheek

located in

USA


We had a WONDERFUL time – really incredible. All the folks we traveled/worked with were great. We really enjoyed Zacharias – he was very knowledgeable, and I really tested him on the plants! The only comment we would probably have was with the excursion to Taquile – I would have much rather spent more time on Amantani. It was really just a hike of the island and people watching…

I'm sure I'll send back more comments as I get caught up back here! We really had a super time, and really look forward to another trip back to Peru. Let Tom know we're thinking Galapagos for next April… J

Thanks!



5

Reviewer:

Catherine McAvoy

located in

England




The Paine trek was fantastic. After hearing horror stories from other travellers about the gale-force winds & horizontal rain, I couldn't believe my luck when we had 4 days of blue sky and only a little bit of wind on the last day. Perfect.

Our guide, Jay (Chaid is his real name I think, he's from turkey) was brilliant. He couldn't have done more for us, sorting out a few things in the hotel as well as making sure we didn't have to worry about anything other than putting one foot in front of the other. He also made the worlds best sandwiches! I said a big thank you but would be grateful if you could pass this on. So you couldn't have done a better job.




Thanks again for your help with organising it all, I've got some great photos to make everyone jealous with (& just the one blister!)

Catherine


5
Comments from Facebook
Itinerary
Day 1: Arrive Salta, hotel
On arrival at Salta airport you will transferred to your hotel. Depending on your arrival time, the remainder of the day may be spent exploring Salta. The main plaza is a lovely place to while away your time over a coffee, or you can visit some of the beautiful churches, head to a nearby viewpoint or the bustling market.
Day 2: Salinas Grandes - Tilcara (B)
We depart early – there's a lot to fit in today.
En route to Campo Quijano, we drive stop at Rosa de Tastil, which has some impressive ruins. We continue to climb high into the Andes, the air becoming thinner. As we reach 4,000m above sea level, we will stop at San Antonio de los Cobres, a typical high Andean town.
This is an acclimatisation day, and you'll need to take it slowly as we make it to the amazing Salinas Grandes, a huge salt lake from which the locals harvest the salt. Your guide explains the process and there will be chances to buy some local crafts sculpted from the salt.
Back in the van, we drive to Pumamarca and its famous rainbow coloured rocks – the mountain of seven colours. A great photo opportunity. We round the day off by heading to Tilcara and our hosteria for the night. If there is time before sunset, you can explore the ruins at the gateway to the town. (B).
Day 3: Tilcara – Iruya (B,L,D)
As the sun rises and quickly warms Tilcara, we join the locals and hop on the bus to Iruya.
This feels like a timeless town. The small church perches at the end of tiny cobbled streets, overlooking the river and valley below. This is a quiet town, and we will make it our simple hostel base as we continue to acclimatise before we set off on our trek.
We can see the mountains and Andes in front of us, our trekking destination. (B,L,D)
Day 4: Iruya – Chiyayoc (B,L,D)
Early in the morning, we begin our trek.
We head down to the river, and cross over, starting at 2,800m.We trek northwards, following the river, keeping a steady pace. It's a slow climb, uphill all the way, until we reach the Abra Del Colorado. From this pass, we drop down to the San Juan River, where we have lunch.
After a hearty feed, it's uphill again, before we head down to our camp at Chiyayoc village, at 3,100 metres above sea level. Walking time 8-9 hours (B,L,D)
Day 5: Chiyayoc - Rodeo Colorado
We wake early as our trek continues through this amazing landscape.
We descend down to reach the valley through which the Rio Trancas runs. Our up-and-down pattern continues as we take a path from the river edge to the top of the next pass.
From here we have a fabulous view of the town of Rodeo Colorado, our eventual destination for today. We have to head to the town following the course of the Pera River, and check in at our simple lodge. Walking time 8 to 9 hours, simple lodge (B,L,D)
Day 6: Rodeo Colorado - Río Nazareno
A shorter walking day today, over fairly easy terrain.
We take a wide path down to the town of Molino, with amazing views of the valley all the time. There is a short pull up to our campsite for the day. Walking time: 4 to 5 hours, camping, (B,L,D)
Day 7: Río Nazareno – Nazareno
Today is the final day of our trek. We head up river to get to Nazareno village. Once we arrive at our simple lodge, we can relax, knowing that the Salt Flats of Bolivia and the Atacama desert await!
Walking time: 5 to 6 hours, simple lodge (B,L,D)
Day 8: Nazareno - La Quiaca, Villazon – Uyuni
We wake early and head to the Bolivian border at La Quiaca, the northernmost corner of Argentina.
We cross the border, and head to Villazon and its train station to catch the service to Uyuni, the gateway to the Salar de Uyuni. We spend the night here, in a hosteria (B) .
Day 9: Salar de Uyuni
We leave Uyuni at about 11am and head north, 20km or so, to Colchani. This small village exists only because of the exploitation and refinery of the salt.
We walk through the town, seeing how the salt is extracted, visiting the craft stores and salt hotels.
We head to the Isla Lomo Pescado, where we can spot enormous cacti and get an outstanding panoramic. Here, we have our lunch and then continue walking to Chuvica, where we spend the night in a basic and rustic refuge. (B,L,D)
Day 10: Salar de Uyuni –Altiplanic lagoons
After breakfast we visit the amazing lagoons of the Salar: Cañapa, Hedionda and Ramadita.
We continue through the desert of Siloli to see the Tree of Stone – an enormous rock carved into an outlandish shape by the winds that can whip through the area.
Next up is Laguna Colorada where we may be lucky to see some pink flamingos and other Andean fauna such as vicuña, suri or andean ñandú.
After a great day on the Salar, we spend the night at another basic refuge. (B,L,D)
Day 11: Altiplanic lagoons – San Pedro de Atacama
An early start today – up at 05.00. We want to get to the Geysers early so we can see the impressive display of volcanic steam spewing from the earth, and see the thermal waters. The rock formations in this region are outstanding, formed by thousands of years of erosion.
The early start means we can reach Laguna Verde by 11.0. This lagoon is famed for the way it changes colour between 11.00 and 12.00, and we aim to be there for that display.
Our last sight is Laguna Blanca, after which we cross the border to Chile. We have a new vehicle waiting for us in Chile, and we had to San Pedro de Atacama, the desert town. We head to our hosteria (B)
Day 12: Laguna Cejar y Tebinquinche
Today we float in salty lakes!
We visit two lagoons in the northern sector of the Atacama salt flats, some 30 km away from San Pedro de Atacama.
The first lagoon we encounter is Laguna Cejar, with its intense emerald colour and borders crystallized by salt. Here you can jump in and enjoy the levitating effect of the salt-rich water, which makes you float easily – a very relaxing experience.
After the float-athon, we reach Tebinquinche lagoon. Here we can see some flamingos, foxes and a variety of birds. We return to our hosteria at San Pedro de Atacama. (B)
Day 13: Trekking de las Cornisas
A chance to stretch the legs today. We aim to walk up Las Cornisas (Cornices), which takes us to the highest part of the salt mountain chain.
We drive to the starting point, the old tunnel to Calama, built in 1930. We start at the Catarpe Valley, going up to the salt mountain to some outstanding viewpoints – you can appreciate the magnitude of Salar de Atacama, San Pedro de Atacama and the Andes.
After the half day trek (3-4 hours), we return to San Pedro de Atacama for some free time. Hosteria (B)
Day 14: San Pedro de Atacama – Salta
Early in the morning we say goodbye to San Pedro de Atacama and take a public bus across the Andes and enter Argentina.
This a stunning trip over Paso de Jama (at 4,200m) until we reach Salta once more, and our hosteria (B).
Day 15: Salta – Alta Airport
After breakfast you are taken to the airport / bus staion, or you can extend your trip with our excellent Puna to Jungle trek. For something a bit more relaxed, try our Highlights trip. (B)
More information from Andean Trails :