ExperiencePlus! Bicycle Tours - vacations and travel
Bicycle Tours In Italy: Bicycling Italy'S Veneto And The Dolomites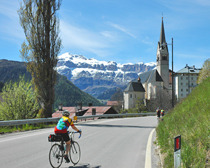 Venice marco polo int'l airport, italy
Active & Adventure trips
Italy's eastern Alps, the Dolomites, are some of the world's most dramatic mountains and they straddle a cultural boundary that gives us the best of Italian and Austrian-German cuisine. Explore this beautiful and unique corner of Italy. The tour begins with a few days of rolling terrain in preparation of our arrival to the South Tyrol area where you'll have the opportunity to bicycle the 4 passes of the Sella Massif. The road is closed to cars one day a year, and we'll be there with hundreds of other cyclists from around the world to enjoy one of the most spectacular bicycle rides anywhere.

You will also enjoy a wonderful wine tasting, outlet prices at a top-notch Italian bicycle jersey factory, and a visit to a unique bicycle museum. If you love being in the mountains this is the bicycle tour for you.
Locations visited/nearby
Italy, Europe
0 testimonials about this trip.
Reviewer:

Steve B.

located in

Asheville

,

NC

USA

"I felt I had the best benefits of a group tour - logistics, preplanning, support during the day, luggage handling, meeting new people - and the benefits of independent travel, in that I could ride on my own, at my own pace, and see the towns we stayed at as I saw fit, without being stuck with a group if I did not want to. A hard balance to achieve, but achieved it was."

5

Reviewer:

Carl N

located in

Portland

,

OR

"The tour was excellent! Our tour guides were outstandingly knowledgeable of the region. They were awesome and exceptionally attentive to our needs and details of the trip. They truly made it a memorable 'experience (plus)'!"

5

Reviewer:

Anne C.

located in

Bristol

,

TN

"Your system of chalk arrows is by far the very best method that we have ever seen for marking a cycling route. It would have been totally unnerving to try to read directions and be aware of traffic."

5
Comments from Facebook
Special information
This is a custom departure, meaning this trip is offered on dates that you arrange privately with the provider. Additionally, you need to form your own private group for this trip. The itinerary and price here is just a sample. Contact the provider for detailed pricing, minimum group size, and scheduling information. For most providers, the larger the group you are traveling with, the lower the per-person cost will be.
Itinerary
Day 1: Welcome to Castelfranco Veneto
Highlights: 13th-century Castelfranco Veneto, Welcome Dinner
We meet at our hotel this afternoon in Castelfranco Veneto, for our bike-fitting. The hotel overlooks the main square of this 13th-century walled town. Take your bike out for a spin before we meet for introductions and a special welcome dinner tonight. Distance: Your choice.
Day 2: Castelfranco to Valdobbiadene
Highlights: Palladian villa, prosecco wine tasting this evening
We head north toward the foothills of the Alps today. On the way we stop at a bicycle jersey factory where we'll enjoy factory outlet prices on top-notch Italian bicycle jerseys. Then we head on to Villa Barbaro, Andrea Palladio's architectural masterpiece that will be open just for us. Our day ends in Valdobbiadene, home of prosecco, one of Italy's finest sparkling wines. We'll have a wine tasting before dinner together. Distance: 50 km (31 miles).
Day 3: Valdobbiadene to Belluno
Highlights: Spectacular rides in the foothills of the alps; visit a unique bicycle museum
We are in the foothills of the Dolomites now, and we'll enjoy a spectacular ride through farmlands and villages to Belluno. On the way, you'll want to visit the wonderful bicycle museum in Cesiomaggiore. We'll suggest some places for dinner on your own this evening. Distance: 68 km (42 miles).
Day 4: Belluno to Cortina
Highlights: Train ride into Italian Alps, great bike path into Cortina with a picture perfect landscape
We'll shuttle into the Dolomites by train this morning, then you'll enjoy a scenic ride to Cortina along an old railroad grade that is now a bike path. We recommend lunch in town or a ride up the cable car for a picnic in the mountains before heading back to town and our hotel in the heart of Cortina. Dinner is together tonight. Distance: 36 km (22 miles).
Day 5: Cortina to Val Badia
Highlights: Spectacular Alpine scenery, cable car ride for lunch on top of the Dolomites
We climb over Passo Falzarego this morning on a beautiful ride. Once at the top of the pass at your option you can enjoy a cable car ride up the mountain for a picnic lunch. From the pass, it's mostly downhill to our hotel. Dinner together tonight. Distance: 35-47 km (22-29 miles).
Day 6: Sella Massif
Highlights: One of the classic rides of cycling, the historic four passes surrounding Sella Massif
This morning we'll pedal the classic tour of the Sella Massif on the Dolomite High Road often part of the Giro d'Italia! This 67 km loop features 6,500 feet of climbing over 4 famous passes (Campolongo, Pordoi, Sella, and Gardena). The support van will assist you, so you can shuttle part way home if you choose. Dinner together. Distance: up to 67 km (42 miles).
Day 7: Brunico
Highlights: Brunico, Alpine villages, special farewell dinner
We follow a scenic road to San Lorenzo and through small Alpine villages that overlook the Austrian Alps to the North before reaching Val Pusteria and the charming Alpine town of Brunico. Those who wish can take the extra, challenging ride to the top of the Stalle Pass and the border with Austria. Otherwise, spend your afternoon visiting the characteristic narrow streets of Brunico or check out the castle located on the highest point of town. We'll have a festive final dinner together this evening. Distance: 40 km (25 miles).
Day 8: Brunico
Highlights: Farewell to the group and on with your travels
After breakfast together, we'll say good-bye to our Dolomites' cycling adventure. Trains head north to Austria and Munich or south to Milan, Rome, and Venice. Or, stay in the Dolomites and spend a few days hiking, it is well worth it!
More information from ExperiencePlus! Bicycle Tours: