ExperiencePlus! Bicycle Tours - vacations and travel
Bicycle Tours In France: Cycling The Dordogne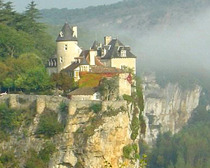 Airport near orly, france
Active & Adventure trips
The Dordogne River valley in Western France is one of the country's longest and most scenic. For 500 km, the Dordogne cuts through layers of limestone plateau and meanders from the woody hills of the Massif Central through the heartland of prehistoric human settlements in Europe. Our bike tour of the Dordogne takes you on some of the nicest cycling routes in Europe, with breathtaking views of medieval castles topping the hills at every bend in the river. This is one of our all-time favorite bicycle tours.
Locations visited/nearby
France, Europe
0 testimonials about this trip.
Reviewer:

Steve B.

located in

Asheville

,

NC

USA

"I felt I had the best benefits of a group tour - logistics, preplanning, support during the day, luggage handling, meeting new people - and the benefits of independent travel, in that I could ride on my own, at my own pace, and see the towns we stayed at as I saw fit, without being stuck with a group if I did not want to. A hard balance to achieve, but achieved it was."

5

Reviewer:

Carl N

located in

Portland

,

OR

"The tour was excellent! Our tour guides were outstandingly knowledgeable of the region. They were awesome and exceptionally attentive to our needs and details of the trip. They truly made it a memorable 'experience (plus)'!"

5

Reviewer:

Anne C.

located in

Bristol

,

TN

"Your system of chalk arrows is by far the very best method that we have ever seen for marking a cycling route. It would have been totally unnerving to try to read directions and be aware of traffic."

5
Comments from Facebook
Itinerary
Day 1: Arrive Brive-la-Gaillarde, France
Highlights: Renaissance Brive, sidewalk cafés, special introductory dinner
Arrive this afternoon in Brive-la-Gaillarde, just four hours by train from Paris. After we fit bicycles, you're free to explore this charming Renaissance town. This evening, we'll gather for a glass of wine and a welcome dinner together.
Day 2: Bicycle to Rocamadour
Highlights: Scenic cycling, visit Collonges-la-Rouge, Pilgrimage village of Rocamadour, goat cheese of Rocamadour
Cycle south this morning to the red sandstone village of Collonges-la-Rouge, a longtime haven for craftsmen and artisans. Enjoy a picnic or a café lunch there and bicycle on to Rocamadour, the Medieval village and pilgrimage destination perched on the limestone cliffs of the causse de Gramat. Dinner together this evening, with a taste of Rocamadour's famous white goat cheese. Distance: 72 km (45 miles).
Day 3: Bicycle loop ride to Padirac and to Carrenac
Highlights: Medieval Carennac, prehistoric caves of Padirac
We bicycle quiet country roads to the picturesque medieval town of Carennac this morning before heading on to the caves of Padirac. Stone tools dating back more than 50,000 years have been found in these caves. After a visit to the caves, your bike ride continues across the limestone plateau to Rocamadour. Extra rides allow those who wish to double their mileage. Distance: 65 km (40 miles).
Day 4: Bicycle to 16th century Sarlat
Highlights: A goose farm, Souillac, a gorgeous ride along the Dordogne, and rails-to-trails path to Sarlat
We leave Rocamadour this morning for a short ride along country roads to encounter some "local flavor" in the form of geese. We will visit a local foie gras producer and you'll have a chance to taste this famous delicacy from the southwest. Then we enter walnut country --la route de la noix-- as we head for a stunning ride along the Dordogne River to S. Julien-de-Lampon. The last ten kilometers of the ride we'll be on a rails-to-trails path that takes us to our home for the next three days, Sarlat. Distance: 57 km (35 miles).
Day 5: Rest day in Sarlat
Highlights: Regional market in Sarlat, 9th-century Benedictine abbey, optional bike ride
Today is a free day to enjoy the extraordinary regional market in Sarlat. The town was built around a 9th-century Benedictine abbey and today preserves a collection of 15th-century buildings - many constructed with golden sandstone - which gives it a unique character. If your legs are feeling strong and you want some scenic views we'll offer an optional bike ride this afternoon into the hilly backcountry of Sarlat. Distance, your choice: 40 km (25 miles).
Day 6: Loop ride from Sarlat and Canoe trip
Highlights: Bastide town of Domme, canoe trip, La Roque-Gageac, visit to Beynac Castle
We begin the day with a ride back to the Dordogne River where we'll find our canoes for an easy float trip past La Roque-Gageac to Beynac Castle. For those who wish, we'll offer an early start and an optional ride to the 13th-century bastide town of Domme; for the rest, we begin the day with a leisurely ride back to the Dordogne River where we'll find our canoes for an easy float trip past La Roque-Gageac to Beynac Castle. This imposing castle, built during the 13th Century, was a French stronghold during the Hundred Years War. You can visit the castle, then we bicycle back to Sarlat. Dinner together. Distance: 37 km (23 miles) - plus about 12 km (7 miles) by canoe.
Day 7: Tour ends in Sarlat
Highlights:
You're on your own now, prepared to face Bordeaux and a few more castles and wineries. Have fun!
More information from ExperiencePlus! Bicycle Tours: